After some significant controversy Oscar Valdez is set to fight Robson Conceicao on September 10, 2021. They have already attended the weigh-in and are ready to fight in less than 24 hours. For the 12 round WBC super featherweight main event Oscar Valdez weighed-in at 130 lbs while Robson Conceicao was 129.6 lbs.
The pair will enter the ring on Friday night at the AVA Amphitheater at Casino Del Sol in Tucson, which will be on Saturday in Australia and the UK. However, there are six more fights too and Gabriel Flores Jr vs Luis Alberto Lopez Vargas is another co main event fight.
In the weigh in event Gabriel Flores Jr showed 129.6 lbs and Luis Alberto Lopez Vargas was weighed at 128.4 lbs. They will fight for 10 rounds.
Apart from these two main events, there are five more fights in the undercard. WBO flyweight champion Junto Nakatani, who weighed in at 111.4 lbs will face Angel Acosta, who weighed 112 lbs. This is the top fight for tonight's undercard and they will meet for a 12-round bout.
We have mentioned the weigh-in result for other fighters later in this article.
Oscar Valdez vs Robson Conceicao Weigh-In Video
Valdez vs Conceicao weigh-in program was streamed on Top Rank Boxing's YouTube Channel. You can watch the 20 minutes weigh in video below.
Valdez vs Conceicao Fight Card Weigh-in Result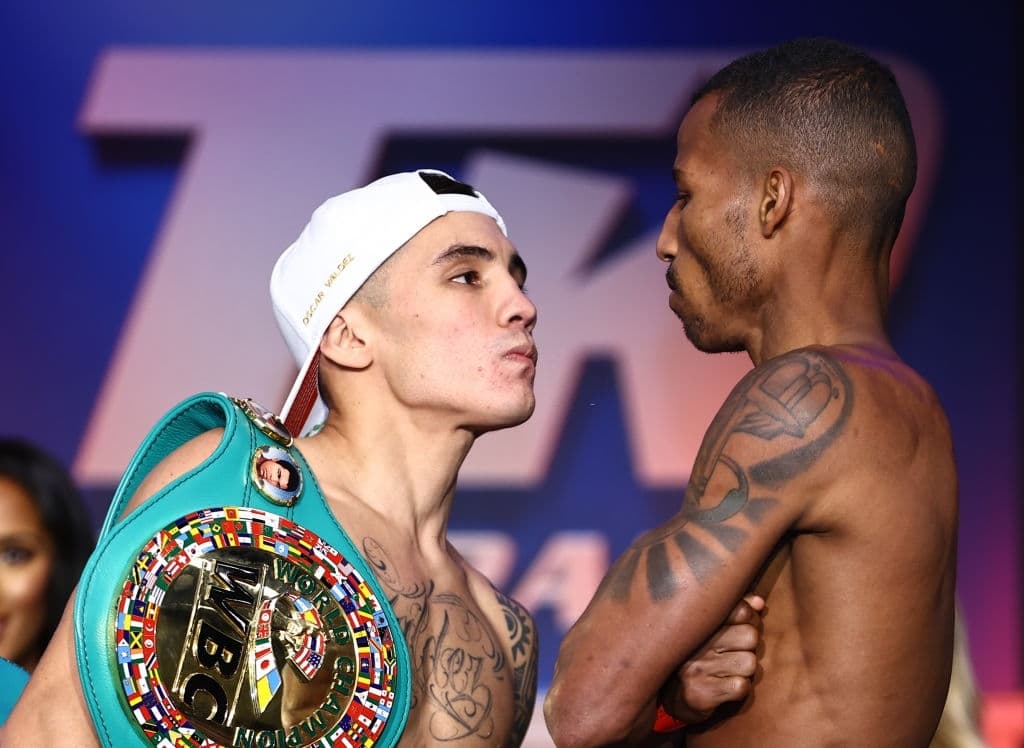 Main card
Oscar Valdez (130 lbs) vs. Robson Conceicao (129.6 lbs)

Gabriel Flores Jr (129.6 lbs) vs. Luis Alberto Lopez Vargas (128.4 lbs)
Undercard
Junto Nakatani (111.4 lbs) vs. Angel Acosta (112 lbs)

Xander Zayas (151.8 lbs) vs. Jose Luis Sanchez (151.6 lbs)

Lindolfo Delgado (141.6 lbs) vs. Miguel Zamudio (140.8 lbs)

Rene Tellez Giron (132.2 lbs) vs. Eduardo Garza (132.6 lbs)

Omar Aguilar (142.6 lbs) vs. Carlos Manuel Portillo (141.6 lbs)
Valdez vs Conceicao live stream fight will be available to watch on ESPN+ and the main card will start at 10 PM ET while the undercard will be underway on 6:15 PM ET.