While Kansas City Chiefs star Patrick Mahomes was being glorified and the center of all attention, it was his wife Brittany Mahomes who supported him through thick and thin.
As the wife of a star quarterback in America, Brittany has to consider many factors before making any decisions. Even she has to protect his family's image and social status, which sometimes seems unworthy of all the glory.
But yet, in the midst of this fast-paced life, Patrick's wife sometimes feels competitive with other women when they try to flirt with her husband.
What did Brittany Mahomes say about these situations?
The 27-year-old has recently opened up about the somewhat peculiar situation he experienced as the wife of a three-time Super Bowl champion. In an Instagram story, she expressed her feelings when it comes to other women's attempts to flirt with her husband.
"Lol it's actually really sad how disrespectful some women are…But they are a waist of my time & not going to disturb my peace. BUT I did use to have a very hard time and get extremely annoyed. But I am now to a point where I could care less!" the Super Bowl MVP's wife wrote.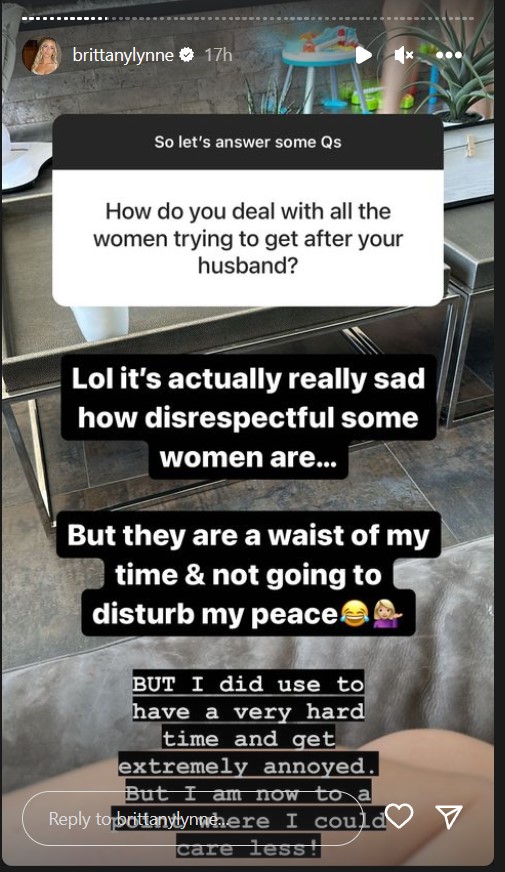 It's quite natural for human psychology to be drawn toward a figure of success, fame, and money all at once. Women, in particular, sometimes feel a feminine desire to be by the side of a superstar (such as Mahomes).
On the other hand, the wives of superstars are not always used to handling these situations like their husbands do. Men are used to enjoying such attempts from ladies, while, at the end of the day, he knows the quality of his wife's choices are not bad at all.
Brittany and Patrick got married last year after getting engaged in 2020. They knew each other since high school, and the couple is one of the most gorgeous and sweetest in NFL history.
Mahomes' wife is not a traditional housewife; she is a co-owner of the Kansas City Current, a women's professional soccer team. Moreover, she is a social media influencer for women's empowerment and development.