Patrick Mahomes, a professional football player in the NFL, has been witnessing a meteoric rise in terms of his earnings and fame. During the last two seasons, Kansas City Chiefs quarterback Patrick Mahomes has been the most marketable star in the NFL. His bank account bears witness to this remarkable journey. Indeed, Mahomes is a multi-millionaire both on and off the football field.
A glance at Patrick Mahomes' asset accumulation
| | |
| --- | --- |
| Name | Patrick Mahomes |
| Age | 25 years |
| Residence | Kansas City, USA |
| Net Worth 2021 | $40 Million |
| Salary | $503 million |
| Endorsement Earnings | Unknown |
| Source of wealth | Salary, Endorsements, Investments |
| Endorsements | Oakley, Hunt's ketchup, Essentia Water, State Farm, Adidas, EA Sports, Hy-Vee, State Farm, DirecTV, etc. |
| Expenditure | Mansion, Cars, Sneakers |
| Philanthropy | 15 and the Mahomies Foundation |
What is Patrick Mahomes net worth in 2021?
According to reports, Kansas City Chiefs quarterback Patrick Mahomes net worth in 2021 is estimated to be $40 million. At just 25 years of age, Mahomes has emerged as one of the wealthiest footballers in the country, thanks to his whopping salary and enormous endorsement deals.
Patrick Mahomes' source of wealth
Apart from being a popular sports star, Mahomes is also an investor. Additionally, he earns a significant amount of money from endorsement deals, which we are about to disclose soon in this article. Experts believe Mahomes is now in a position to begin signing his next endorsement deals at a higher price point.
Mahomes may also re-evaluate his current contracts to take advantage of his newfound prominence on the field. In the last two years, his worth as an endorser has skyrocketed. Not only has his worth increased, but he now has the potential to experiment in a variety of ways in terms of branding.
Mahomes' popularity for elite brand labels stems not just from his NFL achievements, but also his charisma, presentability, and relatability.
Patrick Mahomes' NFL Salary
Mahomes' contract with his franchise is eye-boggling. No other player has seen such a significant rise in terms of salary within a couple of years. For instance, initially, Patrick agreed to a four-year, $16.2 million contract with the Chiefs when he first entered the league in 2017. The package had a $10 million signing bonus and was completely secured.
But soon, the Chiefs had to revise their star quarterback's salary package, following their 2019 Super Bowl triumph. He had two years left on his rookie contract going into the Super Bowl. As soon as the Super Bowl concluded, he became eligible for a contract extension. And guess what, the extension eventually set new NFL milestones.
Patrick reportedly signed a 10-year contract with the Chiefs on July 6, 2020, worth over $500 million in total. Initially, reports came out that Patrick's contract is worth $450 million over ten years. That was already making headlines all over the world. After all, Drew Brees, the NFL's all-time money leader, had earned a mere $245 million in his career at the time. However, more surprises awaited as later in the day, it was announced that the entire value of Mahomes' deal is a whopping $503 million.
The deal also contains $477 million in "guaranteed mechanisms," of which $140 million is entirely guaranteed against injuries. He is the first person in sporting history to earn a half-billion dollars in terms of contracts. This contact certainly boosted Patrick Mahomes net worth.
Patrick Mahomes endorsement deals
Although quarterbacks picked in the first round of the NFL draft are eligible for sponsorship deals, Chiefs quarterback Patrick Mahomes declined to do so during his rookie season. Mahomes didn't take the field for the Kansas Chiefs until Week 17, sitting behind starter Alex Smith on the bench. Since he wasn't playing, the rookie quarterback decided not to sign endorsement offers at that stage, as engaging in advertisements and endorsement deals would distract him.
Who knew that within a couple of years, he would become the hottest asset in the American sports endorsement industry? The 2019-20 MVP soon dethroned New England Patriots quarterback Tom Brady, the six-time Super Bowl champion, as the league's biggest salesman. According to Forbes, Mahomes has an All-Star team of backers, including Adidas and Bose.
View this post on Instagram
The 25-year old also has sponsorship agreements with Oakley, Hunt's ketchup, Essentia Water, State Farm, Adidas, EA Sports, Hy-Vee, State Farm, and DirecTV, according to Bloomberg. He has also signed deals with Head & Shoulders, Community America Credit Union, Airshare, and Tickets For Less. In addition, Mahomes is the Madden NFL 20 cover athlete.
BioSteel Sports Nutrition, which signed the quarterback to a multi-year contract after the Super Bowl, is his first post-Super Bowl endorsement. According to reports, Mahomes was compensated in the form of an undisclosed equity interest in the growing sports nutrition company. Patrick Mahomes net worth is expected to rise in the near future as he expands his business and investment endeavors.
In rugged 2020, Patrick Mahomes remains king of America's top sport. His latest endorsement deal: BioSteel.https://t.co/IptzJ2Vf7c pic.twitter.com/L15UfnElBU

— RIP Terez A. Paylor (@TerezPaylor) August 4, 2020
Patrick Mahomes's Earnings From Investments
The Kansas City Chiefs quarterback invested in WHOOP, a fitness tracking wearable gear that monitors everyday regeneration, pressure, and sleep. His investment was finalized four months after signing the record "half-billion dollars" contract extension with his club. WHOOP was recently estimated at $1.2 billion, and the company has secured a total of $204.8 million in funding. It has about 15 venture funds and less than 100 strategic partners, including Pat Mahomes.
How Patrick Mahomes spends his millions?
The 25-year old star quarterback likes to spend it big. as his salary structure went bigger, so did his spending habits. Let's check out how he spends his wealth.
Pat Mahomes' house measures about 3,759 square feet. His home is in a private upscale neighborhood in the center of Kansas City. The mid-century house, which was built in 1953, sits on a broad green plot with plenty of room for the pets to run around. It has three bedrooms and is expected to sell for $1.9 million.
The home of the NFL player is a traditional clapboard-siding ranch house with contemporary block architecture. Hardwood floors and floor-to-ceiling windows establish an airy aesthetic for an inside house walk.
The family room, living room, and owner's suite, which measures 1,250 square feet and has a walk-in wardrobe and a gym, all have stone fireplaces. A 500-bottle wine room, a chef's kitchen, and a wet bar are all included within the property. That's a dream house for a lot of people.
Patrick Mahomes Car Collection
Patrick Mahomes' taste in automobiles is a rare one. He received a Genesis G70 luxury sedan for winning the Super Bowl MVP Award last year. The star quarterback purchased the Lamborghini Urus SUV for his fiancée, Brittany Matthews, while she was pregnant. Mahomes received a Ferrari 812 Superfast as a gift. The particular model starts at $338,000, according to sources.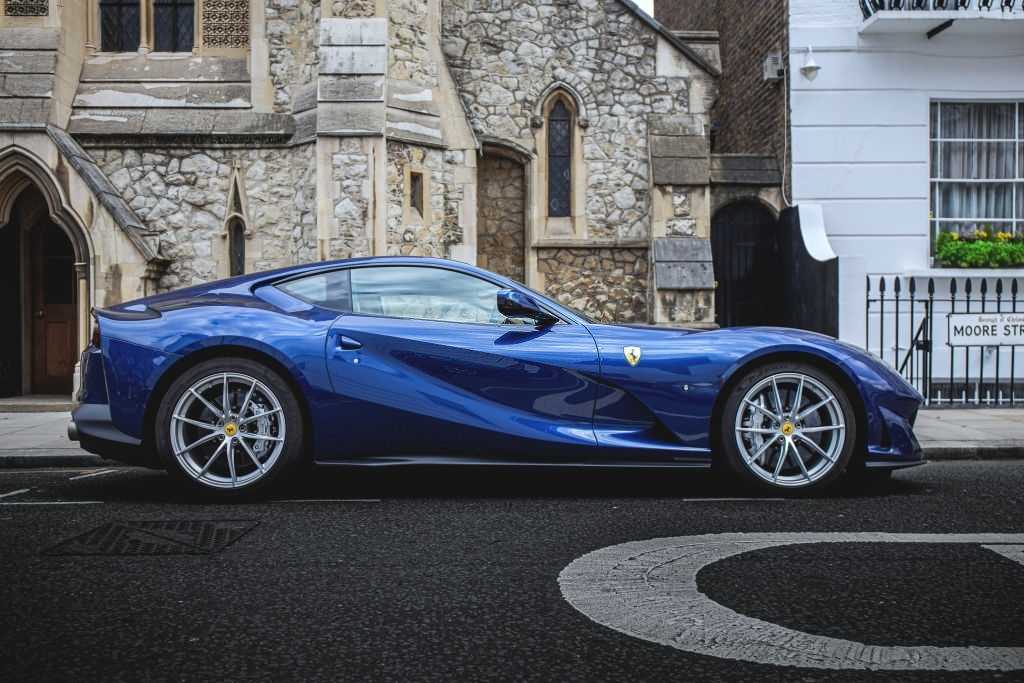 Patrick Mahomes sneaker collection
Mahomes has an enviable sneaker collection, which consists of 180 pairs, including several styles from Adidas and other luxury brands. In an interview, he revealed to have a "Game of Thrones"-inspired pair called the "Night's Watch Ultraboost". The quarterback's collection also has some customized ones, with phrases like "ATL", "NYC," and "Pharrell Williams" inscribed on them.
Patrick Mahomes Non-Profitable Investments: The Charity Work
Mahomes founded the "15 and the Mahomies Foundation" in 2019, intending to improve the lives of children. Recently, the foundation made a multi-year commitment to the HBCU Legacy Bowl.
View this post on Instagram
He, together with teammate Tyrann Mathieu and several other NFL players, have spoken out against police misconduct and violence against black citizens in the United States. They have even called for the league to admit it was unfair to silence Eric Reid and Colin Kaepernick and Eric Reid for their demonstrations during the National Anthem.
In Kansas City, Mahomes and Tyrann Mathieu launched a voter registration initiative to enable voters to register to vote in the 2020 presidential election. Patrick also became a part of LeBron James' Rock the Vote campaign, which encourages people to register to vote.
Patrick Mahomes' fiancée Brittany Matthews net worth
Brittany Matthews, the fiancée of Kansas City Chiefs quarterback Patrick Mahomes, is a businesswoman but her net worth is unknown. She is into the personal training business niche and has plenty of cash on hand, judging by her projects and her prospective husband's projected $40 million net worth.