Patrick Mahomes Parents: Randi Martin & Patrick Mahomes Sr. – All you want to know
Patrick Mahomes II, the Kansas City Chiefs quarterback is indeed among the most promising youngsters the NFL has ever seen. Experts are confident that the 25-year old is all set to become an all-time great QB later down his career. While we have to wait to see how well he flourishes, for now, let us check out the accomplishments of his parents. Patrick Mahomes' parents have been very supportive towards their kids and are one of the main reasons behind their son's massive success.
Who are Patrick Mahomes Parents?
Patrick Lavon Mahomes Sr. and Randi Martin are Patrick Mahomes parents. The Kansas City quarterback was born to Pat and Randi on September 17, 1995. The couple officially divorced when Patrick was 11 years old, but they have been civil for the sake of their son, and most of the time, they attend his football games together.
Patrick Mahomes father: Patrick Lavon Mahomes Sr.
Patrick Mahomes is without a doubt one of NFL's biggest stars in recent years, and he inherited competitive genes from his father, who grew up playing professional sports. Pat Mahomes Sr is a retired Major League Baseball pitcher.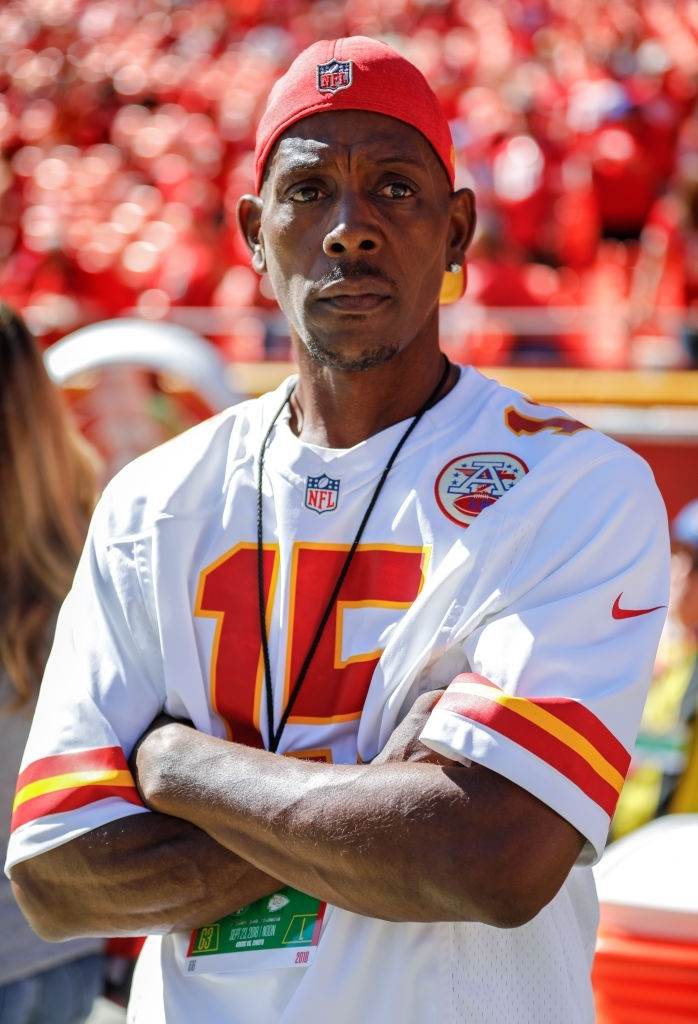 Patrick Mahomes Sr. Facts at a glance
Full Name: Patrick Lavon Mahomes Sr.
Famous for: Former MLB player and Patrick Mahomes' father
Height: 6 feet 4 inches
Age: 50 years (born August 9, 1970)
Nationality: American
Ethnicity: Afro-American
Net Worth: Approximately $10 Million
Marital Status: Divorced
Ex-Spouse: Randi Martin
Children: Patrick Mahomes II, Jackson Mahomes
Patrick Mahomes Sr: Early Life and Education
On August 9, 1970, Pat Mahomes Sr. was born. He was a pitcher in Major League Baseball. At Lindale High School in Texas, he was a three-sport athlete who participated in football, basketball, and baseball. Following an injury, Mahomes Sr did not resume throwing until his senior year in high school.
He turned down Division I football and basketball scholarship opportunities to play baseball at the University of Arkansas. Pat was selected in the sixth round of the 1988 MLB Draft by the Minnesota Twins, and he decided to go pro immediately after high school. He made his Major League debut with the Twins in 1992.
Mahomes had a great career with the Twins having spent five years with them before being sold to the Boston Red Sox. He spent two seasons with the Red Sox before being released from his contract. Before 2003, he was a member of the New York Mets, Texas Rangers, Chicago Cubs, and Pittsburgh Pirates.
Mahomes Sr. was with the Triple-A Nashville Sounds after appearing in the big leagues, and he also played in the majors and professional baseball in 2003. He continued in this manner for the next seven years, before retiring after the 2009 season.
Patrick Lavon Mahomes Sr. Important achievements
Pat Mahomes Sr. was a good reliever with a 5.47 ERA throughout his career. He is noted for his humble demeanor on the field. Pat was able to incorporate himself into each new club when he was traded around.
His most memorable moment was in 1999 when he helped the New York Mets shut down the Chicago Cubs with a two-way surprise. Pat, a reliever, hit the game-winning run in the top of the 13th innings. In the bottom of the innings, he went to the mound and finished off the Cubs for good.
Pat Mahomes Sr. Career stats
Mahomes earned his major league debut with the Twins in 1992. His first major league victory came against the Seattle Mariners on April 21, his next debut.
Before the 1996 season, Mahomes pitched in 114 games (51 starts) for the Twins, recording an 18-28 record with a 5.82 ERA and 217 strikeouts in 366 2/3 innings. The Twins traded Mahomes to the Red Sox on August 26, 1996, in exchange for pitcher Brian Looney.
During the 1996 and 1997 seasons, Mahomes pitched 21 games in relief for the Red Sox. In 22 1/3 innings, he had a 6.85 ERA, a 3 – 0 record, and 11 strikeouts. He was released by the Boston Red Sox on June 27, 1997, and went on to play for the Yokohama BayStars of Nippon Professional Baseball. He joined them in the middle of the 1997 season and pitched with them until the end of the following year.
Mahomes' stats with the New York Mets
Mahomes was later signed by the New York Mets in December 1998. He went 8-0 in 39 relief appearances for the Mets in 1999, helping them make the playoffs. Over the playoffs, Mahomes made four relief starts, pitching eight innings for a 2.25 ERA and four strikeouts. The Mets, however, were defeated in the NLCS by the Atlanta Braves.
Mahomes played 53 games in 2000, five of them were starts, and he went 5-3. Unfortunately, Mahomes Sr was left off the Mets' postseason team when they won the 2000 World Series. In his two seasons with the Mets, Mahomes pitched in 92 regular-season games (five starts) with a 4.74 ERA, 13–3 record, and 127 strikeouts in 157 2/3 innings. He became a free agent in December 2000.
Mahomes' time in Texas
In January 2001, he signed with the Texas Rangers, his hometown franchise. He pitched in 56 games (four starts) with a 5.70 ERA and a 7–6 record in 2001, striking out 61 batters in 107 1/3 innings. In November 2001, Mahomes became a free agent again, signing with the Chicago Cubs in January 2002.
He had a 3.86 ERA and a 1-1 record in 16 appearances (two starts) that season, striking out 23 batters in 32 2/3 innings. He remained a free agent until January 2003, when the Pittsburgh Pirates signed him. During the 2003 season, he played nine matches (one start) for the Pirates, going 0-1 with a 4.84 ERA and 13 strikeouts in 22 1/3 innings. This was Mahomes' last season in the major leagues, and he became a free agent again in September 2003.
Mahomes pitched in the Major Leagues for 11 seasons, totaling 308 regular-season games (63 starts) with a 42-39 record, 452 strikeouts in 709 innings, and 5.47 ERA. During his career, he had 43 at-bats and 11 hits (0.256 batting average) with four RBIs.
How did Patrick Mahomes Sr influence his son's career?
According to reports, Patrick Sr was worried about the violence that occurs in football and wanted his son to play baseball at first to prevent the sport from taking a toll on him. The young quarterback did, in fact, follow in his father's footsteps by playing baseball initially.
Patrick Mahomes hurled a no-hitter during his senior year at Whitehouse High School and was drafted as one of the best players in the 2014 Major League Baseball draft. The Detroit Tigers took him in the 37th round of the draft. He did not sign with the Tigers, however, due to his strong passion for football and went on to have an outstanding football career.
Mahomes claims that pitching and basketball experience from a young age has helped him develop his quarterback throwing skills.
What does Pat Mahomes Sr currently do for a living?
As of now, Patrick Mahomes Sr's occupation is unknown. From 1992 to 2003, Patrick Lavon Mahomes Sr. was a Major League Baseball player.
Pat Mahomes Sr's earnings throughout his career
From 1992 to 2003, Pat Mahomes Sr was a member of many MLB teams. He is expected to have raised anywhere around $3 million over the course of his career.
Interesting facts: The most expensive Rookie card of Pat Mahomes Sr.
The highest average sale price for sold merch was $299.99 in February 2019, and the lowest average selling price was $0.20 in April 2015. A Rookie Card from Pat Mahomes Sr is worth $1.06 on average.
According to some websites, the most valuable Pat Mahomes Baseball Rookie Card was offered on eBay for $1999.00 in December 2020, while the cheapest Rookie Card was sold in April 2015 for just $0.20. July 2020 was the month with the most cards sold, with an average sale price of $1.25 for a Pat Mahomes Sr Baseball Card.
Patrick Mahomes Sr. Marriage life
Randi Martin was his wife, but the pair divorced in 2006 when their superstar son was 11 years old. Apart from Patrick Mahomes, the star NFL quarterback, the couple has another son: Jackson Mahomes, a TikTok sensation.
Who is Patrick Mahomes mother?
Patrick Mahomes' mother is Randi Martin.
Randi Martins facts at a glance
Full Name: Randi Martin
Famous for: Patrick Mahomes Sr's ex-wife and Kansas City Chiefs quarterback Pat Mahomes mother
Height: 5 feet 8 inches
Age: 48 years (born June 25, 1972)
Nationality: American
Net Worth: Approximately $2 Million
Marital Status: Divorced
Ex-Spouse: Patrick Mahomes Sr.
Children: Patrick Mahomes II, Jackson Mahomes, Mia Randall
Patrick Mahomes Mother: Early life and education
Randi Martin, Patrick Mahomes' mother, was born on January 18, 1976, in Tyler, Texas. Randy Martin and Debbie Bates Martin are her guardians. Randy, her father, was a school principal who put his children's education first. When Patrick Mahomes' mother graduated from Texas High School, she had a strong academic record.
How did Randi Martin meet Pat Mahomes Sr.?
According to reports, Randi Martins was a member of the cheerleading squad at Texas High School and. She met Patrick Mahomes Sr. shortly after graduating from school, and the couple married soon.
When did Randi Martin marry?
She married former MLB pitcher Patrick Mahomes Sr. in the late 1990s. 5 years later, Patrick Mahomes Jr. was born on September 17, 1995. Randi and Patrick are ecstatic about their quarterback son's success and are proud of him. She has said in interviews that her family enjoys an unbreakable bond and that her son Patrick, along with Mahomes' two other brothers, Jackson and Mia, is a blessing for the couple.
View this post on Instagram
Randi and Pat Mahomes Sr. are no longer together, and Randi is not married to anybody else sine then. During Patrick Sr's athletic career, Randi and Pat split. Patrick Sr. and Randi attend a lot of activities together, particularly ones that include their kids, and they never let their divorce get in the way of helping their kids.
Randi Martin Motherhood
Randi is a stay-at-home mom who is committed to being engaged in the lives of her children and is immensely supportive of them. She is the mother of three children. Patrick Mahomes, the quarterback for the Kansas City Chiefs, is her eldest son, whom was born on September 17, 1995. Jackson Mahomes, her second child, was born in the year 2000.
With over 700,000 followers on the popular social media video site TikTok, Pat Mahomes' younger brother has become an internet celebrity. Randi has another child, Mia Randall, a daughter from a previous relationship. She is known to have a close relationship with all three of her children. She is noted for being extremely protective of her children and has been a strong supporter of their endeavors.
View this post on Instagram
How did Randi influence his son's career?
She was very focused towards her son's academics, and since Patrick was a student-athlete, she made sure to remind him that "studentship" came before "athleticism." Randi is overjoyed and pleased by how her son is fulfilling the American dream.
When the time had come for Patrick to decide whether to enter the MLB draft or pursue a college football scholarship, Randi was there to guide him every step of the way and assist him in making the best decision possible. She aided him in the process by reminding him of the tremendous opportunities that a college degree provided.
When Randi watches her son's games, she wears her trademark No. 15 jersey with the words "QB Producer" written on the back.
Randi Martin Net Worth
Randi lives a luxurious lifestyle as the mother of a well-known NFL player. Her net worth is believed to be about $2 million.
Randi Martin's professional life
There is not a lot of detail available about Randi Martin's career. However, it is understood that she works as an event planner in Tyler, Texas.
Randi Martins Charitable Deeds
Patrick Mahomes' mother is a firm believer in giving back to the community. On her birthday in 2020, she arranged a fundraiser for Variety KC, which is an organization whose goal is to offer support for children with special needs.
Patrick Mahomes career at a glance
In 2017, he was selected tenth overall in the first round of the draft. Mahomes starred for Texas Tech University in the NCAA Division I Football Bowl Subdivision (FBS), accumulating 5,052 passing yards and 53 touchdowns.
He is the first quarterback in history to pass for over 5,000 yards in both college and the NFL in the same season. Mahomes is just the fourth African-American quarterback to win the All-Pro MVP award.