Patrick and Brittany Mahomes are the most talked-about couple in the NFL. As the quarterback for the Kansas City Chiefs, Patrick is a multiple league MVP, Super Bowl MVP, and Super Bowl champion and with his numerous accolades, he is often compared to the greatest of all time, including Tom Brady and Peyton Manning.
With all the attention and spotlight, it can be easy to lose sight of what's important. However, Brittany recently shared the secret to their groundedness and humility during a Q&A on Instagram.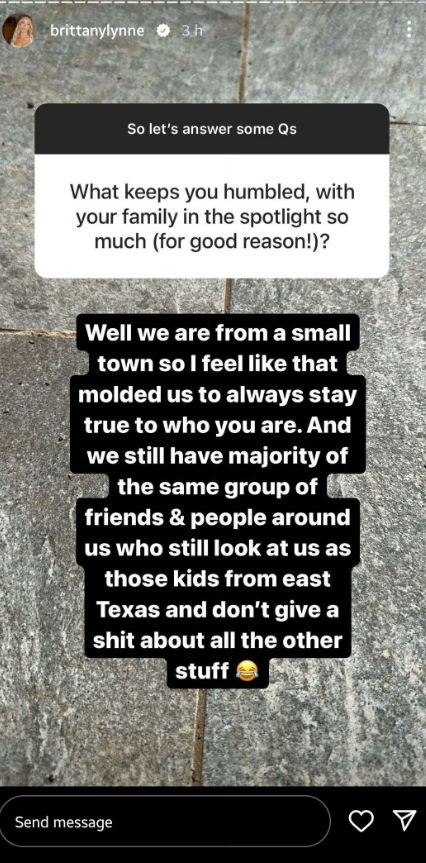 The couple's upbringing in a small town in East Texas played a significant role in keeping them humble. Brittany believes that being from a small town has molded them to stay true to themselves.
They still have the same group of friends and people around them who knew them before they became famous, and they don't care about the other stuff. Staying connected to their roots and not forgetting where they came from has kept them grounded amidst all the fame and success.
The love story of Patrick and Brittany began in high school. Patrick played football and baseball, and Brittany played soccer. They attended the same high school in East Texas and started dating in 2012. However, when they went to different colleges, they had a temporary separation.
Patrick went to Texas Tech, and Brittany went to the University of Texas at Tyler. But their love for each other endured, and they reunited in 2017 after both graduated. Since then, they have been inseparable, getting married and having two children together.
What role did their small-town upbringing play in keeping Patrick and Brittany Mahomes grounded?
The couple's rise to fame has been nothing short of a fairy tale. From their small-town beginnings to making it big in the NFL, they have never forgotten where they came from. Their family and friends have been a constant reminder of their roots, and they have stayed connected to them throughout their journey.
It is this humble upbringing and groundedness that has helped them stay true to themselves and maintain their humility despite all the attention and success.