Players who changed nationality: 10 footballers with different skill-sets to the country they represent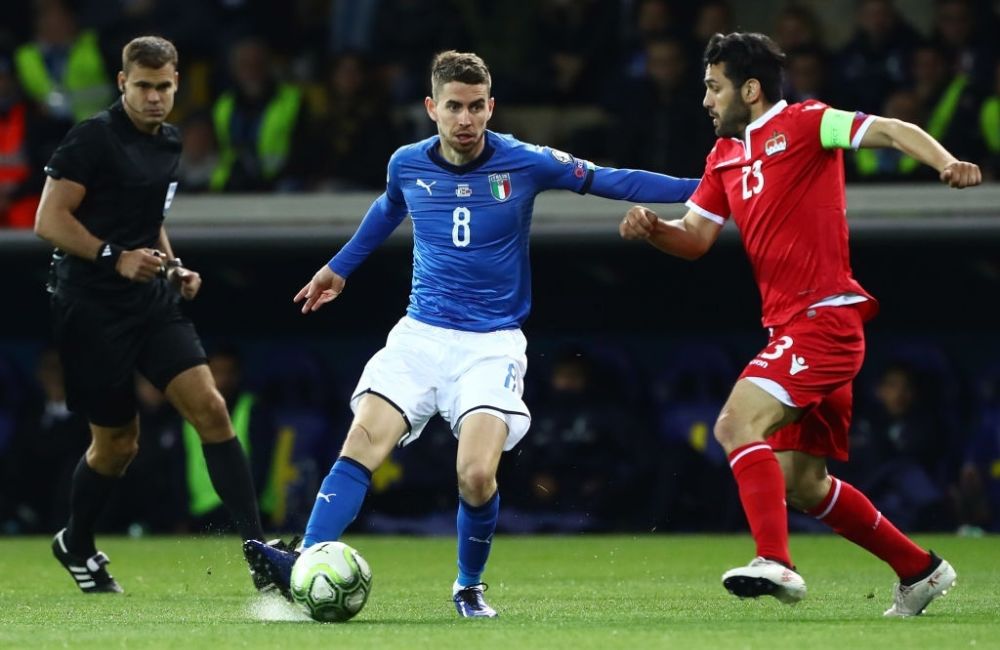 Throughout history, we have witnessed several players who changed nationality, owing to several reasons including acquiring different citizenry or intense competition for places at international level.
However, getting clearance to change allegiance at international level is not exactly straightforward and the player in question has to already be a citizen of said country either through themselves or by means of ancestry and parentage.
Even at that, several caveats exist within FIFA's rules of eligibility for international football, among which are having not played at competitive level after 21 years of age.
The current era of players has stars like Tammy Abraham, Adama Traore, Jorginho, and Callum Hudson-Odoi who were eligible to represent two different countries, while Adnan Januzaj infamously had five countries battling it out for his commitment at international level.
Others like Aubameyang and Alex Iwobi are among the players who changed nationality having represented other countries at youth level.
Throughout the history of football, certain nations have become identified with a certain style of play, owing to generations of players having shared similar traits.
Brazilians are generally associated with flair and the 'jogo bonito' of not just winning, but winning with style, with several players including Ronaldinho, Pele, and Neymar among the biggest proponents.
Germany have become accustomed with machine-like precision and business-like football and you need not look further than Thomas Muller to find the quintessential definition of a 'German player.'
However, beyond players who changed nationality, there are others who have skill-sets and patterns of play that are in direct contrast with what is obtainable from their average teammate or forebears at international level.
Here, we shall be having a rundown of 10 footballers who have different skill-sets to the countries that they represent(ed) at international level.
#10.

Ramires – Brazil | Skill-set (Ghana)
As already indicated, Brazil is famous for producing flair players and entertainers, with emphasis placed on skill and aesthetics and almost as important as getting the job done.
The team affectionately termed the 'Samba Boys' is unarguably the most popular international team in the world and rightly so, owing to the exploits of Brazil in football at all levels of the game.
In what is a football-obsessed country, the average boy in the streets of Sao Paolo or Rio de Janeiro begins his football education on the streets and it is there that they are imbibed with the culture of entertaining the fans.
In Brazil, it is not just enough to win, but to do so beautifully but it seems like Ramires did not get the memo while he was undergoing his football education.
The 33-year-old is the exact opposite to what the average Brazilian footballer stands for, with his direct running and lack of dribbling ability more suited to the Black Stars of Ghana than the Selecao.
In many ways, he reminded us of another 'unBrazilian' midfielder Dunga, and it should come as no surprise that Ramires' best run with the national team came when the 1994 World Cup-winning captain acted as coach of his nation.
#9.

Sergio Ramos – Spain | Skill-set (Italy)
Sergio Ramos is unarguably one of the greatest defenders in history and he has played a key role in the successes enjoyed by Real Madrid and the Spain National Team for the last 15 years.
There were doubts over whether he could adapt when he was converted from a flair right-back into a center-back by Jose Mourinho but the former Sevilla man thrived, while still maintaining his high goalscoring ratio as a defender.
Sergio Ramos morphed into a no-holds-barred defender who does everything – ethical or not – to achieve victory and while he might not exactly be everybody's cup of tea, his greatness cannot be denied and his impressive CV suggests that his methods are highly successful.
In many ways, the 33-year-old relishes his role as football's pantomime villain and his ruthless style of defending is a throwback to the Azurri catenaccio defenders of old, while his longevity in the game is also symbolic with Italian players.
#8.

Jay Jay Okocha – Nigeria | Skill-set  (Brazil)
The man so good 'they named him twice,' Jay Jay Okocha is widely regarded as one of the game's greatest entertainers and even the great Ronaldinho admitted to learning a lot in the art of aesthetic football from the Nigerian while he was at PSG.
The former Bolton Wanderers star stood out everytime he stepped on the field and possessed an impressive array of tricks, flicks, and dribbling ability and many opine that he did not reach the heights his abilities deserved because he lacked the on-field discipline to fulfill his potential.
He was a major departure from the more physical style associated with African football and his pattern of play was more in line with the bogo jonito of Brazil, leading the mythical Pele to state that 'Okocha is the only African that could have walked into any Brazilian team.'
#7. Erling Haaland – Norway | Skill-set (Germany)
Erling Haaland has been one of the biggest revelations in the footballing world over the last one year and his exploits from scoring nine goals in a game at the Under-20 World Cup to setting records weekly with Dortmund had been the stuff of legend.
The 20-year-old possesses the physique and frame associated with top Norwegian strikers of the past like John Carew and Jonhstein Flo, with the long ball pattern associated with the Scandinavian country under the management of Egil Olsen.
However, whereas his forebears functioned as strictly target men and not much else, Haaland is much more than that.
Despite his height and bulky frame, he is still extremely fast, possesses considerable technique and can can be considered as the perfect specimen of an athlete, while his ruthless aggression in front of goal is also attune to the German 'machine' way of playing.
#6.

Jorginho – Italy | Skill-set (Spain)
Jorginho plays as a holding midfielder and made a name for himself as the fulcrum of the sarriball system that made Napoli such a joy to watch under Maurizio Sarri.
His switch to Chelsea has not exactly panned out the way many expected but this is not really surprising, as his skill-set runs contrary to what is obtainable in the country.
Holding midfielders in England are generally supposed to be limited in their capabilities on the ball, with their primary focus being on disrupting opposition attacks and passing the ball to more attack-minded teammates to move forward.
However, Jorginho runs contrary to this and acts as the chief creative midfielder, albeit functioning in a deep-lying position, similar to the 'regista' role that the great Andrea Pirlo dispatched so effectively.
The 28-year-old has a mix of Brazilian and Italian football heritage, while his passing ability and possession-based system of play is reminiscent of the Spain 'tiki taka' style of play.
#5.

Jadon Sancho – England | Skill-set (Portugal)
England are famed for possessing pacy wingers who are fast, relatively good at crossing, possess great work ethic but not much else.
However, the modern crop of English wingers are a major departure from this norm and Jadon Sancho is the biggest proponent of this new generation of Three Lions players.
The Dortmund star possesses all the pace and crossing abilities needed to be a winger but goes further by adding dribbling, excellent technique, and shooting ability with both feet to his arsenal.
His style of play is a major throwback to great Portuguese players of the modern era like Luis Figo, Cristiano Ronaldo, Ricardo Quaresman, and Nani as well as the legendary Eusebio.
#4. Gennaro Gattuso – Italy | Skill-set (England)
Gennaro Gattuso made a name for himself as one of the most tenacious midfielders in the world during his playing days and was an integral member of the successful Italian and AC Milan teams for almost a decade.
His nickname of 'the Snarl' tells you all you need to know about him and his passionate style was brought over into his coaching career.
Despite being surrounded by 'classy' midfielders like Andrea Pirlo, Clarence Seedorf, and Ricardo Kaka, Gattuso had no interest in the more stylish aspect of the game and his skill-set would have been more appreciated in England where grit and tenacity is favored over style and technique.
#3.

Pierre-Emerick Aubameyang – Gabon | Skill-set (France)
Pierre-Emerick Aubameyang has been making waves for the last seven years following his exploits with Borussia Dortmund and lately Arsenal.
However, for a player of his abilities, the 31-year-old's trophy cabinet is extremely scanty and his cause is not helped at international level by the fact that he represents Gabon.
The Oil-rich nation are far from superpowers on the African scene and there is only so much that their captain can do without the requite support around him.
Aubamayeng possesses several traits that makes him a genuine world-class striker, including pace, technique, hold-up ability, excellent finishing, and ability in the air.
He functions effectively either on the flanks or at the center of attack and his style compares favorably with great French forwards like Kylian Mbappe, Thierry Henry, David Trezeguet among others.
Perhaps, this should not come as a surprise, as the Arsenal skipper had his developmental training in the French footballing culture.
Having represented France at Under-21 level, Auba is among the players who changed nationality and he still retains traits of the European nation.
#2. Mark Van Bommel – The Netherlands | Skill-set (Balkan)
The average Dutch midfielder is stylish on the ball and elegant – think Wesley Sneidjer, Seedorf, Dennis Bergkamp, Arjen Robben, and Johan Cruyff – however, Mark Van Bommel is the exact opposite of this.
The former Netherlands captain was famed for his hot-temper, rash tackles, and cynical antics on the field, which was more attune to the playing style of former Yugoslavian players than the flair associated with the Dutch.
#1.

Andrea Pirlo – Italy | Skill-set (Spain)
In all honesty, Andrea Pirlo was such an enigma and unique in his style that he could have fit in with several stereotypes.
Dunga called him Brazilian, his fair and technique could have fit in well with the Dutch, while he would not have been out of place as the one creative player surrounded by cynical Argentine midfielders.
Of course, the extremely fashionable and handsome Andrea Pirlo is as Italian as they come in appearance, but his playing pattern was more in tune with was was obtainable among his peers in Spain like Xavi Hernandez, Andres Iniesta, and Xabi Alonso.