After some breathtaking action in the weekend, the UFC is back once again. Fight fans will be looking forward to some very interesting bouts lined up for them at UFC Vegas 38. With some familiar faces and exciting prospects returning, fans will no doubt feel compelled to tune in.
'Pure violence' will be the name of the game on Saturday night as Light Heavyweights Thiago Santos and Johnny Walker headline the event. In addition to that, expect fireworks in the returns of Kevin Holland and Niko Price. Moreover, Misha Cirkunov takes on Krzysztof Jotko, Aspen Ladd will take on Macy Chiasson, whilst Alexander Hernandez fights Mike Breeden.
Let's turn our attention now towards the main event. Two Brazilian LHW fighters, who are known for their finishing ability, will be going head to head in a potential slugfest. However, the stakes are much higher for Santos (21-9-0), as he is already on a 3-fight losing streak. Will Santos redeem himself? Or will he fall prey to his countryman Walker (18-5-0)?
UFC Vegas 38 Fight Card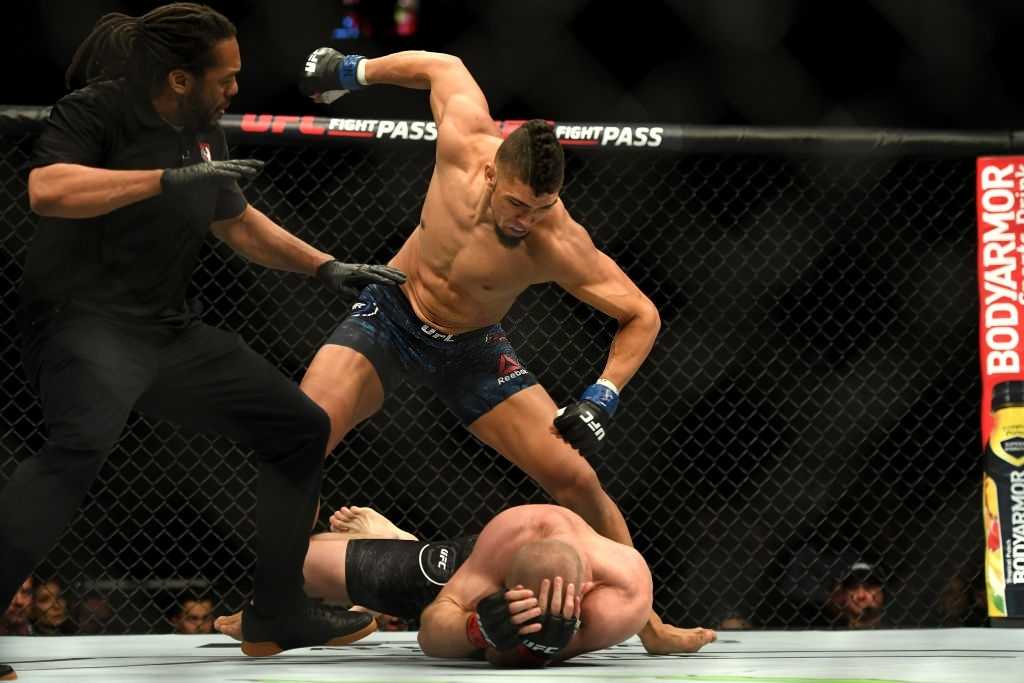 Moving forward from UFC 266 at the T-Mobile Arena last week, the UFC extends its stay in Las Vegas. Returning to the UFC Apex in Las Vegas, Nevada on October 2, 2021, the lineup for UFC Vegas 38 is as follows:
Main Card (7 p.m. ET / 4 p.m. PT)
Thiago Santos vs. Johnny Walker
Kevin Holland vs. Kyle Daukaus
Alex Oliveira vs. Niko Price
Misha Cirkunov vs. Krzysztof Jotko
Aspen Ladd vs. Macy Chiasson
Alexander Hernandez vs. Mike Breeden
UFC Vegas 38 Odds and Picks
Thiago Santos (-170) vs. Johnny Walker (+150) ( Light Heavyweight)
Now 37, Santos is one of the more experienced LHW's around. Moreover, he has fought some of the division's biggest names including Jon Jones, Glover Teixeira, and the current champ, Jan Blachowicz. Although he is on a three-fight losing streak, the caliber of his opponents has been very high. Hence, most people will expect Santos to come out all guns blazing and secure the victory.
On the other hand, Johnny Walker will be licking his lips at the prospect of retiring a top LHW. Without a doubt, Walker is talented and always comes in with a 'kill or be killed ' mentality. However, this gung-ho mentality can also be his downfall. As such, Walker can be a very difficult test for Santos, and maybe even pull off a big upset.
As you can tell, it is a high-stakes contest between two equally good fighters, begging the question: who will win and seize all the glory? Such types of games emerge to become the hotspot for casino lovers as it leaves room for fans to enjoy and make big bucks through the live casino games program like jamming jars slot. It is lucrative, exciting and worth the risk.
Prediction: Thiago Santos by KO/TKO.
Kevin Holland (-150) vs. Kyle Daukaus (+130) ( Middleweight)
Once a potential Middleweight title contender, Kevin Holland (21-7-0) has seen himself quickly fade away into irrelevancy. After consecutive losses to Derek Brunson and Marvin Vettori, Kevin took some time off to improve his wrestling skills. Moving over to the other side, we have Kyle Daukaus. Kyle (10-2-0) has not had an ideal start in the UFC. He has only won 1 of 3 bouts in the UFC, a unanimous decision at UFC 255.
As such, we expect that Kevin will get back on track and score a comfortable victory on Daukaus.
Prediction: Kevin Holland by Unanimous Decision.
Alex Oliveira (+120) vs. Niko Price (-140) (Welterweight)
Next up, we have Alex Oliveira ( 22-10-0) and Niko Price (14-5-0). Both fighters are seemingly against the ropes following 2 fight-losing streaks. However, 'Cowboy' Oliveira is looking less and less durable after each fight. Niko Price on the other hand is one of the most entertaining fighters to watch. Moreover, 'The Hybrid' will be desperate to getting back to winning ways, so we expect him to go all-out.
Prediction: Niko Price by Submission.
Misha Cirkunov (+140) vs. Krzysztof Jotko (-160) ( Middleweight)
Making his middleweight debut, Misha Cirkunov (15-6-0) will be looking to get off on a good note. Previously, Cirkunov had a patchy run at LHW, with 2 wins and 4 losses in his last 6 fights. Krzysztof Jotko, the betting favorite, lost to Sean Strickland in his last outing. Although it was a Unanimous decision loss, it means that Jotko is at least capable of seeing out most of his fights. Hence, we believe that the Polish fighter will also see out this one.
Prediction: Krzysztof Jotko by Unanimous Decision.
Aspen Ladd (-210) vs. Macy Chiasson (+175) ( Women's Bantamweight)
Aspen Ladd (9-1-0) comes into this fight after a KO/TKO victory over Yana Kunitskaya. Already, she has proven herself to be up to the task against some of the division's highest-ranking fighters. On the other hand, Macy Chiasson (8-1-0) is still finding her feet against the lower end of the roster. Therefore, we expect Aspen to win, but as always, there is always room for surprises.
Prediction: Aspen Ladd by KO/TKO.
Alexander Hernandez (-400) vs. Mike Breeden (+300) (Lightweight)
We all had high expectations from Alexander Hernandez (12-4-0) when he first broke onto the scene. However, it's fair to say Hernandez has not lived up to expectations. Facing him is newcomer Mike Breeden (8-3-0), an unknown quantity with a not-so-impressive resume. As such, we believe Alexander will wrap things up, nice and easily.
Prediction: Alexander Hernandez by KO/TKO.