Who's Nick Kyrgios girlfriend Costeen Hatzi? recounts their love affair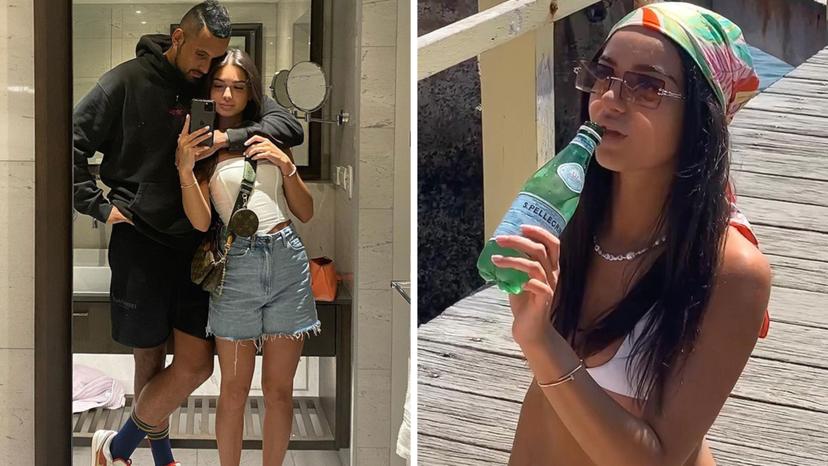 Controversial Aussie tennis star Nick Kyrgios is flying high after beating Tsitsipas of Greece in Wimbledon's Third round recently and his winning streak is having a smoother run despite creating a first round brawl with Paul Jubb.
Nick's secret inspiration may be the presence of his new girlfriend who is seen constantly cheering and supporting him from the audience stand.
Now, let's get to know about Nick's new girlfriend.
Who is Nick Kyrgios girlfriend Costeen Hatzi?
Nick Kyrgios new girlfriend Costeen Hatzi, 22, is a social media icon who is from Sydney and also runs a blog from there, moreover, she owns Casa Amor Interiors, a company that specializes in modern house design.
As a psychology graduate, Costeen is a specialist in influencing people for various paid activities, which made her a well-known personality in a short period of time and in that process she might got the attention of Aussie tennis star Kyrgios.
How did they meet?
The love story between Nick and Costeen began at the end of last year after the breakup of Kyrgios with ex Ciara Passati, but it was Hatzi who brought their meeting story in front of the public by saying, "He was apparently scrolling through Instagram and saw my business account post (a selfie of Costeen in the mirror), then he messaged my business account asking if the mirror was available for pick-up and then messaged my personal (account) asking the same thing."
Hatzi added their above friendly conversation tuned into a love affair by quoting, "He picked up the mirror and, as he would say, 'it was love at first sight'."
What is Costeen Hatzi profession and net worth?
As mentioned earlier, Nick Kyrgios' girlfriend is an emerging business professional, but she found herself on another level after meeting the hot-headed tennis star as her Instagram followers rises from 50k to 70k overnight just after openly announcing their relationship status.
Although Costeen runs her business in Sydney, she is basically originated from Brisbane, Australia and as of today, her net worth is $50,000, which is expected to rise in the future if her relationship continues with the tennis star.