Julianna Pena is an American professional MMA artist who currently competes in the women's bantamweight division of the UFC. The Jiu-Jitsu purple belt holder has a solid record of 11 wins out of her 16 MMA appearances and has lost five times. She held the UFC bantamweight title once and is the first woman to win the Ultimate Fighter.
In her last two fights, Pena met Amanda Nunes twice, and at UFC 269, the American secured a submission victory with a rear-naked choke and won the UFC women's bantamweight championship. But in their second fight at UFC 277, Pena lost to Nunes by unanimous decision and lost the title.
Amanda Nunes is the current No. 1 ranked UFC women's pound-for-pound fighter and the UFC women's featherweight champion. She also held the UFC women's bantamweight championship twice while appearing in the octagon 27 times, winning 22 fights and losing five.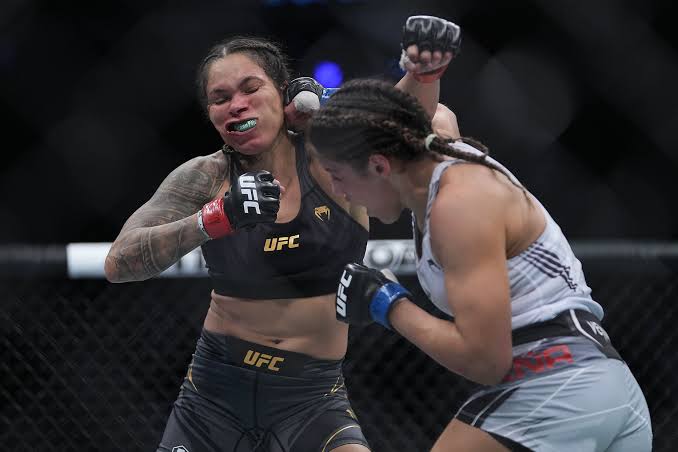 Pena recently revealed in an interview her desire to fight the Brazilian again, but Nunes fought fearlessly in their second clash, and that made Daniel Cormier think that the third face-off would be unnecessary, while DC advised Pena to move on as he thinks the American would have lost every round of the last face-off.
"Sometimes you've got to move on to get back. I think Julianna's in that position. I don't know if the work that she's put on paper warrants (it). Just because she survived in the last match, I think she might have lost every single round of that fight."
But Pena seems surprised by the DC's comments, considering her a person who can come back from several difficulties, she raised a question if DC could get into 10 title fights, why she couldn't get a trilogy fight! She even thinks fans are excited to see that trilogy fight happen.
"I have been clawing and scratching my way up to the top and been in this division since 2013 when they first allowed women to join the UFC, and I did everything I said l. DC, you've had 10 title fights, bro. Why do you hate on me for wanting to get a trilogy fight? 10! I think that's the most title fights in UFC history. I mean, come on, dude. Don't block me out, dude."