Conor McGregor and Dustin Poirier trilogy is set to meet for the third time on July 10 in the T-Mobile Arena in Las Vegas. In their first fight in 2014, the Notorious knocked out Poirier in just one minute and 46 seconds. Then they met again in January this year; Poirier won the bout in the second round; hence an epic rivalry was born.
Over the past six months, they have created some sort of hype about the fight through the trash talk, poking each other. As a result, the McGregor vs Poirier 3 fight has become one of the most anticipated UFC fights in history, which also brings a huge amount of money to the table. So, how much money do Conor McGregor and Dustin Poirier make from UFC 264?
McGregor vs Poirier UFC 264 Purse and Payout
Traditionally UFC doesn't reveal the purse and payout ahead of the fight as PPV percentage is included in the payment. Hence, you will find many predicted amounts on the internet. Therefore, our experts and researchers calculated the approximate purse and payout based on their previous battle and some facts. 
In their most recent fight at UFC 257, McGregor earned a disclosed amount of $5 million, while Poirier earned $1 million despite winning. However, McGregor's pay per view share is not included here. Therefore, the highest paid fighter in the world, Conor McGregor, made an additional $20 million from UFC 257. That being said, he will earn a similar amount of money this time too. 
However, we know the guaranteed money amount, which is $3 million for McGregor and $1 million for Poirier. You can see the following table to find the total money they will earn regardless of the result.
| | | | |
| --- | --- | --- | --- |
| Fighter | Guaranteed Payout | PPV Share | Total Money (Sponsorship, PPV Revenue share & Performance share) |
| Conor McGregor | $3 million | 60% | $10 million |
| Dustin Poirier | $1 million | 40% | $3 million |
This is not the final calculation, as the UFC 264 total payout will be calculated after calculating all the PPV sold after the fight. Both fighters will earn much higher than other fighters on July 10.
How Much Money will Receive the UFC 264 Fight Night Bonus Winner?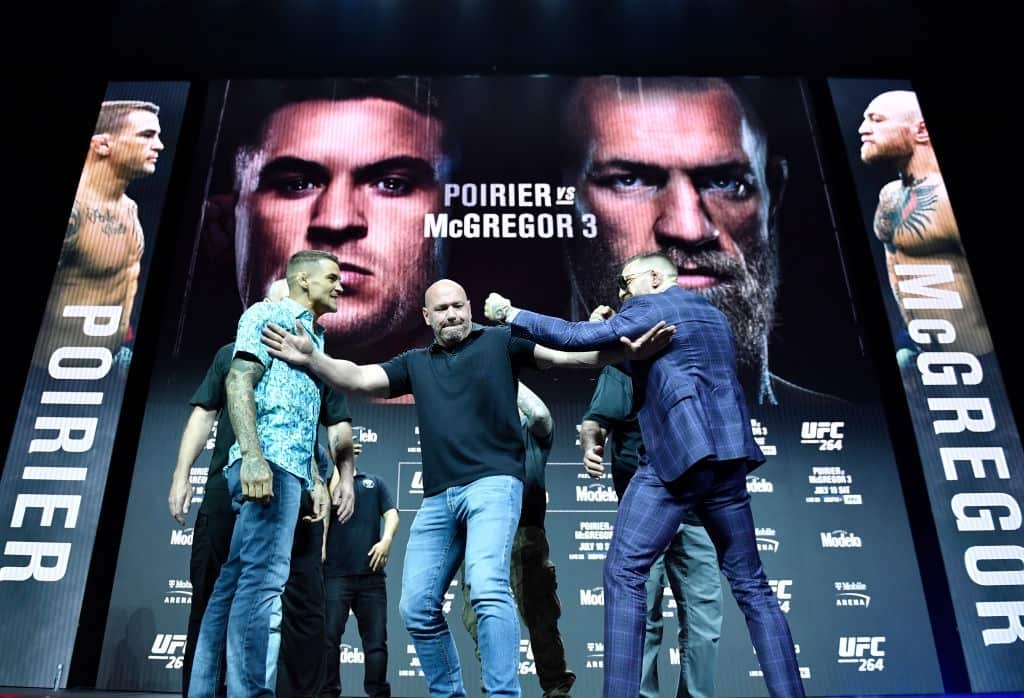 Usually, UFC pays $50,000 for the fight night prize winner, but this time they have increased the amount to $75,000. Previously UFC also did the same for UFC 262 fights. So, if McGregor or Poirier win the UFC fight night bonus, you can add an additional $75k in their earnings.
Where does the UFC Purse Money come from?
UFC has multiple income streams. However, the fighters themselves are the primary source of UFC income. Normally the fighters have a contract with UFC, such that they will play a number of fights and earn a specific amount of guaranteed money as well as PPV shares and some other bonuses. So, the fights and players bring money for the UFC through creating hype, selling PPV, endorsement, sponsorship, and more. Furthermore, UFC also holds a TV contract worth $1 billion at one time. So, if there is more hype for a fight, the more money involved with that fight. 
How much of the Money can UFC fighters keep?
Though the fighters are the asset of UFC and the main source of income, they don't have the opportunity to keep much money. With the popularity of UFC increasing, the income stream is also increasing. Usually, the fighters receive 20% of the gross revenue UFC generates from a bout. However, it is not much higher compared to other sporting events. McGregor is a bonafide fighter who brings more business for the UFC and has a special exception, and earns more percentage and benefits than other UFC fighters.
Why Does McGregor Receive More Money?
UFC works more like boxing matches; the higher the ranks, the more money the fighter makes per fight, even if the fighter loses. That is why Conor McGregor won more money than Poirier in UFC 246. Due to Conor McGregor's popularity and fanbase, he always earns more money than the opponent. Conor McGregor is the business of UFC. For example, all of the UFC's top five most viewed PPV bouts were played by Conor McGregor. 
Dustin Poirier's Earning Likely to Increase
Although Poirier is one of the top players in UFC, he had an average earning like a regular UFC player. But his profile has raised significantly after he defeated McGregor by TKO at their rematch. Now, his potential earnings have also increased; for instance, he earned $830,000 from UFC 257. So, this amount will rise to approximately four times.
Why do most of the UFC Fights take Place in Las Vegas?
UFC's production center 'UFC Apex' is located in Nevada. Also, they have the UFC Performance Institute nearby. Furthermore, it is also serving as the company headquarter. That is why hosting fights becomes easier in Las Vegas. Currently, most of the UFC bouts take place at UFC Apex, which opened on June 18, 2019. 
UFC 264 fight card
Early prelims
Jennifer Maia vs. Jessica Eye (women's flyweights)

Omari Akhmedov vs. Brad Tavares (middleweights)

Zhalgas Zhumagulov vs. Jerome Rivera (flyweights)

Hu Yaozong vs. Alen Amedovski (middleweights)
Prelims
​Carlos Condit vs. Max Griffin (welterweights)

Niko Price vs. Michael Pereira (welterweights)

Ryan Hall vs. Ilia Topuria (featherweights)

Trevin Giles vs. Dricus Du Plessis (middleweights)
Main card
Dustin Poirier vs. Conor McGregor (lightweights)

Gilbert Burns vs. Stephen Thompson (welterweights)

Tai Tuivasa vs. Greg Hardy (heavyweights)

Irene Aldana vs. Yana Kunitskaya (women's bantamweights)

Sean O'Malley vs. Kris Moutinho, (bantamweights)