Conor McGregor Net Worth 2021: Salary, Endorsements, Investments, Businesses, Spendings, Mansions, Cars, Charity Works And More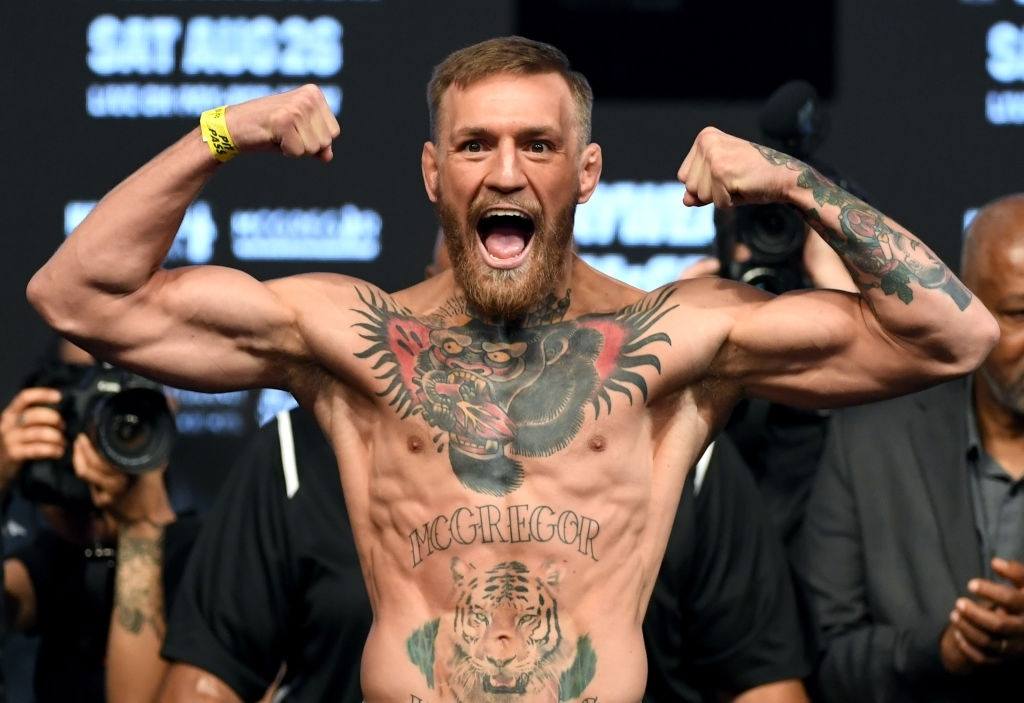 Conor McGregor is undoubtedly the biggest name in MMA and UFC history. The Irishman is also the most popular Irish fighter and celebrity, known for his unflappable character, accent, and charisma. Also known as "The Notorious", Conor is one of the few fighters in UFC history to hold titles from two weight classes simultaneously.
McGregor holds the UFC Featherweight and Lightweight titles after claiming them from Jose Aldo and Eddie Alvarez, respectively. Moreover, his 13-second knockout win over Jose Aldo is the one of the fastest knockout in UFC title fight history. Loud and unabashed, Conor McGregor is certainly one of a kind.
A Glance at Conor McGregor's Asset Accumulation:
| | |
| --- | --- |
| Aaron Charles Rodgers | Conor Anthony McGregor |
| Net worth | $180 million |
| Age | 32 (born on July 14th, 1988) |
| Relationship status | engaged to Dee Devlin |
| Source of Wealth | UFC salary, Endorsements, Investments and Business |
| Salary | estimated $22 million |
| Endorsements | Burger King, Beats by Dre, Monster Energy, Electronic Arts ( EA), Bud Light,  Wynn Resorts |
| Endorsement earnings | estimated $158 million |
| Philanthropy | The Good Fight, Children's Medical Research Foundation |
What is Conor McGregor's N
et Worth in 2021?
After incessant research on several platforms, our estimation is that, Conor possesses a net worth of around $180 million. His salary, investments and endorsements provide him the financial wealth and worth that he is the owner of. Let us find out the sources behind his income and expenditure that make up his net worth.
Conor McGregor's
 Sources of Wealth:
Let us now take a look at the sources from which the UFC star accumulates his abundant wealth.
Conor McGregor's earnings from the UFC:
Whilst Conor McGregor, The man with a hothead and a killer left hook, earns a lot of money through his businesses, sponsorships, and ad deals, his primary means of income for a long time was in MMA. Here are some of McGregor's most famous and biggest PPVs and paydays:
Conor's featherweight and lightweight title bouts with Aldo and Alvarez raised $80 and $83 million in PPV revenue respectively. Additionally, McGregor brought in a combined $170 million in PPV revenue for his two fights with Nate Diaz.
For his return fight against Khabib Nurmagomedov, Conor made $3 million, excluding the sponsorships and PPV payouts. However, the UFC 229 showdown amassed a ginormous $180 million in PPV revenue.
Before his fight with Khabib, Conor made upwards of a massive $85 million from his boxing fight with Floyd Mayweather. Moreover, McGregor pocketed a guaranteed $30 million before the fight.
At UFC 257, Conor McGregor vs Dustin Poirier rematch values at 1.6 million PPV buys, making it the second-highest in UFC history. It is right behind Conor and Khabib's UFC 229 showdown in terms of PPV buys and revenue.
However, in the pursuit of  trilogy fight against Dustin Poirier, Conor 'The Notorious' is set to earn $10 million in which he has a guranteed payout of $3 million with estimated PPV share of 60%.
Conor McGregor's Endorsement Deals:
Apart from Conor's shenanigans inside the ring, he also has other income streams which have further elevated his status as one of the wealthiest and influential sports personalities on the planet.
Conor McGregor's Reebok Zig Kinetica: All you need to know about the launch of Reebok's new landmark trainer | https://t.co/fuP0yl7YnB pic.twitter.com/VXVCLwRljN

— The Mac Life (@TheMacLife) February 20, 2020
Reebok and Conor have been old partners in terms of endorsement. Reportedly, after his contract renewal with Reebok, Conor happens to earn around $5 million from his sponsorship deal.
Alongside, he has been associated with quite a number of big brands as an endorsee. The brands are Burger King, Beats by Dre, Monster Energy, Electronic Arts ( EA), Bud Light, and Wynn Resorts.
McGregor has been a mainstay in the UFC videogame series. However, he has also made an appearance in Activision's highly acclaimed first-person shooter series, Call of Duty: Infinite Warfare.
Conor McGregor's Earnings Through Investments:
A sports personality and a ealthy celebrity at the same time, Conor has made a few investments in his life and career as of present times.
You asked, we listened. McGregor FAST is now available around the world 🌏 🌍 🌎 . Now, athletes across the globe can train with the intensity and dedication of @TheNotoriousMMA. Download today for iOS and Android: https://t.co/tku0nbvOrL pic.twitter.com/hEaWoIpmGE

— McGregor FAST (@McGregorFast) January 14, 2021
He invested and launched his own fitness and conditioning program named F.A.S.T. It is intended to allow users to get into fighting shape at the earliest. F.A.S.T has been developed under the guidance and help of the world's leading sports doctors and exercise physiologists.
Conor is rumored lately to have been thinking over making some investments in the world of football notably to either Manchester United or Celtic. However, nothing is confirmed about the same yet.
Conor McGregor's earnings through Businesses:
Before his fight with Floyd Mayweather, Conor announced a fashion partnership with tailoring brand David August named, "August McGregor". According to sources the head of David August met with Conor three years prior, via Dana White.
Thanks to the incredible generosity of McGregor Sports & Entertainment Ltd, the Mater Hospital received a delivery of sterile gloves for our staff who are currently working hard to battle the impact of #COVID19 on their patients. Hugely grateful for the support🙏@TheNotoriousMMA pic.twitter.com/FkjSlIsYSf

— The Mater Foundation (@TheMaterFoundat) March 30, 2020
In the year 2014, he developed McGregor Sports & Entertainment Ltd. The company is noted to have sold the MacTalk App on itunes for a cheap price of $0.99.
McGregor recently began TIDL Sport in partnership with the Anthos group to launch a next-generation sports recovery line. The foundation of TIDL Sport is plant-powered cryotherapy sprays that cure pain and inflammation directly at the source.
He also owns a media house named 'The Mac Life' that covers MMA,lifestyle and fitness. Alongside, the media house also promotes Conor's fights and related products.
McGregor's Proper 12 whiskey launches in UK with Morrisons stocking it for £22 https://t.co/jmh2bvTjtD

— Morrisons (@Morrisons) February 18, 2021
Conor launched Proper No. Twelve Irish whiskeys in Ireland and the United States in 2018. The whiskey is named after the Crumlin neighborhood in Dublin 12, where Conor grew up.
Later that year, McGregor revealed that the brand had sold "hundreds of thousands" of bottles since the launch, and plans were to restock in the United States and Ireland in December. The Notorious also confirmed the brand will extend distribution to the UK, Australia, New Zealand, Russia, and Canada in 2019. Conor owes a large part of his net worth in 2021 to the sale of his whiskey brand Proper 12 to Proximo Spirits for £106 million ($150 million).
How Conor McGregor Spends His Millions?
Now that we know where all the wealth comes to Aaron Rodgers from, let us glance through how and where he spends it all.
Conor McGregor's Luxurious Mansions:
The high value earnings and huge net worth possessed by Conor also finds him as the owner of a number of exquisite mansions to say the least.
Conor McGregor reportedly splashes €2 million on luxury new mansion belonging to former Taoiseach's son – Dublin Live https://t.co/UW2o8Y7ATO pic.twitter.com/W7tIh7Ki3l

— U2 Fans (@fansofu2) July 17, 2019
In the year 2015, he purchased a mansion which covers an area of 12,000 square feet. The house is located in Sin City, Las Vegas. Conor nihnamed the house as 'The Mac Mansion'. The mansion boasts features such as seven bedrooms, fifty feet infinity pool with jacuzzi and a garage that can accomodate ten cars. The mansion also has a back garden golf course and a luxury spa.
In the year 2018, Conor bought a holida house worth the value of $1.3 million euros. It is situated in Marbella, Spain and offers a spectacualr view of the Mediterranean Sea. From a modern perspective, the house is customized with swimming pool, gym and a La Resina golf course.
The recent purchase of mansion by McGregor, happens to be the one at Dublin, Ireland which he purchased in the year 2019 for a value of $2 million euros. The mansion boasts a huge lawn and also is well equipped with five bedrooms, six bathrooms, kitchen and games room. Alongside these features, the mansion also has a fully equipped training room with all high quality machinery.
This mansion also has rooms decorated with golden chandeliers and also has a horse riding facility.
Conor McGregor's Car Collections:
A cluster of classy four wheelers is what Conor's garage proudly boasts. He ownsa huge fleet of terrific hot rods in the market at present.
Conor McGregor gifted his family a fleet of luxury carshttps://t.co/A9UNlrGkRC#UFC @TheNotoriousMMA pic.twitter.com/DSL7x4eBAH

— FOX Sports: UFC (@UFCONFOX) June 20, 2016
Reputed for living quite the lavish life, Conor owns a fleet of luxury cars including the Rolls-Royce Phantom Drophead Coupe, BMW i8, Rolls-Royce Ghost, Lamborghini Aventador Roadster, Cadillac Escalade, etc.
However, Conor's most important and expensive vehicles are a limited edition Lamborghini Huracan Avio and a Lamborghini yacht named "Tecnomar for Lamborghini 63", which is a collaboration between Lamborghini and The Italian Sea Group.
Conor McGregor's Non-profitable Investments: The Charity Work
"Charity wins in the end. Mission accomplished."

Dustin Poirier on the back-and-forth with Conor McGregor over his charity donation.

🎥 x UFC Countdown#UFC264 | July 10 | BT Sport Box Office pic.twitter.com/JbS7Y0yXH9

— UFC on BT Sport (@btsportufc) July 4, 2021
Whilst sources claim that Conor McGregor is a regular donator to charities, he did have a conflict with one. After promising a whopping $500,000 to Dustin Poirier's foundation- The Good Fight, Conor seemingly went back on his word after sensitive details were made public on Poirier's end.
However, Conor ultimately did donate $500k, but to another charity, said to be associated with Dustin's. Other than that, He has helped raise over $800k for the Children's Medical Research Foundation.
Conor McGregor's
wife, Dee Devlin's Net Worth:
Conor McGregor's wife Dee Devlin is an style icon hailing from Ireland. She also happens to be Conor's financhial advisor. As per estimations, Dee's net worth currently adds up to around $20 million according to reports.