Conor McGregor biography: The man with a hothead and a killer left hook
Conor McGregor biography deals with the man who is the face that ran the place of UFC during the early 2010s with his charisma inside the octagon and his phenomenal abilities to put people to sleep with his fist. Ireland-born Southpaw has accumulated enormous wealth and even greater fame through his career as Mixed Martial Artist. 
McGregor became one of the biggest names in the business and took UFC to heights which were unseen before. The currently retired lightweight is known for his brash nature, razor-sharp tongue, and destructive blows. 
Straight to the point and merciless against opponents, Conor "Notorious" McGregor joined the sport for the heavy paychecks it came with. During his loud and arrogant stay in the business, he earned the nickname Notorious, for his activities, both inside and outside the ring. 
Today, we look at the life of the several record-making and breaking, featherweight and lightweight title-holding, the trash-talking man from Ireland, Conor McGregor, in his biography. 
Conor McGregor biography quick view:
Full Name: Conor Anthony McGregor
Net Worth: $110 million
Nicknames: The Notorious
Date of Birth: 14 July 1988
Nationality: Irish
Place of Birth: Crumlin, Ireland
Age: 32 years
Parents: Father – Tony McGregor, Mother – Margaret McGregor
Siblings: Aoife McGregor (Sister), Erin McGregor (Sister)
Education: Coláiste De Híde
Reach: 74 in (188 cm)
Height: 5ft 9in (175 cm)
Weight: 77 kg
Partner: Dee Devlin (girlfriend)
Marital Status: Single
Children: Conor Jack McGregor Jr (Son)
Occupation: Mixed Martial Artist, Boxer
Weight Class/Division: Welterweight
Team: Straight Blast Gym Ireland
Career: 2008–present
Zodiac Sign: Cancer
Overview:
The Irishman quickly shot to success after his explosive entry into UFC, following his successful career in MMA. He captured the featherweight title in 2015 and went on to win the lightweight belt in the next year.
The first fighter in the history of the business to achieve such a feat, McGregor had several more records to break in his path. He would go on to fight the boxing sensation Floyd Mayweather in a losing effort in 2017.
Notorious is so loved that his matches have drawn millions of UFC PPV buys, exceeding most records. An absolute fan favorite, the cheers for McGregor overshadow any amounts of praise his opponent was to receive. 
He is also known for fighting in brawls outside the ring, infamously with the stable of his opponent, Khabib "The Eagle" Nurmagomedov. Irish declared his retirement in 2019, to come back again in early 2020 for a fight.
He has stayed retired since then. 
Conor McGregor early life:
Conchúr Antóin Mac Gréagóir, as his Irish name is, was born in the Irish family of Margaret and Tony McGregor in 1988, on 14th of July. The neighborhood of Crumlin, his hometown in the capital city of Dublin was a rough area.
Young Conor liked playing soccer and then turned towards boxing to channel his anger issues. A Crumlin Boxing Club member from 11 through the age of 17, McGregor won the Dublin Novice Championship in this period.
Afterward, he started to train under coach John Kavanagh for MMA which was still unpopular in Ireland. He took up the job of a plumber to support himself, which he later quit, becoming a fighter professionally.
Conor McGregor girlfriend:
The brash and brutish Conor McGregor has a loving side that is reserved for his family and his loving girlfriend, named Dee Devlin. The two had met back in 2008, in a nightclub in Dublin. 
McGregor had just started as a Mixed Martial Artist and his career was rocky, at best. However, Dee remained by his side supporting him in every way possible, in his darkest stages, his guardian angel.
She gave up on her job as a secretary and traveled with him throughout the world. She is his strongest supporter and biggest fan. Devlin prepares Conor's favorite meals, aids him in training, and her presence comforts the hot-headed Irishman. 
Conor McGregor son:
The Conor McGregor biography will not be complete without mentioning the next generation in the Irish family. The McGregors added a new member into their family on 5th May 2017.  Dee became the mother to Conor Jack McGregor Jr., Conor McGregor's son. The two have become engaged in August 2020 and might tie the knot soon.
Education:
Notorious had his early education at a Irish educational institute of a 'Gaelscoil' type. His secondary education was from the 'Gaelcholaiste'-de-Hilde.
It was around this time, when the young man started finding an interest in football, which he played in association, in Tallaght.
He has played for Lourdes Celtic FC, as a young boy.
Conor McGregor career in MMA and UFC:
Total matches: 26
Losses: 4 (by submission)
Wins: 22 (1 submission, 2 U-Dec, 19 Technical Knock-Outs)
Cage Warriors
Conor McGregor entered into an MMA ring professionally, at the young age of 20 on 8th March 2008. His first match was for the Cage Warriors, a promotion situated in London, where he picked up a TKO victory. 
Although he lost a couple of the six earliest fights in his career, he had claimed the lightweight and featherweight championship by 2012. 
Entry in UFC:
The President of UFC, Dana White went to Ireland to recruit fresh faces, where he signed Notorious for a contract in his company. Coming into the octagon in April 2013, McGregor showed his skills knocking his opponent out in the very first frame. 
His next big win was against Chad 'Money' Mendes, where he claimed his first UFC gold, the featherweight championship, in 2015. By December of that year, he solidified his position as one of the greatest to set foot inside the eight-sided ring.
He put Jose Aldo to sleep in a mere 13 seconds of the first frame. The left hook which is his greatest weapon was unleashed upon a dazed Aldo who went down rapidly.
McGregor had now unified the featherweight titles within 2 years of his entry into the business. 
His first loss and retribution:
Conor McGregor took on a large risk in 2016 when Rafael Dos Anjos decided to not go on with his title match, by participating himself. McGregor leaped a class of weight to join the welterweight category to face Nate Diaz for the title.
At the uncomfortable 170-pound category match, McGregor did not find it easy and Diaz rained down upon him. Nate was finally capable of putting the smaller Irishman into a submission maneuver, making him tap. 
Notorious had just lost his unblemished record of 15 W's inside the ring.
The Southpaw was given a second chance in the rematch that took place in August, where McGregor was capable of taking the barrage that was Diaz. After securing a victory in the fourth frame, he was declared the winner through a U-Dec.
Holder of two titles:
In November of 2016, Conor McGregor would go on to face Eddie Alvarez who was the lightweight champion at that time. Back in his comfort zone of lightweight category, he secured a victory in the second phase through a technical knockout.
At this point, he brandished the two gold titles of UFC, as the lightweight and featherweight champion. 
Bad times for Irishman:
Notorious started becoming infrequent in carrying out his role as the champion as he grew more and more inactive. This forced the hand of Dana White to take the titles away from McGregor, stripping him of his credibility as a champion in early 2018. 
His bad luck was not over, even when he came back after several months in October, to face Khabib "The Eagle" Nurmagomedov. The new champion in the lightweight category, Nurmgomedov was undefeated and unfazed by the Irishman's trash-talking antiques.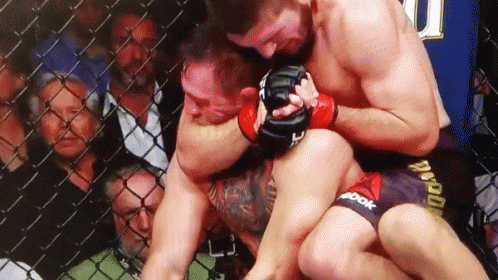 The protege of EaglesMMA from Dagestan dominated Notorious in the entire match and made him tap out by the fourth frame. Humiliated and seething with rage, McGregor's side started a fight against Khabib's tent after the match. 
This resulted in McGregor being handed a 6-month suspension slip, furthering his ill-luck inside the octagon. 
Possibly the greatest thing to come out of the #mcgregorvskhabib fight!! No idea who made this but it's outstanding ?? pic.twitter.com/XWOWwd9J9g

— RockyRyan (@Freefajjen) October 7, 2018
Ending and a new beginning, again:
Disappointed with his series of losses, McGregor posted on Twitter that he was leaving the business that was his love, on 26th March 2019. His announcement of calling it quits with UFC with an impressive resume of 21 W's and 4 losses, upset many fans.
Fortunately, cheering the fans up, he announced that he was coming back in early 2020, sometime later in that year. He came back stronger than ever and destroyed Donald Cerrone in just 40 seconds. 
The TKO of Cowboy was swift and second fastest victory Irish had ever scored. It also happened to be the first time, he celebrated a victory after three hard years. 
Vital stats:
The Irishman is a medium built man standing at 5'9″, a little shorter than the American fighters. With a reach of 74″, he finds a unique advantage in his fighting style against his opponents. 
Conor McGregor is the most in the classes of featherweight and lightweight. However, never the one to back away from a hurdle, he has bulked up to join the 170-pound welterweight category.
Notorious is educated in several wrestling styles, including the Capoeira, Karate, and Tae Kwon Do. He holds a brown belt in Brazilian Jiu-jitsu and is a powerful grappler.
Additionally, his strongest weapon is his left hook that has put many fighters to sleep. Raw strength in the fists is one of the key aspects in the Conor Mcgregor biography. 
Conor McGregor tattoos:
Conor McGregor sports several colorful tattoos that ornament his bulging muscles. The first tattoo ever that the Irishman received was when he was 20, after a night of bar drinking.
It's in Arabic script on the heel of his left leg. However, the bulk of his inks appeared since his entrance into UFC, like the big crowned gorilla taking a bite into a heart. 
There is also a tiger in the fighter's abdomen, wedged between his last and nick-name. His back is adorned with a crucifix with wings, that is joined to a thorned helix that goes down Notorious' spine.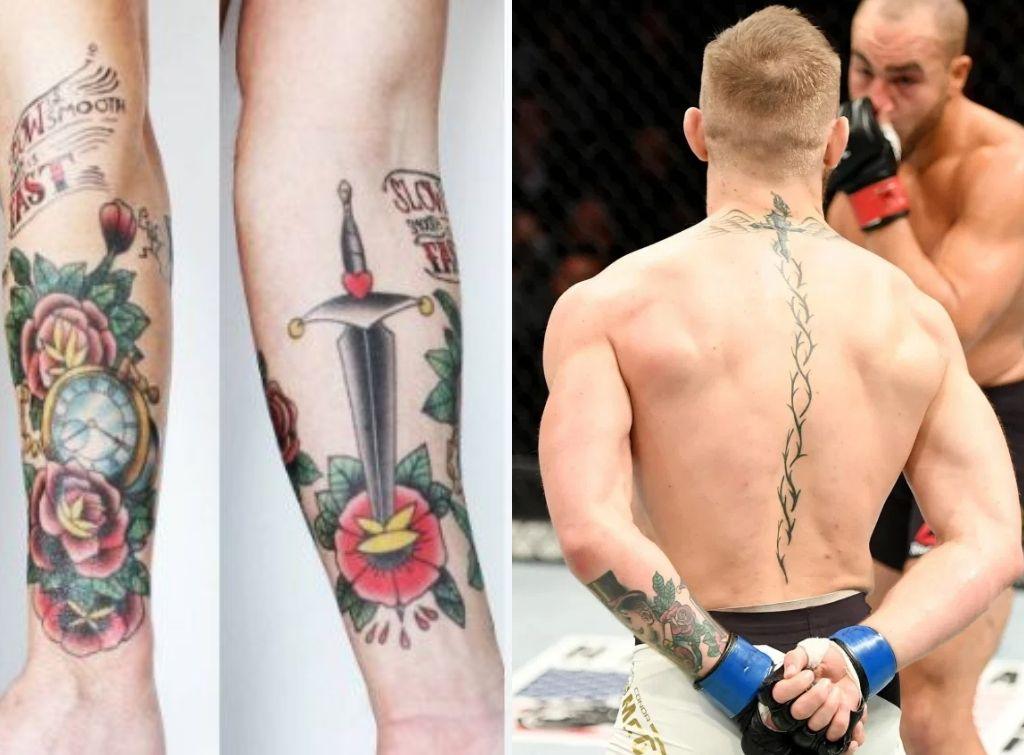 As if that is not enough, he also has a thick bush of roses, humans, and writings etched on the left forearm. 
Conor McGregor net worth:
Any Conor McGregor biography is incomplete without mentioning the wealth he has accumulated in his career of knocking people out.
The Irishman is worth a whopping $120 million as of 2020. He received a gigantic paycheck $100 million back in 2017 when he faced Floyd Mayweather in a boxing bout. 
Another huge addition to his bank balance was when he was paid $50 million for his fight against "The Eagle" Nurmagomedov. Deducted from taxes, his total worth stands at $120 million, which is a staggering number for a middle-class boy from Crumlin, Ireland. 
Conor McGregor endorsements:
The Southpaw has several endorsements which are a key source of his secondary income. He has various deals signed with important brands like Burger King, Monster Energy, Budweiser, Beats Electronics, Reebok among others. The deals with these brands earn him a whopping annual salary of $15 million.
While collecting trivia for Conor McGregor Biography, we came across the interesting news about him. He ranks at as the 21st athlete with the highest pay, according to Forbes Magazine, as of 2019.
Notorious partnered up with David August to create a fashion line known as "August McGregor". This brand aims at offering suits for men in the slim-fit style.
Brushing with the law:
Proving his nickname time and again, Conor 'Notorious' McGregor has had several run-ins with the law. A couple of days before his match in UFC 223 in early 2018, he arrived with a raucous group causing havoc.
His party created tantrums after an event for the media when McGregor himself chucked a hand truck into a bus. This little stunt of his ended up injuring a few fighters of UFC, and two of those fighters had their bouts canceled. 
McGregor's actions were thoroughly disparaged by Dana White dubbing it "most despicable thing in UFC history,". McGregor had tried to reason in actions by stating that it was the result of the rivalry he had with Nurmagomedov's tent.
McGregor went to get arrested by the NYPD voluntarily and was branded with three assault charges and one criminal mischief charge.
He would have another incident in March of 2019, when he was arrested in Miami, FL. Once again in Conor Mcgregor biography, we come across an incident where he was on the wrong side of law.
This time it was for criminal mischief and strong-armed robbery. The police reported that Conor McGregor had slapped a fan's phone out of their hand, and walked out with it. 
According to online records, Conor McGregor has been arrested in Miami. Miami Herald reports McGregor is being accused of breaking a fan's phone. pic.twitter.com/JW1UzhniVy

— Brett Okamoto (@bokamotoESPN) March 11, 2019
He was released only after the postage of a bond, after staying in Miami-Dade jail for almost a day. 
That very day, when he had announced his desires to leave UFC, investigations revealed that Notorious was being looked into for a count of sexual assault. The incident had allegedly taken place in December of 2018, back in Dublin. 
The fighter was arrested and then released the next month, with due investigations needed. 
Conor McGregor quotes:
To quote the man, his famous lines include:
"I sleep people. I put people unconscious. I'm stating facts. If I hit a man, his head is gonna go into the bleachers. You understand that?"

"There are two things I really like to do and that's whoop ass and look good. I'm doing one of them right now and on Saturday night, I'm doing the other."
"I own this town, I own Rio de Janeiro, so for him to say that he is the king and I am the joker, if this was a different time, I would invade his favela on horseback, and would kill anyone who wasn't fit to work. But we're in a new time, so I'll whoop his ass instead."
"I am cocky in prediction. I am confident in preparation, but I am always humble in victory or defeat."
"The only weight I give a f— about is the weight of them checks and my checks are always super heavyweight."