David Beckham, the man with the golden leg, the maestro who is known for his ambidextrous ability to swerve from any angle – nothing less than an absolute legend. What comes to our mind when his name is uttered? Do we see the ball spinning in the air, or do we see the fashion icon who is still the sexiest man alive? Like Deadpool said, "Looks are everything. You ever heard David Beckham speak? It's like he mouth-sexed a can of helium."
Regardless of the mental image we have of him, Beckham is conceivably one of the most decorated players in the world. With an illustrious career that spans over two decades, there is nothing that he has not achieved. From the great American dream to no less than a worthy knight of England, he has done it all. 
Currently, Beckham is the president & co-owner of Inter Miami CF in the United States. He is also the owner of Salford City, a club in the city of Manchester. Not to mention, he has been heavily associated with the popular TV series Peaky Blinders of late. He is no stranger to the camera, as he has previously been cast in movies like Goal 2 and King Arthur: Legend of the Sword.
In 2003, Beckham was awarded the coveted title of OBE along with his wife, Victoria. Beckham's achievement with the National team is perhaps more prominent than his peers, like Steven Gerrard or Frank Lampard. 
His role, not only as the captain but also as the primary chance-creator, made him who he is today. In his distinguished career, Beckham achieved almost everything a player can. Reasonably, his Goal of the Decade (vs. Wimbledon, 17 August 1996) was one of the seminal moments of his career. 
Manchester United And David Beckham – The Rise Of The Legend

During his controversial yet highly successful era at Manchester United, Beckham faced a lot of pressure. Nevertheless, the tension never got to him as he played it pretty close to the vest. In 1999, he was the runner up in Ballon d'Or. His performance that season was breathtaking in every way. At the age of 23, Becks was in his prime and started 33 out of the 34 matches he played. Scored six and assisted 11 times that season, looking back, that was one of the top moments of his career. 
Nevertheless, nothing lasts forever, and likewise, his time at United came to a controversial end when he got in a rout with Sir Alex Ferguson. Beckham, later said that it was something inevitable and that he wishes it happened in a different way. Fate has a way of putting in front of us that which we helplessly want to avoid. 
The American Dream 
In 2007, David moved to L A Galaxy. He became the highest-paid player in the world back then. With his phenomenal performance and an acute sense of leadership, Becks brought the title home in 2011 and 2012. 
This move was one of the most instrumental factors in his career as he would go on to be the face of American soccer for the better part of the next decade. At the time, the sport was gaining popularity in the US, and Becks seized the opportunity. 
David Beckham Secures 100th Cap For The National Team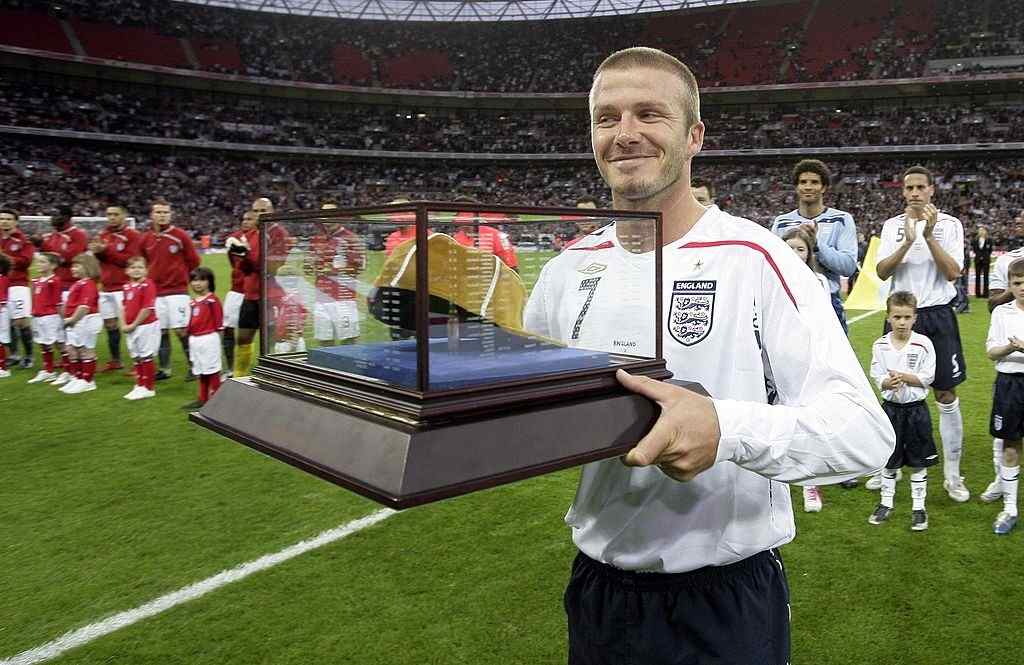 In an interview, Beckham poignantly mentioned that his career might have ups and downs, but he would be proud if he managed that 100th cap for England. He did that quite fashionably against France brandishing his golden boots. 
England lost to France that day, but we saw something in Beckham, which we rarely did before. He was more than comfortable and capable of exchanging positions, playing as the full-back to support the defense. At the age of 32, giving his all, even in a friendly, showed us that he is a man who just doesn't give up. 
David Beckham vs. Greece 2002 World Cup Qualifier
Deep into stoppage time, it looked bleak and impossible for England, 2-1 down, and no hopes of turning things around. England needed just a draw to qualify for the World Cup. Amidst all the chaos and uncertainty, a foul was given in favor of England as Sheringham was tugged. 
In hindsight, perhaps this was the best moment of Beckham's career. 25-30 yards out, cometh the hour cometh the man, an absolute nail-biter. Beckham, in his element, steps up to it, and the ball looked like it was destined for the top left corner. Indeed, it was divine providence that the stadium was none other than Old Trafford. 
Stepping Down As The Captain 
This was one of the most emotional moments for Beckham fans. Six years as the captain of England, out of his 95 caps, he captained for 58 and finally decided to step down. In his press conference, masking his emotions, he said, "I feel the time is right to pass on the armband. I am extremely proud…Thank you very much." The entire nation cried in silence to see one of their best ever step down from this position.