How can Israel Adesanya's next fight vs Alex Pereira resurrect his UFC stardom?
When Alex Pereira made his UFC debut back in November of 2021, he only had three fights under his belt. Despite his relative inexperience in the world of mixed martial arts, he was still being talked about by large factions of the MMA community. But this popularity did not come from an explosive MMA career, but rather from his days as a Kickboxer.
Pereira was a champion at Glory Kickboxing and was considered among the top kickboxers on the planet. But even without those accolades, he still had a presence in the minds of the UFC fanbase, but why? Well, it's hard to stay out of the conversation when you are the only guy to have knocked out Israel Adesanya- that too twice!
what happened during their kickboxing days? who was better during that day?
Adesanya, the almost immortal Middleweight champion, used to compete as Kickboxer. He had a glittering career over there as well, but one of the blips on his record was the defeats he suffered at the hands of the Brazilian Pereira. Pereira had one decision and one knockout victory over The Last Stylbender, and to this day is the only holder of that deed.
The two fighters met twice during their kickboxing days. In the first fight, Pereira picked up a decision win over the Nigerian. In the second fight in 2017, however, things would not go that far as the Brazilian knocked out Izzy in the third round. Certainly, by that result, it would seem that Pereira was a much better fighter than Adesanya. But mixed martial arts is a whole different ball game, and Izzy seems to thrive when the lights are the brightest.
It seemed like destiny that Pereira would follow his arch-nemesis to the UFC and that he did when he joined the promotion back in November of last year. He had made most of his opportunities by scoring a vicious knockout victory in his first fight and also picking up a decision win in the second. This put him up for a fight against number 4 ranked Middleweight Sean Strickland at UFC 276. And guess who was headlining the event- Israel Adesanya.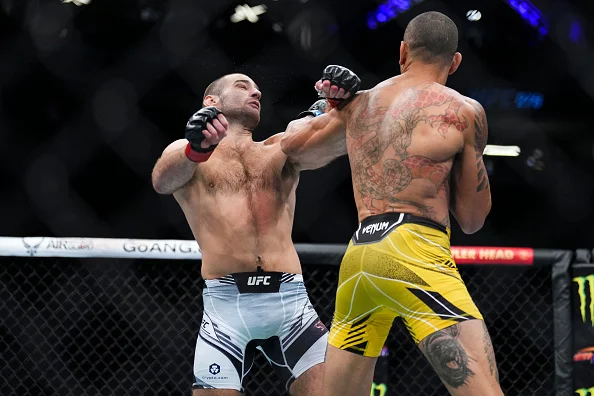 In much of the buildup to the fight, Izzy was asked about a potential matchup with the Brazilian. Although the Nigerian-born fighter alluded to a potential fight, he straight up called out Pereira after defending his title against Jared Cannonier. Pereira, too, picked up a win on the night, as he brutally knocked out Sean Strickland in the very first round.
Are we really going to witness Israel Adesanya vs Alex Pereira?
Adesanya is known for his non-cryptic call-outs and this time it was no different. Straight after picking up a decision victory over Cannonier, he called out his former foe and compared him to the Disney character Elsa.
"Look, we know who is next. The first time I told you [Pereira] it was an error on my part due to my spamming right hand and that was in kickboxing. It is easy to knockout that homeboy [Sean Strickland] because he was parrying the jabs, but like I said at the press conference, next time I put you on skates, you will get frozen like Elsa."
"We know who's next! Next time I put you on skates, you gonna get frozen like Elsa!"@stylebender keeps his post-fight interview short and sweet and sends a message to Alex Pereira! 👀#UFC276 pic.twitter.com/zppqne1xW9

— UFC on BT Sport (@btsportufc) July 3, 2022
Although no time or date has been set for the fight, it goes without saying that this fight is inevitable. Maybe we can expect a bout at the end of the year.