Patricio Pitbull is the current No. 1 pound for pound fighter and the featherweight title holder at Bellator MMA. This Brazilian was the second fighter to hold two titles in different weight classes simultaneously while moving up from featherweight to lightweight at Bellator MMA.
𝑪𝒉𝒂𝒎𝒑𝒊𝒐𝒏 𝑿 𝑪𝒉𝒂𝒎𝒑𝒊𝒐𝒏

2️⃣ of the best Featherweights in the world collide on New Year's Eve! @PatricioPitbull 🆚 @KoikeKleber is not to be missed.#BellatorvsRizin | NYE – 8pm ET/PT | @SHOsports pic.twitter.com/2N9CLIjrOJ

— Bellator MMA (@BellatorMMA) December 30, 2022
While appearing on the Trocação Franca podcast this week, Pitbull spoke about the upcoming UFC's most anticipated bout between Makhachev and Volkanovski, and he considered that the Australian fighter would hold both titles like himself.
"I think that's perfect; he's doing what I did, what [Conor] McGregor did one day. It's great. He really has to test himself; really has to move up in weight. He's not that light, and I think he's fast and very powerful."
Champ energy! ⚡️@AlexVolkanovski pic.twitter.com/c47mnI27sV

— UFC_AUSNZ (@UFC_AUSNZ) November 18, 2022
While considering Makhachev's height and reach advantage, Pitbull still predicts that the current UFC featherweight champion has the full potential to win the fight.
"I think Volkanovski wins. I do. Not because he's [a featherweight]. I think he's hard to beat. He's hard to be controlled, hard to be found on the feet, hard to be submitted, so it's not someone that will be easily found [by Makhachev] in the cage."
Makhachev or Volkanovski?! 🏆

How do you see it going down at #UFC284 in Perth?!

🎟 All tickets to #UFC284 go on sale tomorrow at 10am AWST // 1pm AEDT pic.twitter.com/SI12v84id0

— UFC_AUSNZ (@UFC_AUSNZ) November 17, 2022
Later in the same podcast, this 39-35-4 pro MMA record holder briefly discussed Volkanovski's fighting strategy and the reason why he thinks that Volkanovski will win over Makhachev.
"He's faster than Makhachev, so he definitely has a good strategy to keep the fight on the feet. He controls the distance really well. We don't have a similar style, but the strategy he does is similar to mine. He moves well and doesn't allow people to get close that easily. He touches without getting touched, and that's very important in a fight. You end up frustrating your opponent, hurting him the entire time."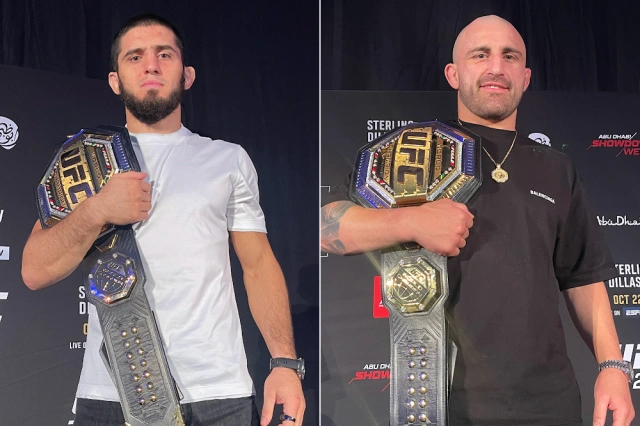 However, Islam Makhachev will face Alexander Volkanovski at the main event of UFC 284, which will take place on February 12, 2023, at RAC Arena in Perth, Australia.