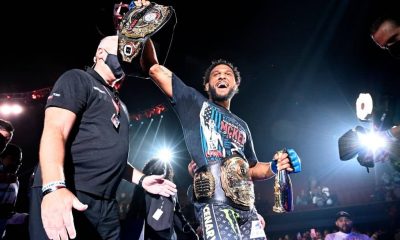 Bellator
"I think just strategically it makes sense" AJ McKee reveals why he re-signed in Bellator
AJ McKee, the brightest emerging star of combat sports, has decided to stay in Bellator MMA. Last Tuesday, Bellator announced that the American fighter had signed...
A.J. McKee has extended his career with Bellator by signing a contract that includes multiple fights and multiple years with the...
More Posts
Enes Kanter Freedom blasts US President Joe Biden for failing to take action against...

It's time to put those rumors about Julian Edelman coming out of retirement to...

Shannon Sharpe is a huge LeBron James fan. This is why he got into...

After the Kansas City Chiefs' victory against the Cincinnati Bengals in the AFC Championship...

Tom Brady revealed Wednesday morning that he is retiring from the NFL "for good."...

The negotiations for the possible heavyweight fight between Tyson Fury and Oleksandr Usyk are taking...

Being participants in a combat sport, UFC fighters don't always come together unless they're...

The world of professional sports often inspires passion and excitement, but it can also...

Sydney Warner, the wife of San Francisco 49ers star Fred Warner, recently shared her...

A whole new dimension of possibilities appeared after former heavyweight champion Francis 'The Predator'...