Who is Kevin Harvick wife? love affair explored
Fast as lightning, American stock car racer Kevin Harvick has spent over 20 years racing in NASCAR's top division and racked up a total of 121 wins across the National Series during that time.
Kevin Harvick was planning to rock the wheels with speed, but he was burning inside for the love of his life, who is none other than his wife, DeLana Harvick.
The power couple Kevin and DeLana's story is an inspiration to many young couples because of the commitment they have shown to each other over two decades. Let's learn more about their romantic love history, as well as the lady DeLana, who inspires Kevin to fire up the engines and burn the tires in NASCAR.
Who is Kevin Harvick's wife – Delana?
DeLana Harvick, who was born on July 7, 1973, in Kernersville, North Carolina, graduated from the University of North Carolina at Greensboro. Joyce Linville and John Linville, who participated in the NASCAR Busch Series, are the parents of DeLana Harvick.
DeLana has never been a professional race driver, but her emotion for the race grew stronger as she grew older. She has always loved seeing racing and the people who do it since she spent so much of her childhood in the pits with her father, John Paul Linville.
What is Kevin Harvick's wife profession?
After graduating from UNC, Delana began her NASCAR career in public relations for Busch Series Champion driver Randy LaJoie. DeLana is an exceptional entrepreneur and multitasker, handling everything from billing and accounting to counseling drivers on public relations and job interviews.
She is a workaholic who never likes to sit on the bench for a long time and loves participating with her husband in NASCAR. She became a co-owner and manager of their NASCAR XFINITY Series, Camping World Truck Series, and ARCA Racing Series racing team.
How they got together?
Before Kevin became famous in NASCAR, he and DeLana were already good friends and had gotten to know each other as young adults. The tale has progressed significantly since then, and the pair just tied the knot. We will find out how they connected and became romantically involved.
Kevin and DeLana first met at the Michigan International Speedway during a race in 2000. But their first actual date was at a Christmas party. After that, they began dating and got to know one another better during the following dates.
How they became each other romantic partner?
DeLana had always planned to live alone and had no interest in getting married, but a man like Kevin was impossible to ignore. Delana recognized in Kevin a reflection of her quick wit and sarcastic attitude. Quickly, the couples were head over heels in love. Kevin proposed to Delana after only one month of dating. They were married on February 28, 2001, in Las Vegas.
Did Kevin Harvick date someone before hooking up DeLana Harvick?
Kevin Harvick's exes and former relationships have yet to be fully revealed. No matter how frequently the media spread rumors about his love life, his loyalty toward his wife never weakened.
It's not hard to figure out who Kevin sees, whether on the field or in real life. So far, Kevin Harvick has made a concerted effort to maintain his loyalty, dedication, and enthusiasm. This kind of person follows these standards and is dedicated to keeping them on and off the field.
How many kids does the couple have?
Currently, Kevin and DeLana are raising two little ones. Their son Keelan Paul Harvick and their daughter Piper Grace were born on July 8, 2012, and December 28, 2017, respectively. The couple sold their home in Kernersville, North Carolina, and moved to Charlotte with their two children because they were concerned about their future.
Take your dad to work day ❤️ 📸 Andrew Coppley pic.twitter.com/KyegEFmhWN

— DeLana Harvick (@DeLanaHarvick) August 8, 2021
What benefits DeLana Harvick got hooking up Kevin Harvick?
Lovebirds Kevin Harvick and Delana Harvick have a fairytale romance that anybody would envy. Delana is nearly self-sufficient and pays for her own needs with the money she earns. Even though she had responsibilities, she was always willing to assist Kevin in his career and personal life. She has gifted Kevin with the two most precious people in his life, whom he admires more than himself. DeLana is also one of the most influential ladies in the business. As a result, you can be sure that Kevin isn't the only one paying attention when DeLana talks in the NASCAR garage.
DeLana Harvick relationship with family
DeLana Harvick values her loved ones greatly. She makes surprise appearances during the events wearing a custom-made fire suit. A week after their wedding, DeLana supported Kevin at his victory celebration in Atlanta. Since then, she has been Kevin's wife and closest confidante. And she celebrated his 2014 Cup Series championship victory with him. There has been no word of a separation or extramarital activity, and they are a happily married couple.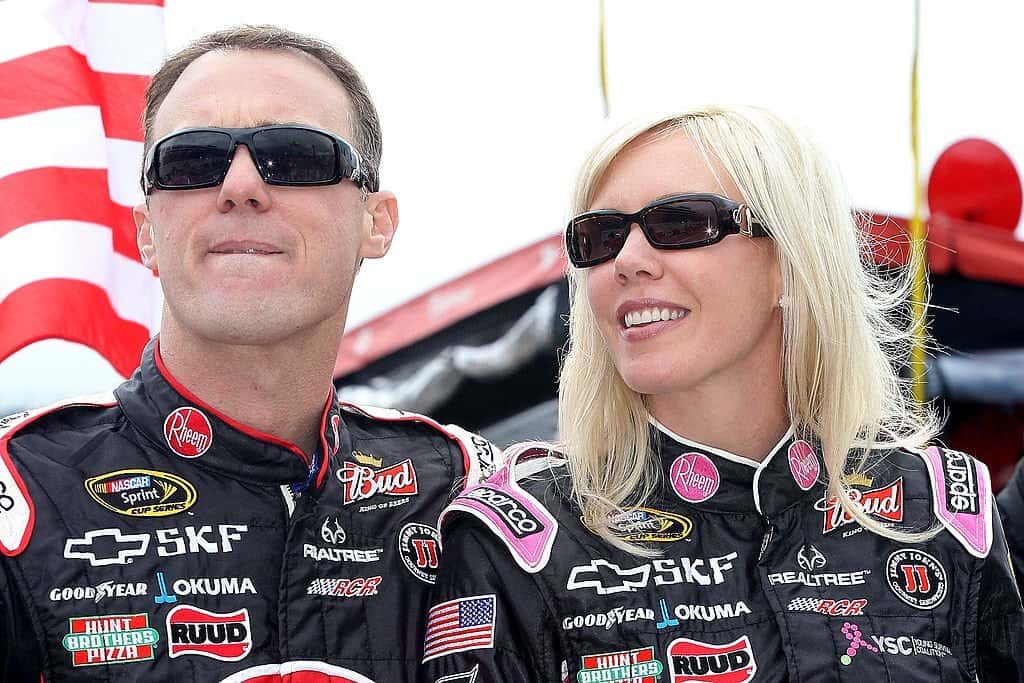 What is Kevin Harvick's wife net worth?
DeLana has an estimated net worth of $5 million, making her one of the wealthiest NASCAR Team Owners, and she lives in her own house luxuriously with her husband and children.
Kevin Harvick career trajectory after dating DeLana Harvick
DeLana was dissatisfied, and all she wanted from Kevin was to rise like Optimus Prime. She wanted Kevin to have a team similar to Prime's, who can ride cars in clean air. So, Kevin Harvick Incorporated (KHI) was founded by her and husband Kevin Harvick in 2001, when they married. KHI has fielded some of NASCAR's top drivers since then, including Tony Stewart, Bobby Labonte, Clint Bowyer, current driver Ron Hornaday, and Kevin Harvick himself.
Kevin was able to develop and build his company with the help of his beloved wife. Being together for nearly two decades has done nothing except deepen their love for one another. Now it's clear how his career progressed after his marriage. Who says a wedding can eat up your dreams?