LeBron James is enthusiastic about the Los Angeles Lakers chasing Kyrie Irving in the upcoming offseason, but the front staff is not as excited. A general manager stressed that the front office does not have a strong desire to sign Irving and voiced worry over the image Irving's attendance at Lakers games sends.
James seems to be applying pressure to convince Irving, his former championship colleague from their time together on the Cleveland Cavaliers, to sign with the Lakers. The organization has mixed feelings, meanwhile, about going after Irving as an unrestricted free agent.
NBA GM weighes in on LeBron James, Kyrie Irving reunion
In the Western Conference playoffs this year, the Los Angeles Lakers put up a good show, defeating the Grizzlies and Warriors before losing to a tenacious Nuggets squad headed by Nikola Jokic in a Conference Finals sweep. However, now that their postseason run is over, the focus has switched to the future, with several top free agents looking for their next chance.
Although the Lakers have been closely associated with Kyrie Irving, new events raise the possibility that their level of interest in the great player may be exaggerated. Despite Irving's presence at two Lakers playoff games, one NBA general manager who spoke with Heavy Sports claims that the Lakers may not be fully committed to giving him a long-term contract.
NBA GM says there's no 'overwhelming sentiment' from Lakers that they want Kyrie Irving: 'It's just LeBron' https://t.co/sdDjaKT4A3

— Lakers Daily (@LakersDailyCom) May 30, 2023
"I would not like the message very much if I were on the Lakers or if I were in the front office," the general manager remarked regarding Irving's presence at Lakers games. "There's not an overwhelming sentiment from them like, 'We gotta go get Kyrie.' It's just LeBron… That sets up a big clash, LeBron vs. the org. You know, the last time LeBron won a clash like that, they got Russell Westbrook. Maybe he should think about that."
Reports said that the Lakers front management favored acquiring Buddy Hield and Myles Turner who were thought to provide the club with the skills for success, before the significant deal for Russell Westbrook. This summer, it seemed like a similar situation was developing with Irving. LeBron James supports the Lakers' relentless pursuit of the All-Star guard, but there are growing internal concerns inside the team.
LeBron's wishes must now be accommodated while also keeping in mind the Lakers' long-term goals as they attempt to strike a delicate balance.
Did Kyrie Irving play with LeBron James?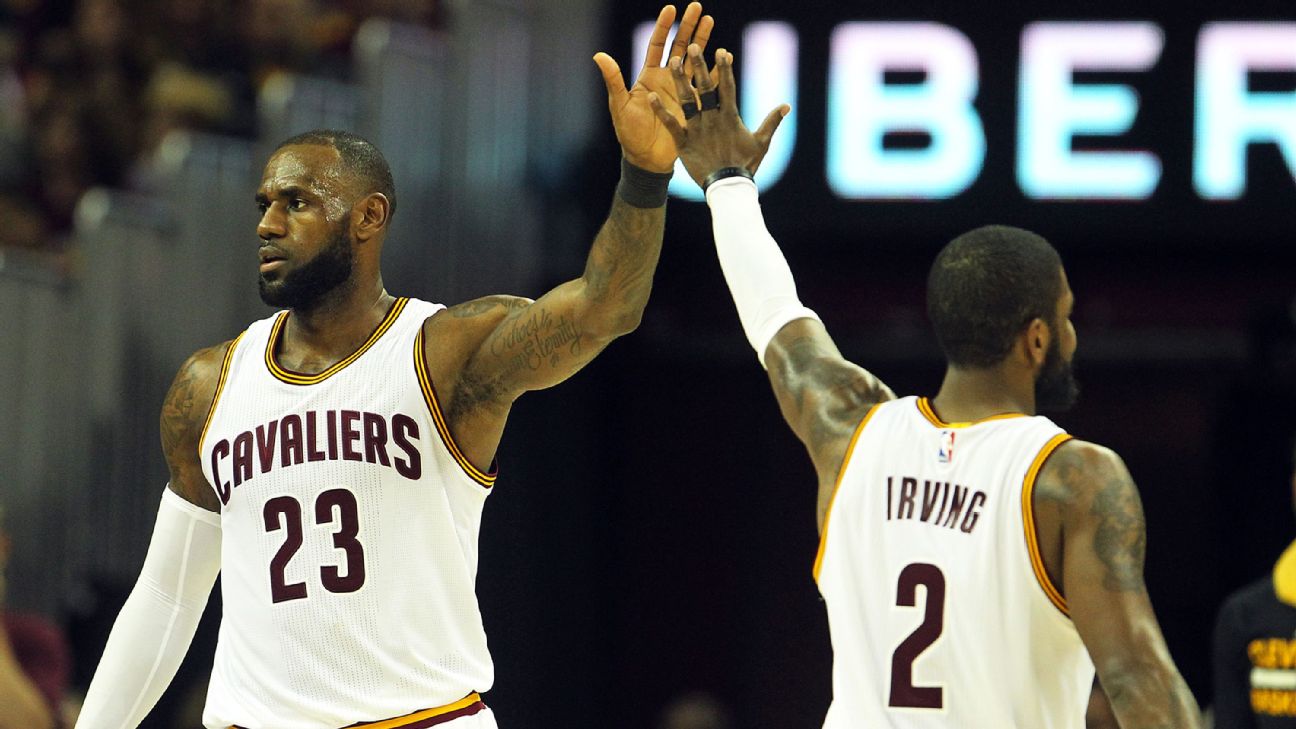 Previously, LeBron James and Kyrie Irving were teammates on the Cleveland Cavaliers, who achieved notable success by defeating the Golden State Warriors in the NBA Finals in 2015–16. Despite their prior affiliation, the Los Angeles Lakers don't seem totally committed to chasing Irving this offseason.
After being traded from the Brooklyn Nets to the Dallas Mavericks, Irving recently displayed his talents by averaging 27.0 points, 5.0 rebounds, and 6.0 assists per game. Irving has the option to join with any team that has the required cap room as an unrestricted free agent with Irving. Success characterized their tenure in Cleveland, with James' return resulting in three straight NBA Finals appearances and a title win in 2016.