Real Madrid star Karim Benzema could leave the club and join ex-teammate Cristiano Ronaldo in the Saudi Pro League.
Karim Benzema had reportedly agreed to a one-year extension deal with the club with every detail already negotiated. But he has not signed it yet. And now a very lucrative offer from Saudi Arabia is said to be changing his mind about staying in the capital.
The Frenchman has already communicated to the club about the offer. It is thought the club would agree to let the player leave on a free transfer. They are already lining up a replacement to bring in this summer.
How did Karim Benzema perform this season?
While the previous season saw Benzema become the world's best player and saw him win a Balon d'Or, this season has been a bit of a struggle for him.
Injuries have largely impacted his season, causing him to miss a lot of games. His age is also becoming an issue, as at 35 he doesn't have the same speed he used to have.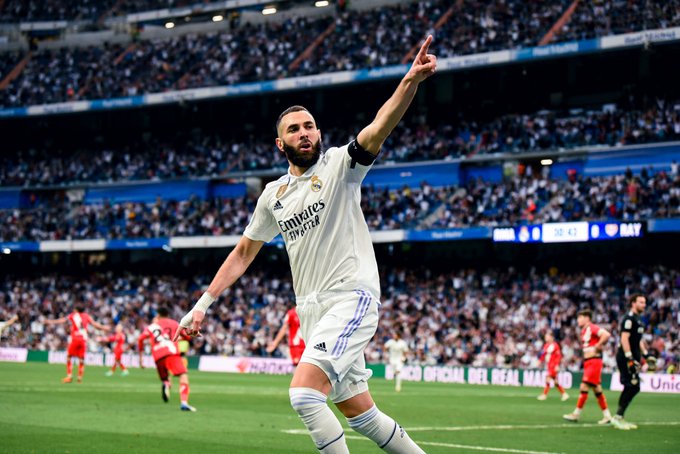 Benzema already retired from the international stage for France. After leaving the training camp early due to injury, he missed the chance to play in the World Cup. Further issues with the coach and some teammates led him to announce his international retirement.
But Benzema still had a good season. In 42 appearances for the club this season, he has 30 goals and 6 assists. Not bad for a striker that has missed a lot of games.
Of those, 18 goals and 3 assists were in La Liga. He also played some crucial games in the Champions League, where he has 4 goals.
But all these goals still couldn't prevent his bad season. Real Madrid lost both the La Liga and the Champions League. They have had some subpar performances, often having to rely on Karim Benzema and Vinicius Jr to bail them out.
The only trophy for Benzema to lift was the Copa Del Rey where he played an important role. There he had an impressive hat trick over club rivals Barcelona in the semis.
Details on his move to Saudi Pro League
According to recent rumors, the French striker is contemplating an offer from Saudi Arabia. According to Fabrizio Romano, Al Ittihad is the club that has sent the offer to him.
The lucrative contract is said to be over €100m per season, with a two-year deal. He will also get some life benefits there, with a tax exemption and his own image rights.
Benzema will also be made an official ambassador for the country's bid to host the 2030 World Cup.
Karim Benzema received the official bid from Saudi club last week, it was before the game vs Sevilla. ⚪️🇸🇦 #Benzema

He's discussing that together with his camp and family, Real Madrid informed and still ready to sign his new deal until June 2024 in case Karim wanted to stay. pic.twitter.com/VE4NTXJmiO

— Fabrizio Romano (@FabrizioRomano) May 30, 2023
The newest shocking revelation is that the veteran striker will play his final game for Real Madrid against Athletic Bilbao before departing during the summer transfer window. The Saudi club wants to fix the transfer before Thursday, as talks have already progressed.
Real Madrid is said to understand the Frenchman's intentions and is willing to let him leave after nine long years of service. But the offer to extend his deal is still open and Benzema could still stay at Madrid if he wants. If Benzema does leave, they are thinking of bringing in Harry Kane or Victor Osimhein. Other short-term alternatives are also being touted.
The Saudi league is looking to bring in the best players to the league to boost their bid to host the 2030 World Cup. Already they have brought Cristiano Ronaldo to Al Nassr in January. Saudi club Al Hilal has also made a €400m per season to Lionel Messi, which would be the best contract in world football. Benzema could be the new face of the league if he does join them this summer.