Max Holloway, or simply the 'Blessed', is an Hawaiian born American UFC fighter in the Featherweight Division who labeled as one of the best MMA fighters since 2012, with a current ranking of #6 in the division.
Despite coming from a turmoiled family, Holloway established himself as a professional kickboxer with active determination and greater skills which he openly displays through his unique tattoos across his body.
How many tattoos does Holloway have?
Max Holloway has eleven permanent tattoos around his body, each one depicting a unique meaning and background compared to others. However, as a pious person, Max often prioritizes getting tattoos that are related to his faith.
Where are Max Holloway's tattoos?
Jerome Max Holloway, or simply Max Holloway, loves to ink wherever he wants to, and therefore different tattoos can be found on different body parts like chest, forearm, biceps, backside etc.
Holloway even backed his affection for tattoos and described, "I just share lovely relationship with tattoos. I keep telling myself no more tattoos and its the last one as these things hurt. I duno why people go through pain and still I keep on getting more and more, Like, its a different way to express yourself like people know kind of person you are."
What do all of Holloway's tattoos mean?
Holloway started to get all of those inks since turning 18, and most of Holloway's tattoos featured his perception of life, education, religion, personal beliefs, and love for others, especially for his spectators.
Now, let's dive into a little deeper to know more on his tattoos.
'Polynesian' Tattoo: Max Holloway has a special tattoo inked on his chest that depicts four major elements of earth according to Polynesian mythology which he symbolized as the members of his family and his piece of strength.
'JESUS' Tattoo: Holloway's deep faith for his religion can be seen on the upper side of his chest with a 'Jesus Tattoo' inscription just under his throat.
'Trees' Tattoo: A perfectly shaped 'Trees Tattoo' is being inked on the inner side of right arm bicep that reached towards his chest that shows the sign of better health for the kickboxer.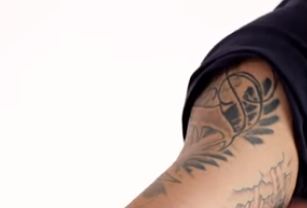 'Blessed' Tattoo: Max has, a 'Blessed', tattoo that started from his right bicep until the right wrist which demonstrates the satisfaction towards his personal and family life.
'Dog Wings' Tattoo: Apart from being a great fighter, Max established himself as a pet lover as well and he showed his endearment for animals by outlining a 'Dog Wings' Tattoo on his right hand's forearm.
'Cross' Tattoo: Holloway's greater reliance on divinity gave him the opportunity to inscribe a 'Cross' Tattoo which can be seen just on the upper half of his right bicep.
'Psalm 144' Tattoo: Holloway has a 'Psalm 144' tattoo on his right hand's forearm part which shows some verses from the Bible that reflect his personal and professional activities throughout his career.
'Son's Name' Tattoo: Holloway's inner side of his right bicep carries a special tattoo that inscribes the name of his only son with pictures of sky and sun rays over it.
'HOLLOWAY' Tattoo: At the age of 17, Max Holloway inked his first tattoo, which is located on his abdomen that says his surname 'HOLLOWAY' in italic form which gave him much pain to implement.
'Street Name and Number' Tattoo: An unusual tattoo can be seen on Max's left bicep's inner side, which depicts the name of his house with a street number and a lantern on the left side.
'Wings' Tattoo: Max Holloway's whole backside is covered with two 'Wings' Tattoos, which he described as the angel wing (good) and demon wing (evil) that symbolize a special life lesson for the kickboxer.
Whom is he dedicated to?
Max Holloway's stronger belief and love for Christianity inspired him to have 'Jesus Tattoo' on his chest and around that inking a bold Polynesian Culture inspired tattoo can also be seen with planet's four major elements like fire, wind, earth and water.
The famous kickboxer cherishes his dog more than any other pet animal and therefore dedicated the 'Dog Wing tattoo" to the love of his favorite pet.
Holloway's huge respect for religion inspired him to engrave a 'Psalm 144 tattoo' with Bible verse on his body that says, "Blessed be the Lord my strength, which teacheth my hands to war, and my fingers to fight."
Who is tattooed on Max?
Max Holloway's 11 tattoos are the creations of famous Mr. Gavin from 'The Ink Pit Tattoo Company' who is located in Hawaii and creating masterpieces for the last 13 years.