Who Is Naomi Osaka Boyfriend Cordae? The Blooming Love between the Young Couple
Naomi Osaka is a professional tennis player from Japan. The twenty three year old was raised in the United States by her parents. Her father was from Haiti and her mother belonged from Japan. Naomi has been in a relationship since 2019, with her boyfriend who is a professional rapper named Cordae.
A shy human being especially in public, Naomi is not reported to have been associated with any sort of celebrity rumors. Cordae is also her first and only love partner as of now.
Let us take a look at some of the lesser known facts about the relationship between Naomi and Cordae:
Naomi Osaka Boyfriend: Who is Cordae?
Cordae, formerly known as YBN Cordae is a Grammy nominated rapper. He hails from America and is reported to have met Naomi during the year 2019. They eventually started dating and are undoubtedly one of the coolest and cutest young couples of this generation.
Naomi Osaka boyfriend: Cordae's facts at a glance
Full Name: Cordae Dunston
Nickname: Cordae, Entendre, YBN Cordae
Birth Date: August 26, 1997
Age: 23 years
Height: 5 ft 10 in (178 cm)
Weight: 68 Kg (150 lbs)
Horoscope: Virgo
Birth Place: Raleigh, North Carolina, U.S
Nationality: American
Ethnicity: Afro-American
Religion: Christianity
Education: Dropout
Profession: Rapper
Eye Colour: Dark Brown
Hair Colour: Black
Sexual Orientation: Straight
Relationship Status: In a Relationship with Naomi Osaka
Net Worth: $800,000
Social Media: Instagram, Twitter, Facebook
Famous As: Rapper, Songwriter
Tattoos: None
Body stats of Cordae, Naomi Osaka's boyfriend: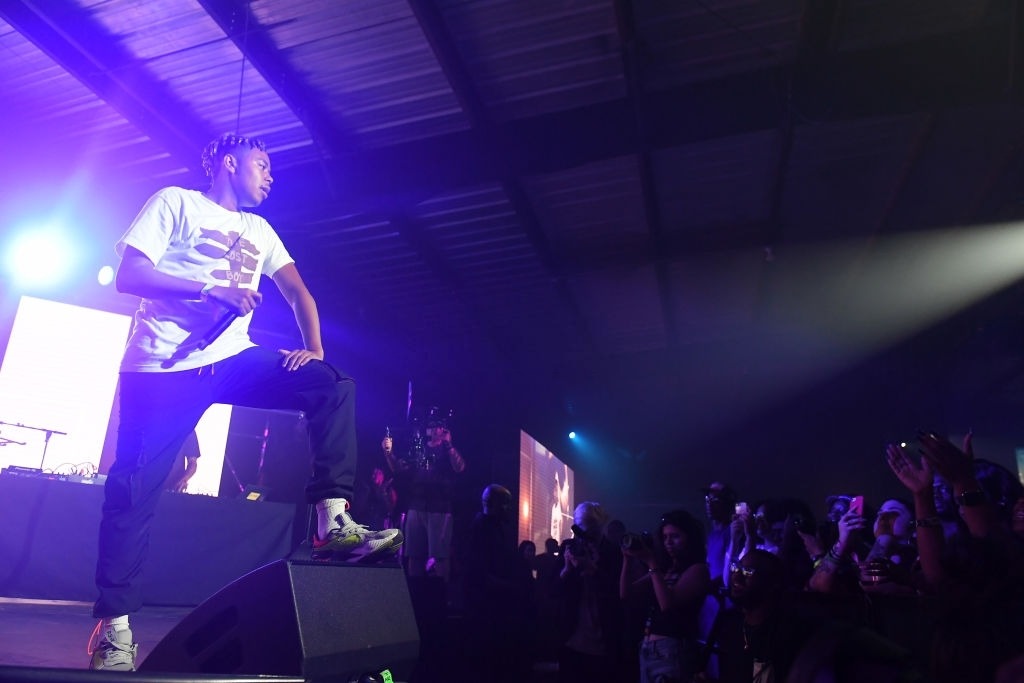 The twenty three year old rapper stands at a height of 5 ft 10 in (178 cm) and weighs 68 Kg (150 lbs).  Cordae maintains a slim built body and possesses dark brown colored eyes. His hair is black in color and he sports braids as a part of his hairstyle.
Naomi Osaka boyfriend: Cordae's early life and education
Cordae was born in Raleigh, North Carolina, United States on August 26, 1997. He moved to Suitland at the age of ten years with his family. Information about his parents is yet to be revealed.
While growing up, Cordae was fortunate to have been exposed to a varied range of music. The entire courtesy goes to his father who used to listen to the works of famous artists around him. It helped Cordae  develop a sophisticated taste in music.
Cordae attended Westlake High School in Waldorf, Maryland, United States as a teenager.  He finished his schooling tenure on 2015. In the year 2017, he got enrolled in Towson University, Maryland. Since the age of 15, he has been composing music. It was initially a hobby that took a turn gradually to end up being his profession.
How did Cordae become Naomi Osaka's boyfriend?
Naomi and Cordae linked up sometime during the early 2019 and after sometime agreed to meet for a date. The choice of their first meeting place was Staples Center and the event was a 'Clippers' match.
As stated by Naomi that it was tough to look for each other in that big arena. So, they were on FaceTime trying to locate each other. During that time Naomi noticed Cordae getting surrounded by people who just wished to take a picture with him. She noticed his calm and friendly nature with everyone and really liked it.
They were still not a couple during that time even though rumors had started to hover around. Eventually a couple or so of months later, Cordae and Naomi made their public debut as a couple. Once again, the event was another game of the 'Clippers'.
Reports suggest that Cordae had no clue about Naomi's successful career in tennis. He did not even know that she was a tennis player. This has been confirmed by Cordae as well.
Naomi Osaka and her boyfriend Cordae: The coolest young couple ever
Cordae and Naomi undoubtedly live up up to the title of the 'coolest young couple ever'. Apparently, during the quarantine sessions of the U.S Open, Naomi was down with a sort of depressed state of mind. She used to contact Cordae and tell him about how she felt. Sometimes she would cry as well.
Cordae, as the lover he is, could not possibly bear his girl in tears and thereby, he took a flight just to be with Naomi. Regardless of his busy schedule, this effort really made Naomi feel emotionally overwhelmed with joy.
.@cordae was hype when @naomiosaka captured her second #USOpen title 👏 pic.twitter.com/8eoLtsM9vQ

— espnW (@espnW) September 12, 2020
Apart from other things, Cordae has always been and still is a regular at Naomi's matches. He has been present as a supporter in many of Naomi's U.S Open games. His videos of joyous cheers for Naomi's victories have gone viral a lot of times.
I think @cordae is counting how many majors Osaka has won.#USOpen pic.twitter.com/o8mrUlljRD

— Tennis GIFs 🎾🎥 (@tennis_gifs) September 12, 2020
Cordae on the other hand also admires Naomi's mutual respect for his career. He has gone to say that it makes him feel great to see Naomi taking her time out for him too. Cordae sticks to the concept of love being pure and sacred.
Cordae is known to be a one of a kind boyfriend as sources suggest and so does Naomi. Moreover the couple is extremely supportive of their individual careers. Their blooming love does not fail to show us just how compatible the pair is with each other.
🏆🥇🏆🥇 pic.twitter.com/N13XC34D8K

— Cordae' (@cordae) September 13, 2020
Naomi Osaka and Cordae: Current status
View this post on Instagram
The couple is going strong at present moving on to second year of togetherness. They are considered the 'coolest couple ever' probably for the way they handle their relationship and also their individual selves and careers. Naomi and Cordae appear to be happily exploring their currently steady-moving relationship
View this post on Instagram
Naomi Osaka boyfriend: Cordae's career
As a fifteen year old lad, Cordae released three mix-tapes when he was in school. He released them under the name 'Entendre' with the titles, 'Anxiety' (2014), 'I'm So Anxious' (2016) and 'I'm So Anonymous' (2017). After dropping out of college in early 2018, Cordae started to dedicate himself entirely into taking up music as a career.
During his time as a budding artist in the L.A hip hop scene, Cordae hung out with YBN Almighty and YBN Nahmir of the American hip hop collective. He immediately became a part of the YBN group. This led him to change his name to YBN Cordae thereby, becoming an official member of the American hip hop collective.
In 2018, Cordae gained more fame after releasing a remix of Eminem's song 'My Name Is' and a remake of a  classic J.Cole number named '1985'. Having established his quality as a solo artist, by 2020, Cordae parted ways with the YBN crew. He currently performs and records as a solo artist and is indeed achieving a successful career growth.
Naomi Osaka boyfriend: Cordae's awards and accolades:
In the year 2019, Cordae was named a member of the XXL Freshman Class of emerging rappers. This induction took place alongside budding rappers like DaBaby, Roddy Rich and more. In the same year, Cordae's debut album 'The Lost Boy' fetched him two Grammy nominations He also received nominations under the categories of Best Rap Song and Best Rap Album.
Naomi Osaka boyfriend: Cordae's activism
Ultra black, unapologetically black. No matter where I'm at. Forever

— Cordae' (@cordae) September 13, 2020
Cordae is reportedly an active speaker in support of the movement of 'Black Lives Matter'. He has been spotted to have appeared in several protests conducted in Minneapolis and Louisville for George Floyd and Breonna Taylor respectively.
View this post on Instagram
During one demonstration outside the house of Kentucky Attorney General Daniel Cameroon, a number of arrests were executed. Reportedly, around eighty seven people were put behind the bars during this event.  Sources have confirmed that Cordae is also one of the people who got arrested in this demonstration.
View this post on Instagram
Naomi Osaka boyfriend: Cordae's net worth
Cordae's career growth has a stable and steady rise. The twenty three year old rapper has made his name and place in his field of music. His primary income comes from the successful production of his own music. Alongside his career, he receives contract endorsements from various brands. As of 2021, Cordae's net worth is estimated to be a whooping $800 million.
Naomi Osaka's career at a glance:
Naomi Osaka is reported to have been playing tennis since the tender age of three years. Presently at the age of twenty three, she has already bagged the rank of #3 amongst players of world class level and it is undoubtedly true that Naomi Osaka is a prodigy.
The Japanese professional tennis player has achieved around six titles of grand slam level so far in her career. Apart from these titles, Naomi also flaunts a couple of U.S Open titles and a crown of Australian Open.