Tennis star Novak Djokovic has beaten Karen Khachanov and booked his place in a highly anticipated semi-final clash against the current No.1 in tennis Carlos Alcaraz.
Spanish tennis sensation Carlos Alcaraz, who is the top seed, beat Greek player Stefanos Tsitsipas with a score of 6-2 6-1 7-6(5) in the quarter-finals.
While third seed Novak Djokovic narrowly managed to secure a quarter-final win against Russian player Karen Khachanov with a score of 4-6 7-6 (7-0) 6-2 6-4.
Alcaraz is the current No.1 in the worldwide tennis rankings and won the recent US Open. While Djokovic is an established tennis legend and will look to secure a record 23rd Grand Slam.
Djokovic's dominant run continues in Roland Garros
Novak Djokovic has been a dominant player in the Roland Garros tournament. Before today, he won 29 consecutive sets which was only broken today by Karen Khachanov. It was also the first set that he had lost all tournament.
He started the tournament in a winning fashion by comfortably beating Aleksandar Kovacevic in the first round and Márton Fucsovics in the second round.
Djokovic then managed to beat Alejandro Davidovich Fokina in a very highly intense third-round game. He then again easily beat Juan Pablo Varillas in the fourth round.
But Djokovic had his toughest test today against Karen Khachanov. Khachanov won the first set and narrowly lost the second set to him. But Djokovic turned up his performance and came back to win the quarter-final game.
Djokovic showed his trademark mental determination to win the game. His post-game speech also showed the same, "It was a big fight, it's what you expect in the quarter-finals of a Grand Slam. You are not going to have your victories handed to you and I'm glad to have overcome it today."
Top seed Carlos Alcaraz separates Novak Djokovic from 6th French Open final appearance
Novak Djokovic has the chance to win his 23rd Grand Slam and also become the first male player to win all four major trophies in tennis at least three times each and now he can reach his 6th French Open final.
But in his way stands Carlos Alcaraz. Alcaraz will look to cement his status as a rising star and beat a tennis star like Djokovic and possibly win a French Open at the same time.
Both of them have been the favorites to win the French Open this year. Rafael Nadal, who is the record 14 times champion was absent from the tournament due to injury.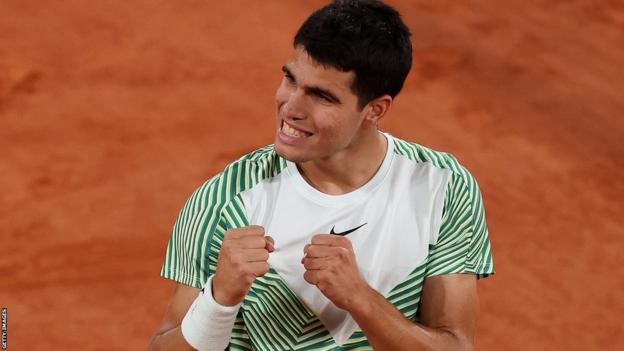 Alcaraz also welcomed the challenge, "This match is what everyone wants to watch and it will be a good one to play. If you want to be the best you have to beat the best. Djokovic is one of the best in the world and I'm looking forward to it."
Their last and only meeting was in the 2022 Madrid Open. The game was played out intensely between the two with Alcaraz narrowly managing a win against his Serbian opponent.
Djokovic will now face Alcaraz on June 9th in an intense matchup in Paris. Either will hope to gain a win to secure a spot in the final.