Novak Djokovic has had a mural of himself vandalized following some comments made by the Serbian tennis superstar.
A mural of Novak Djokovic in Kosovo was demolished after the Serb provoked outrage with his political statement at the French Open.
The Serbian is known for making political statements that have caused outrage several times. This time, one of his statements at the French Open earned him much criticism among Kosovans.
Novak Djokovic's mural vandalized in Kosovo
Kosova, a former region of Serbia, did not like his comment made at the French Open. Many of its authorities have asked the tennis star to be punished.
Kosovo proclaimed independence in 2008, and since then, more than 100 nations have recognized Kosovo as an independent state.
However, Serbia is not one of those nations, thinking that Kosovo is still part of their territory. The Serb tennis star's mural in Kosovo was discovered defaced the morning after he dubbed Kosovo "the heart of Serbia."
This isn't the first time Djokovic has incited political unrest. In January, he supported his father who was seen standing with supporters brandishing Russian flags at the Australian Open.
What comments did Novak Djokovic make to spark such a reaction?
After defeating Aleksandar Kovacevic in the first round of the French Open, Djokovic was allowed to write a message on a camera as it is a custom.
Djokovic wrote on the camera, "Kosovo is the heart of Serbia – stop the violence." He later reposted an image of it on Instagram on Monday.
Djokovic's remarks were in response to the recent tension and bloodshed in Kosovo following local elections in April. Serbs still constitute the vast majority of the people in northern Kosovo, and who see themselves as Serbian. Ethnic Serbs in northern Kosovo have battled with Kosovo police and Nato-led forces in recent times after refusing to participate in local elections.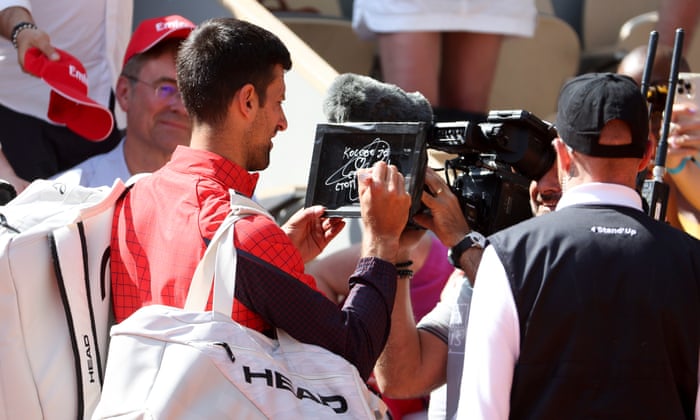 In an interview with a Serbian news outlet, Novak Djokovic said, "I am not a politician and I don't have the intention to get into political debate. That topic is very sensitive… As a Serb, everything that's happening in Kosovo hurts me a lot."
"I don't know what the future brings for Serbian people and for Kosovo, but it's necessary to show support and demonstrate unity in these kinds of situations."
Novak send a message "Stop the violence" after match, regarding today events.

"As a Serb, it hurts me, our people have been expelled from the municipalities. I don't know if someone will punish me, but I would do it again"

So proud of him 🇷🇸❤️#NoleFam #Djokovic #RolandGarros pic.twitter.com/1dXzqXEf27

— Wolfy (@BigBadWolfWolfy) May 29, 2023
The French Open's organizers have also spoken about the issue. They were told by many fans to punish the superstar. In their statement released, it said, "There are no official Grand Slam rules on what players can or cannot say. The FFT [French Federation of Tennis] will not be making any statement or taking any stance on this matter."
Djokovic hopes to win his 23rd grand slam championship at the French Open, which would put him ahead of Rafael Nadal on the all-time list. He will now face Hungarian player Márton Fucsovics in the second round of the competition.