Buffalo Bills quarterback Josh Allen has been making waves in the NFL since he was drafted seventh overall in the 2018 NFL Draft. With his rapid development, Allen has become one of the best quarterbacks in the league, earning him a lucrative six-year, $258 million extension before the 2021 season. However, something unexpected happened during a recent practice session that caught everyone's attention.
Bills' QB Josh played like CB during the practice session
In a recent video shared by NFL Twitter account the quarterback can be seen playing a completely different position than his usual role. He was seen lining up as a CB, defending wide receivers. This sudden position switch came as a surprise to fans and teammates alike.
.@JoshAllenQB? More like JoshAllenCB

(via @BuffaloBills) pic.twitter.com/l1FUASEWof

— NFL (@NFL) May 30, 2023
Everyone is wondering what prompted this sudden change. Meanwhile, off the field, Josh Allen's personal life has also been making headlines.
Josh Allen spotted with a rumored girlfriend at a sushi dinner
Dating rumors between Allen and Marvel star Hailee Steinfeld have been circulating, and it seems their relationship is gaining momentum. The rumored couple was recently spotted enjoying a sushi dinner date at Sushi by Bou in New York City, as revealed in a photo shared on the restaurant's Instagram Stories.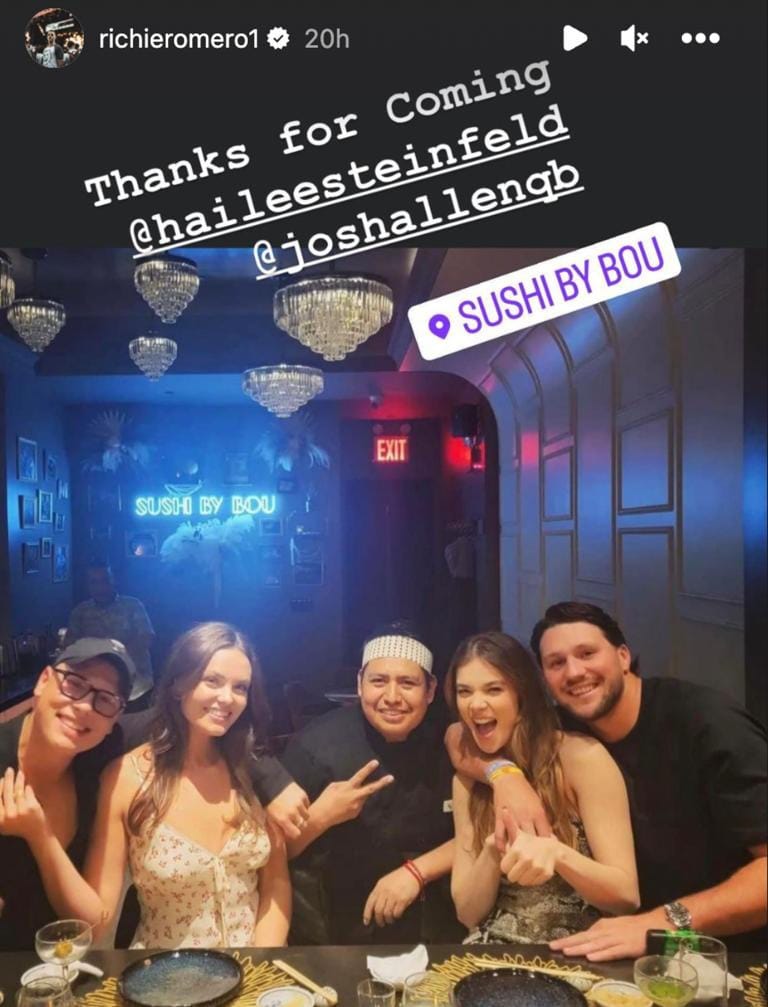 In the picture, taken by entrepreneur Richie Romero, a partner with Sushi by Bou, Josh Allen can be seen with his arm around Hailee Steinfeld, who is known for her role in "Spider-Man: Across the Spider-Verse."
This public display of affection further fueled speculation about their relationship, especially since the pair had previously been photographed together last week.
The combination of Josh Allen's position switch during practice and his romantic involvement with Hailee Steinfeld has created quite a buzz among fans and media outlets. People are eager to understand the motivation behind Allen's temporary switch to cornerback and whether it indicates a potential change in his role within the team's strategy.
As for his rumored relationship with Steinfeld, fans are intrigued by the dynamic between the NFL star and the Hollywood actress.