Piers Morgan is renowned throughout the world for his eloquence, and the British anchor is at it again after ranting against Lionel Messi while establishing Cristiano Ronaldo as the brightest star.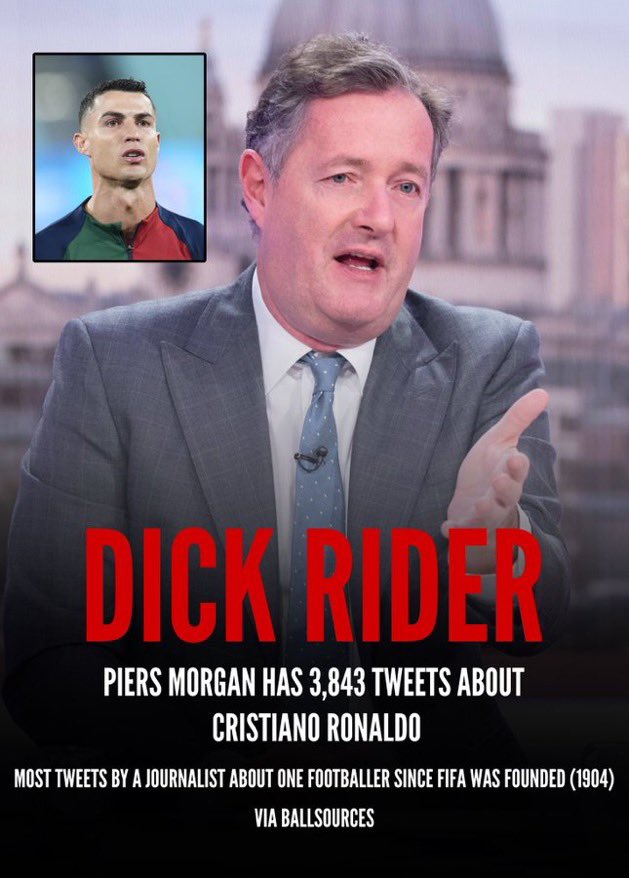 Prior to his departure from Manchester United, Cristiano Ronaldo gave an interview with the Sun in which he divulged heretofore unrecognized personal details.
The interviews were recorded for more than an hour.
Morgan appears to have gained notoriety after leaping from Ronaldo's shoulder through the interview, and he frequently pokes Lionel Messi whenever the opportunity arises.
"Ronaldo signed the biggest transfer deal in football history, and is now the world's highest-paid athlete, at the age of 37. He's also doing what he's done throughout his career which gives him the edge over Messi, and that challenges himself in a new country."- Morgan told in an interview with Tatlar.
"It is a time when football in the Middle East is really taking off, we saw at the Qatar World Cup where Morocco reached the semi-finals and Saudi Arabia beat the eventual winners, Messi's Argentina"- the 57-year-old further added.
The television personality believed Cristiano was treated badly by Manchester United which could end him up playing for another European club, but when Al Nassr came up with the offer, the Portuguese has no reason to turn it down. The journalist added,
"He wanted freedom from Manchester United, where he rightly felt he had been badly disrespected by both the manager and senior club executives. Ideally, I think he'd have preferred to play for another top club in the Champions League for a year or two, but Al Nassr made him a staggering offer."
The broadcaster who is known as a controversy maker feels Ronaldo is extremely happy in the city of Riyadh with his new club as he revealed the text exchanged between him and Ronaldo.
'I've swapped a few texts with him, and he's absolutely loving it, on and off the pitch,' @piersmorgan tells @HargreavesEA, on @Cristiano's luxe new life https://t.co/bFHsQ6jLtR

— Tatler (@Tatlermagazine) January 27, 2023
"I think the fresh challenge of raising the profile of football in a new region of the world, at the twilight of his incredible career, really appealed to him. He's definitely happy. I've swapped a few texts with him, and he's absolutely loving it, on and off the pitch."- Morgan concluded.