Sports is back with a bang. With all the major leagues and championships starting or resuming their seasons, the sports columns in the dailies are back to hosting fresh news. However, one modification that has probably acquired a place in all sports is the BLM movement, besides the deadly Corona Virus.
Kaepernick in 2016
The take a knee movement initiated by Kaepernick back in 2016 during the national anthem had received a lot of reputation back then. The cause being a protest against the atrocities that black people have to go through and the police brutality in the states.
Though the movement had ruffled quite a few feathers in the NFL and in the White House circuit for a considerable time, these things don't hold on for long. Seasons passed and won and slowly steadily the movement died down.
However, after the brutal killing of George Floyd in a police brutality case, the entire affair seems to have reborn and is taking the entire scene by storm. Players in all the famous leagues and championships taking a knee while the stars and stripes echo in the stadium is a sight that is slowly gaining mass support.
Yet, amidst all this hulla-balu regarding the Black Lives Matter movement, there are players and staff members who have refused to kneel during the anthem citing several various reasons for their decision. Let's have a look, shall we?
Players refusing to kneel
Stephon Tuitt, Pittsburgh Steelers NFL
The league in which they take a knee movement originated is more or less the epicenter in this BLM earthquake and has maintained the reputation. All the players have knelt during the national anthem and their protest and angst are evident.
However, Stephon Tuitt, one from the Steelers' defense line had refused to kneel to the 'Star-Spangled Banner'. He clarified in his stance saying, "I'm not kneeling for the flag and screw anybody who has a problem with that; My grandmother was an immigrant from the Carribean and … worked her ass off to bring 20 people over the right way. She had no money and educated herself to be a nurse. She living well now."
He adds on saying that he takes pride in being an American and is grateful to the great nation that has rewarded him and his family for their hard work. He adds on saying," I will continue to honor my country and be an example to my children to stand for what they believe in. In regards to police brutality and the black lives matter movement I will support these causes through other means. It's unfortunate that a couple unprofessional individuals have caused such havoc on our country and damaged the trust of its citizens. I will not let those individuals steer me from the fact on the opportunity this country gives for everyone. God Bless."
Sam Coonrod, SF Giants, MLB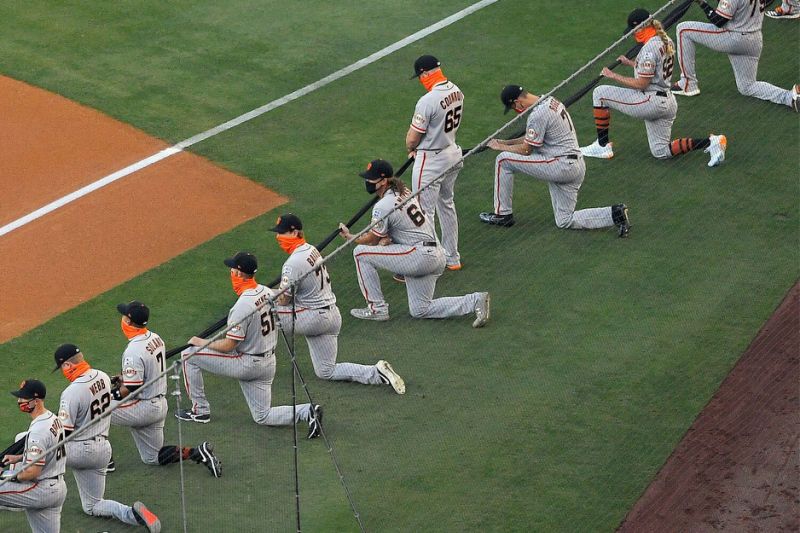 The base balling scene also witnessed some dedication towards the protest in their opening games between the SF Giants and the LA Dodgers. With almost all players kneeling down holding a piece black ribbon, Pitcher for the Giants, Coonrod chooses to stand throughout the anthem. His clarification, which was rather disillusioned, stated," "I'm a Christian," he said, "So I just believe that I can't kneel before anything besides God."
He further added that he couldn't be on the same page regarding some of the beliefs of the movement. "I just can't get on board with a couple of things I've read about Black Lives Matter, how they lean towards Marxism; And … they said some negative things about the nuclear family. I just can't get on board with that."
Also, read Giants Pitcher Sam Coonrod refuses to kneel justifies with faith.
Meyers Leonard, Miami Heats, NBA
Amidst all the illogical reasoning and clarification in the name of faith, we finally have someone who made sense with his speech. Meyers Leonard explained to the reporters he isn't against the BLM movement but neither does he want to disrespect his army and his brother.
He clarified saying, "I am a compassionate human being and I truly love all people; I can't fully comprehend how our world, literally and figuratively, has turned into Black and white. There's a line in the sand, so to speak: 'If you're not kneeling, you're not with us.' And that's not true."
"I live my life to serve and impact others in a positive way."
Jonathan Issac, Orlando Magic, NBA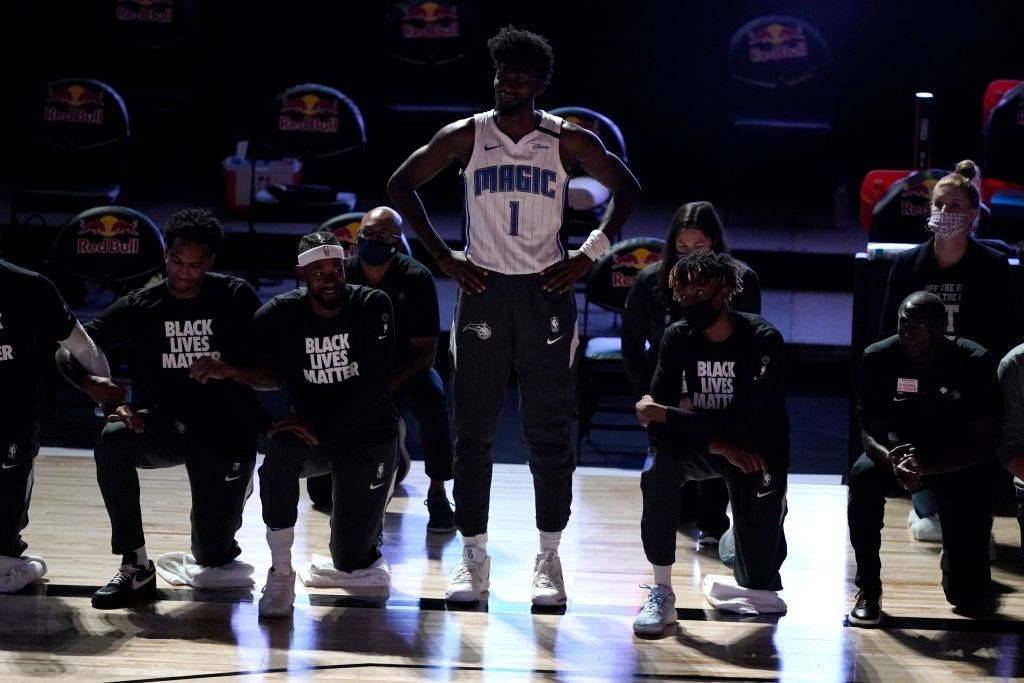 NBA has been the frontline of social justice with various prominent spokespersons like LB James and others. However, even they have experienced rebels in their take a knee stance. Jonathan Issac states that he has his faith in God and it had to be a decision he had to make.
"I felt like, just me personally, what is that I believe is taking on a stance that, I do believe that Black lives matter, but I just felt like it was a decision that I had to make, and I didn't feel like putting that shirt on and kneeling went hand in hand with supporting Black lives. I believe that for myself, my life has been supported by the gospel, Jesus Christ, and everyone is made in the image of God and that we all forge through God's glory."
He also further elaborates his decision clarifying it with misplaced and wrong decisions which to me again seems disillusioned.
"We hate and dislike things that we shouldn't hate and dislike, and sometimes it gets to a point where we point fingers, whose evil is worse, and sometimes it comes down to whose evil is most visible. So I felt like I wanted to take a stand on, we all make mistakes, but I think that the gospel of Jesus Christ is that there's grace for us, and that Jesus came and died for our sins and that if we all come to an understanding of that and that God wants to have a relationship with us, that we can get kept all of the things in our world that our messed up, jacked up."
Rachel Hill, Chicago Red Stars, NWSL
Another story that has a clarification of military history. Rachel Hill stood for the game while holding onto the shoulder of her teammate with her head bowed. She explains that the flag meant too much to her family that had members in the family and so she couldn't cheat her own belief.
She clarifies saying," I tried to show this with the placement of my hand on Casey's shoulder and bowing my head. I struggled but felt that these actions showed my truth, and in the end, I wanted to remain true to myself; If this wasn't clear, let my words and further actions be. I support the black lives matter movement wholeheartedly. I also support and will do my part in fighting against the current inequality. As a white athlete, it is way past due for me to be diligently anti-racist."
Statement from Rachel Hill released on her Instagram pic.twitter.com/3GeRqoTdXL

— Claire Watkins (@ScoutRipley) July 1, 2020
Samantha Murphy, North Carolina Courage, NWSL
They say that at times, you just need to take a leap of faith. Maybe that is what the player resolved after standing for the anthem during one of her first matches at the sideline. However, the player was later spotted taking a knee to the announcer announcing the names of all those killed under racial lines in the states. Though Murphy hasn't explained much, I'm sure she has learned her lesson.
Staff members who refused to kneel
Brent Barnaky, Referee, NBA
The protest was not just restricted to players, it got widespread support from all on the field. However, rebels among those are also obvious. Therefore, the referee in the first few matches of the NBA season in Orlando refused to kneel during the anthem played in the new isolated stadium.
He clarified saying, "I fully support the social justice movement and everyone who chooses to kneel as a means of peaceful protest. For me personally, it is important I stand for our national anthem, which is what I chose to do this evening. I believe you can be committed to both ideas and I will continue to support the league's social justice efforts to help bring equality to this country."
Gregg Popovich, SA Spurs Coach, NBA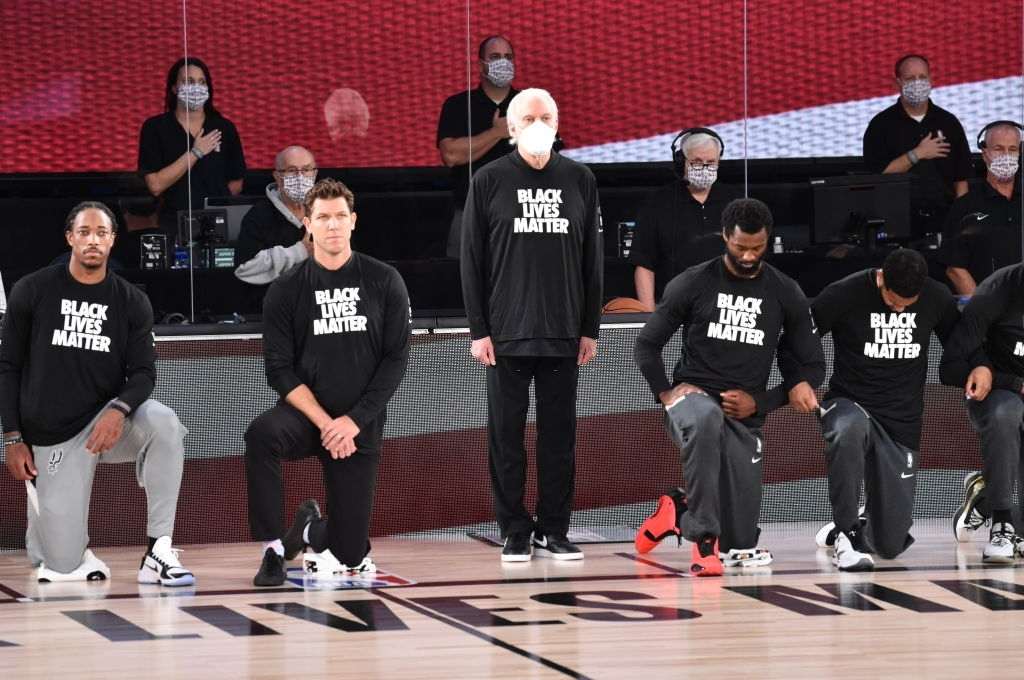 One of the most prominent spokespersons in the NBA, Coach Pop had recently dubbed people ignorant who had been allegedly accused of misunderstanding the BLM movement. However, he still hasn't issued any such notice into the insights of him standing during the national anthem.
He issued in his statements," I'd prefer to keep that to myself; Everybody has to make a personal decision. The league's been great about that; everybody has the freedom to react any way they want. For whatever reasons that I have, I reacted the way I wanted to."
The Movement aims at everyone reacting to their freedom and that is what everyone achieves. However, there need not be stupid reasoning of faith to have a stance as such
Also, read Gregg Popovich condemns all failing to understand BLM