'Playoff P' or 'Pandemic P'? Paul George's wake up call after Mavs tie series 2-2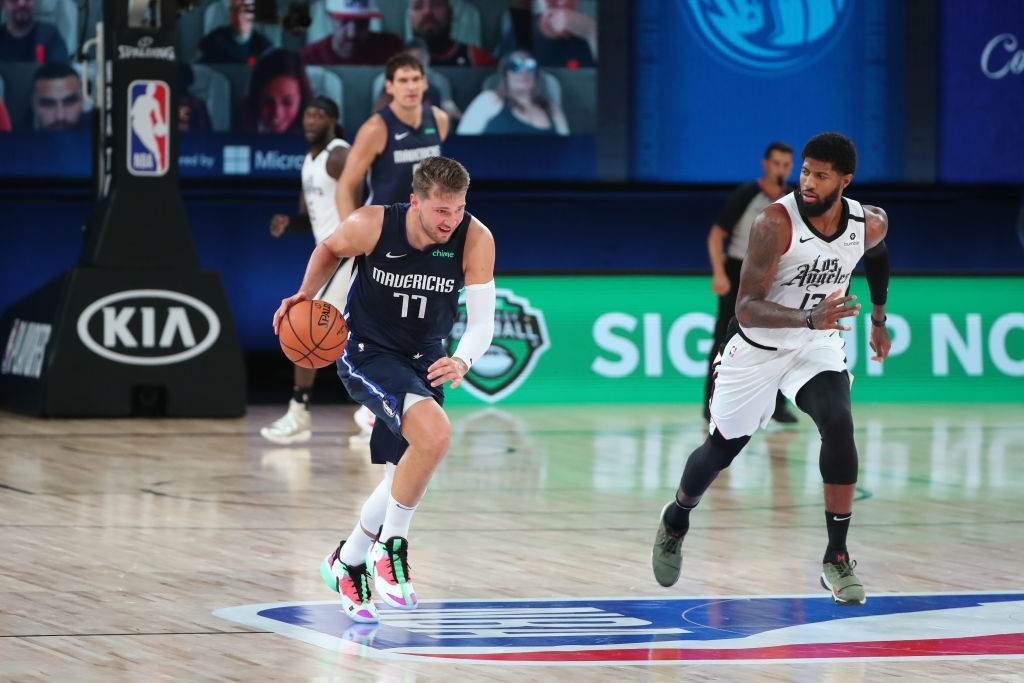 We can keep going on about the fact that basketball is a team game and no player can be responsible alone for a loss.
Nonetheless, we cannot be completely ignorant about the fact that in total, there are four or five moments that each baller has on the court to prove his worth. These moments are crucial as these determine the post-match analysis of your play.
Though you are expected to maintain your composure throughout the 4 quarters, it is these moments, where your team expects you to outshine the rest.
Paul George or more popularly known as 'Playoff P' might be under the same dilemma in the playoffs this season. Performing brilliantly in the previous seasons, George was expected to uphold his defensive position for the Clippers and also aim for the customary field goals against the Dallas Mavericks.
However, he has somehow not been able to stand tall to the expectations his team has from him. Failing to even close in on Mav's Star Doncic, George was fighting demons at the far left corner of his half as Doncic sailed one 3 pointers to win the match and tie the scores at 2-2.
George takes accountability

 
George being a player averaging around 20 points per game along with several blocks and rebounds, was expected to do the same against the Mavericks. However, he has been missing in the scene for the last three games in their playoffs and though his teammates and coach don't want to burden Paul entirely for the loss, he has been responsible enough to accept accountability for his performance.
When questioned in a post-match interview after the Mavs drew the series 2-2, George explained his situation and also the situation of his team. He clarified, saying, "I make shots, this series could be a little different; And that's obvious, of course. That's just what it comes down to. But give them credit, they are playing well. They are shooting the ball. Luka is playing phenomenal. You've got to give credit where credit's due. But to be honest, in hindsight, if I shoot the ball better this series would be a lot different."
To be honest, a player who has averaged 22.5 points and a career-high 28 points in his previous appearances against the Thunder, is expected to perform and bag the same density of points for the team and not just be gazing through the game. However, the only credit that George is due is for being brave enough to accept his fault.
When asked about his performance, he himself felt quite dissatisfied with it and had a very colloquial explanation of the matter. In his defense, he confessed, "I just got to stay with it; It's a marathon man. I just got to stay with it. I thought early on I got a rhythm and then towards the third quarter I just got out of rhythm and I was just trying to find it. But you know, it was tough. It's just tough for me right now. It's hard to say because I'm getting the looks and the shots, the floor is open and the defenders aren't great. But I'm just having a hard time finding the ball through right now."
What does his team say?
Though George is ready to take the blame on his shoulders, his teammate Kawhi Leonard and Coach Doc Rivers feel differently about their loss. While the coach feels that his team has rendered a rather 'emotionally weak' performance for the game, Leonard expressed his thoughts to the press. He said,"Just tell him to keep going and his time is coming; He missed some easy looks tonight. But everybody did. It's not his fault. We were up big in that second quarter and everybody has a part in winning the basketball game."
However, a few bad nights cannot pester with years of experience and skills. Speaking of skills, Kawhi explained that George has never had many tricks up his sleeve but he has been crucial in regulating the game. Though George's confidence hasn't wavered much, even he is aware that words won't get him and his team past the playoffs. To add on to his troubles, Doncic has been in a killer form averaging massive 3 points from behind the line and also that beautiful buzzer point to win the game.
In his wake, George expressed,"Yeah, I play the game confidently; The shots I'm taking I'm expecting to make. It just … is what it is. I'm just missing shots and I don't think it's from a confidence standpoint. Because once I see it go through and I find that rhythm, I'll be right where I want to be. The problem is just getting to that point."
I support the spirit of teamwork within the Clippers squad, however, at times it is not the only spirit that sails you past the winning line, it is also in-game effort.
Though Leonard and Williams have been playing exceptionally well dunking in those crucial points, 'Playoff P' will have to step up soon or it wouldn't take long before the nickname 'Pandemic P' familiarizes within the circuit.
Before You Go