"The smaller guys are more technical" Michelle Waterson weighs in on Jon Jones' No. 1 P4P ranking ahead of UFC 287 clash vs Luana Pinheiro
Jon Jones has stormed into the heavyweight scene, clinching the title on his very first match. He has impressed the world, and he surely has impressed his fellow UFC fighter Michelle Waterson. Even though she was highly impressed by the 'Bones' show, she could not agree with Jones being number one in pound for pound.
Michelle Waterson was impressed with Jon Jones performance
The women's strawweight fighter heaped loads of praise on Jones. Waterson thought of the win as "very cool." She added that Jones would take the heavyweight stage by storm. Waterson explained her reasons by saying that Jones has the experience of fighting in a more technical division, which will allow him to run through all the heavyweights.
Cyril Gane, despite being a fearsome heavyweight fighter, could last only 124 seconds against Jon Jones. This came as somewhat of a surprise to Waterson as she thought that it would be more challenging for Jones.
Why does Michelle Waterson feel conflicted about Jones being no.1 in P4P ranking?
The higher amount of appreciation could leave one pondering why she would question Jones being the number one P4P-ranked fighter. Waterson explained that she was inclined more towards the smaller guys, in terms of technicalities. She drew a comparison between Alexander Volkanovski and Jon Jones. If Volkanovski bulked up and gained the size of Jones, then how would he fare in the fights and rankings – Waterson raised the question. However, Waterson did acknowledge that she had a bias towards lower weight class fighters.
That did not take anything away from Jones' performance, in the eyes of 'The Karate Hottie.' In the interview with James Lynch, she praised Jones for being an incredible wrestler. For this reason, she feels that Jones has an upper hand on heavyweights.
Waterson will look to emulate her friend Jones' when she returns to the UFC octagon. She has been somewhat inactive in the past few years. Coming out of her shell, she has signed an eight-fight contract with UFC. She is will return to the octagon on April 9 at UFC 287, against Luana Pinheiro. The former Invicta champion had a hard time in UFC as she encountered 10 losses, as opposed to her 18 wins. Her upcoming opponent Pinheiro has a scintillating record of 10-1. Which is why she will have to pull magic tracks out of her hat to make her return to the UFC a memorable one?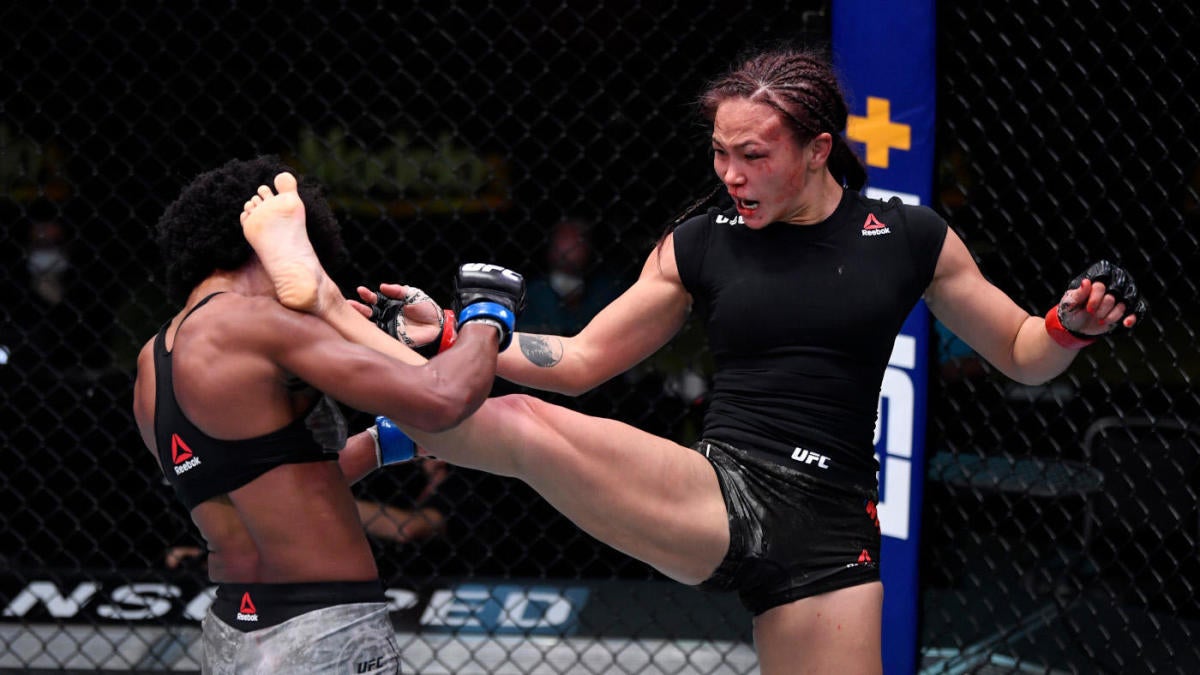 Do you think Michelle Waterson can return to the UFC on a winning note? Will she be able to show her technical prowess in the octagon?