TJ Dillashaw has fought only two fights in the last few years due to injuries and a suspension from USADA. During his fight against former UFC bantamweight champion Aljamain Sterling, Tyler Jeffrey Dillashaw suffered a terrible shoulder injury that hampered him for much of the contest.
Immediately after the fight, in the post-match interview, Dillashaw revealed that he had struggled with his shoulder throughout camp, experiencing multiple dislocations. The former UFC bantamweight champion has now provided an update on his injury.
TJ Dillashaw provides update on shoulder surgery
The former UFC bantamweight champion TJ Dillashaw underwent surgery for his shoulder that got really messed up during his last bout in UFC 280, against Aljamain Sterling.
The former champion took to his official Instagram account and shared an update on his post surgery recovery. In his Instagram post TJ revealed that he will be on bed rest for the next six weeks with a brace attached to his injured shoulder.
Tyler Jeffrey also revealed that the injury he suffered against Sterling was his 11th career injury and the former champion hopes that it'll be his last injury but in the cruel sport of MMA, it cannot be said for sure.
Dillashaw's UFC record
Tyler Jeffrey Dillashaw has had an inspiring and motivational career, overcoming multiple injuries, a total of 11 to be precise. He transitioned into MMA after graduating from college, amassing an amateur record in 2009 before turning professional in 2010.
TJ made his UFC debut against Walel Watson at UFC and went on to win his next three fights in the UFC before facing Raphael Assunção. Dillashaw lost that closely contested bout via split decision but still earned his first "Fight of the Night" bonus. He bounced back from the loss by defeating Mike Easton via unanimous decision.
The former UFC bantam weight champion boasts a record of 18 wins and 5 defeats. TJ's most recent fight was against The Funk Master, in which he lost via technical knockout in the second round, resulting in his shoulder being dislocated. Dillashaw's last victory came against Cory Sandhagen, after a grueling 5-round battle, with TJ emerging as the victor in what was considered a controversial decision in favor of Cory Sandhagen.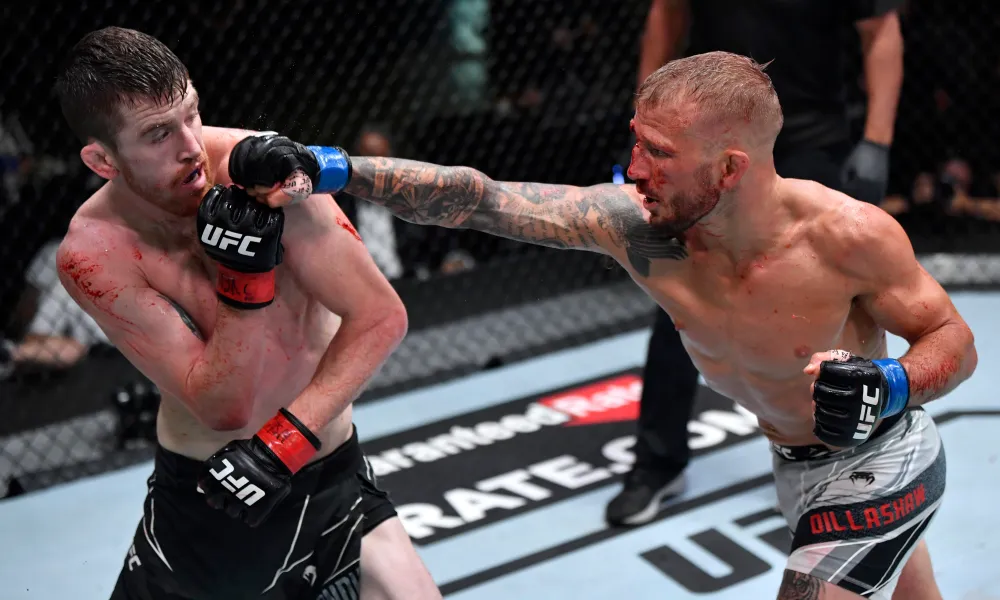 As of now TJ Dillashaw remains retired from MMA and wants to recover fully from his injury. Do you think the former UFC bantamweight champion will make a return ? Share your thoughts with us in the comment section.