Coming to the end of the month, the UFC will have another event in its home in Las Vegas. Following the success of the previous UFC Fight Night events, this month and UFC 269 still to come, fight fans will have high expectations from this one. As such, let's check out what's in store for us along with our UFC Vegas 43: Vieira vs Tate predictions.
A battle of two bantamweights, Ketlin Vieira and Miesha Tate will headline the event. In addition to that, Michael Chiesa takes on Sean Brady in what will be the co-main event. Moreover, Rani Yahya will take on Kyung Ho Kang, whilst Joanne Wood will take on Taila Santos. In addition, Davey Grant and Adrian Yanez will make up the rest of the card.
Turning our focus to the main event, we have two very promising bantamweight contenders. Incidentally, Vieira (11-2) and Tate (19-7-0) are both in patchy form. With both fighters heavily touted to be potential bantamweight champions one day, it will be interesting to see which of the two fighters prevails.
UFC Vegas 43 Fight Card
Much like the previous events, we will be returning to the UFC Apex in Las Vegas, Nevada on Nov 21, 2021. Moving on, let's take a look at the UFC Vegas 43 Fight Card. However, keep in mind that fights can be added and/or be changed in the lead-up to the event due to COVID 19 and injury complications. The current lineup is as follows:
Main Card ( 6 P.M. ET/ 3 P.M PT)
Ketlin Vieira vs Miesha Tate ( Women's Bantamweight)
Michael Chiesa vs Sean Brady ( Welterweight)
Rani Yahya vs Kyung Ho Kang ( Bantamweight)
Joanne Wood vs Taila Santos (Women's Flyweight)
Davey Grant vs Adrian Yanez ( Bantamweight)
UFC Vegas 43: Vieira vs Tate Odds and Picks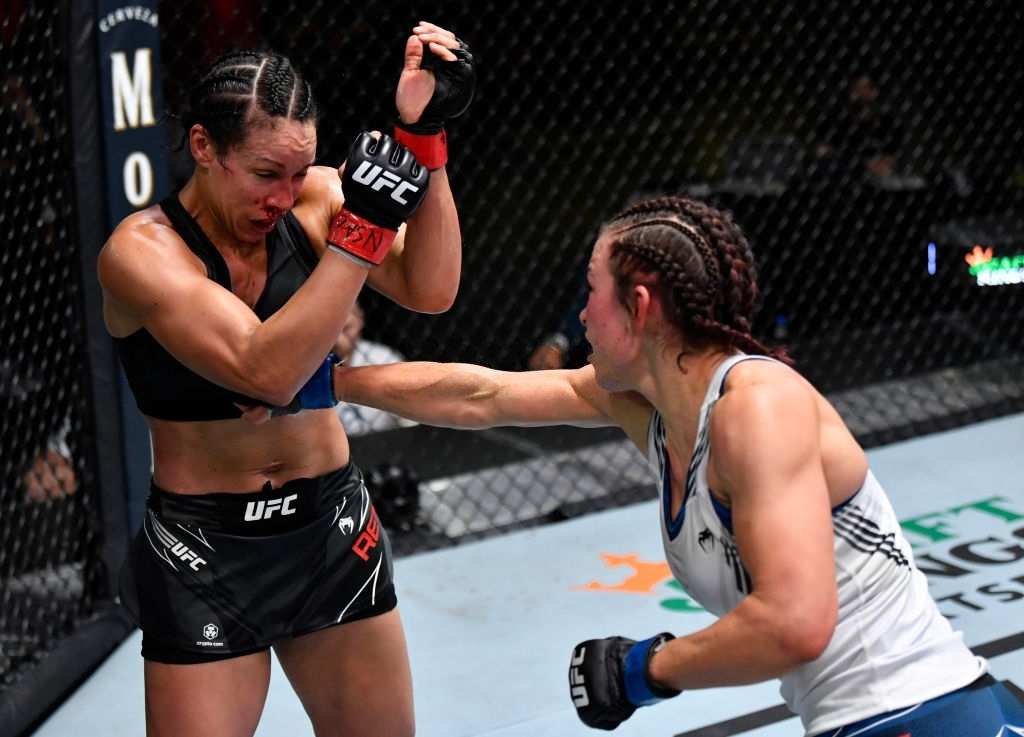 In case it wasn't clear, this is a very serious fight, with serious implications for the title challenger spot. Moreover, both fighters will be hungry to get back into the win column, prove their worth, and once again emerge as big contenders.
As the fight draws nearer, there are bound to be hotspots for bettors. However, you too can indulge in these games while sitting at home and bet at these sites. These betting sites are widespread, well-renowned, and very popular among beginners. Above all, these sites embrace players of all budgets, making it comfortable and safe to play for real money. So it can be said, It is lucrative, exciting, and worth the risk.
Now, let's take a look at the betting odds and the bookies' choices along with our UFC Vegas 43: Vieira vs Tate predictions.
Ketlen Vieira (-125) vs. Miesha Tate (+105)
Although coming off a loss, Ketlen Vieira remains the bookie's favorite. With age, fitness, and agility all on the Brazilian's side, Miesha Tate will have a tall order come Saturday night. However, we mustn't forget that is a former champ. Whilst we can't be sure that Miesha will bring that champion form, just know that she can.
Prediction: Ketlen Vieira to win via Submission/ Decision.
Sean Brady (-155) vs. Michael Chiesa (+135)
Up next we surprisingly have the new dog, Sean Brady as the favorite for this fight. Currently undefeated, Brady has made a flying start to his UFC career. However, here we must acknowledge the fact that Michael Chiesa has been a mainstay in the UFC and is no pushover. Can the Maverick derail the hype train? Only time will tell.
Prediction: Sean Brady to win via Submission or KO/TKO.
Kyung Ho Kang (-115) vs. Rani Yahya (-105)
Moving on we have Kang coming in as a slight favorite ahead of the veteran Yahya. With both arguable submission specialists, this fight can quite possibly go either way. Since Kang is in better form and is well, younger we feel that he is more likely to take this one.
Prediction: Kyung Ho Kang to win by Submission or Decision.
Taila Santos (-335) vs. Joanne Wood (+260)
Talia Santos is one of the strongest fighters in her division and is currently on a three-fight win streak. Next up she faces Joanne Wood who well, hasn't been on the same high. Although she did quite well against Lauren Murphy, she lost via split decision. Let's see if she can get back on the winning side.
Prediction: Taila Santos by Decision.
Adrian Yanez (-300) vs. Davey Grant (+235)
Lastly, we have Adrian Yanez who is in the form of life against Davey Grant. Unfortunately for Davey, his last loss ended a good winning streak. However, he is still a capable fighter but he faces a big task against Yanez. Keep your eye on this one!
Predictions: Adrian Yanez to win by KO/TKO.