Islam Makhachev is an up-and-coming fighter in the Lightweight division in the UFC. Also known as Khabib's protege, he is a great prospect and seen as a potential champion in the years to come.
Over the years, Makhachev (20-1-0) has slowly made a name for himself in the Lightweight division. However, the Dagestani fighter is only 30 years of age, meaning that he still has every promising career ahead of him. Moreover, with a champion like Khabib guiding the young fighter, he is sure to find success in his endeavors.
In addition to building his hype and dominating his opponents, Makhachev has also gained a lot of wealth. Thus, the only question in people's minds will be: How much did he earn? Well, let's examine what are Islam Makhachev career earnings through salary, purse, payouts, bonuses, incentive pay, sponsorship & what his net worth is.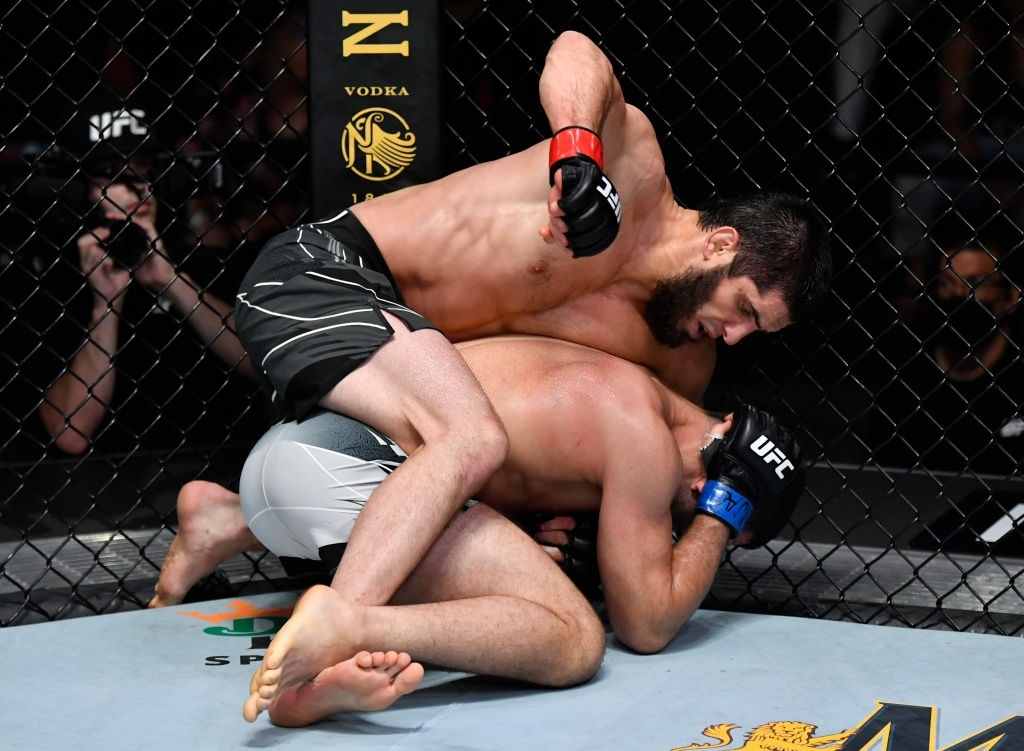 Before we begin, here are some important things to keep in mind. Firstly, Nevada State Athletic Commission does not release fighter pay, so none of the following payout data for the event is official. However, we can estimate a fighter's pay info by looking at their previous, officially-released salaries.
Secondly, Islam's salary, incentive pay, and PPV revenue from his upcoming fight with Dan Hooker are yet to be released. Hence, you can check back here for updates. With all that out of the way, let's begin.
Islam Makhachev Career Earnings
Fighter
Result
Base Salary
Win Bonus
Performance Bonus
Incentive Pay/Sponsorship
Total

Thiag

o Moises

W

$90,000
$90,000
–
$6,000
$186,000

Drew Dober

W

$50,000
$50,000
–
$5,000
$105,000

Davi Ramos

W

$30,000
$30,000
–
$5,000
$65,000

Arman Tsarukyan

W

$30,000
$30,000
$50,000
$5,000
$115,000

Kajan Johnson

W

$25,000
$25,000
–
$5,000
$55,000

Gleison Tibau

W

$25,000
$25,000
–
$5,000
$55,000

Nik Lentz

W

$15,000
$15,000
–
$5,000
$35,000

Chris Wade

W

$12,000
$12,000
–
$2,500
$26,500

Adriano Martins

L

$12,000
–
$2,500
$14,500
Leo Kunt

z
W
$10,000
$10,000
–
$2,500
$22,500
Total UFC Earnings: $679,500 ($679.5k)
A Glance at Islam Makhachev Asset Accumulation
| | |
| --- | --- |
| Name | Islam Makhachev |
| Age | 30 years old (Born 1991) |
| Net Worth | $800,000 (approx.) |
| Status | Active |
| Salary | $186,000 (last fight vs Thiago Moises) |
| Source of Wealth | UFC Career, Endorsements |
| Endorsements | Reebok, Venum, GoFLX, Crypto.com, and more |
| Endorsement Earnings | $100,000 |
| Marital Status | Unmarried |
| Residence | Makhachkala, Russia |
| Charities | N/A |
What is Islam Makhachev Net Worth in 2021?
According to our research, Islam Makhachev's Net Worth sits at around $800,000 in 2021. For the most part, Makhachev makes most of his killing plying his trade inside the Octagon but also from his lucrative endorsement deals. Currently, the Russian fighter is sponsored by Venum, GoFLX, Crypto.com, and more
As mentioned above, Islam's earnings from UFC ( includes pay, salaries, earnings, bonuses) amount to $679,500. However, Islam began his career in Russia and fought in promotions like M-1, Pro FC, SFC, and TFC. Thus, if we take into account the prize money from these fights, the Russian's earnings from MMA amount to about $700,000.
With his career still blooming, the 30-year-olds influence is expected to keep increasing, making him a very marketable athlete. As such, you can expect a significant increase in Makhachev's endorsement earnings in the coming years. Moreover, Khabib's protege will look to increase his Net Worth, even more, when he takes on Dan Hooker at UFC 267.