When Jaylen Brown stepped foot onto the NBA court back in 2016, little did he know how drastically his life was about to change. Thanks to his blood, sweat, and tears for the Boston Celtics, his career took a 180-degree whooping turn, and he slammed an iconic career, placing himself into the history books.
His long wingspan allows him to defend multiple positions, making him someone coaches can rely on in clutch moments. During his rookie year, his impressive record of averaging 2.5 field goals while playing only 17 minutes per game made him worthy of the limelight in the NBA universe.
Let's delve deep and explore his net worth,
Jaylen Brown's Asset Accumulation at a Glance
| | |
| --- | --- |
| Name | Jaylen Marselles Brown |
| Age | 25 years (October 24, 1996) |
| Residence | Mansion in Boston |
| Net Worth 2022 | $10 million |
| Salary | $26 million |
| Endorsement Earnings | $1 million |
| Source of wealth | Salary, Endorsements, Marketing Agency |
| Endorsements | Adidas, Donda Sports |
| Expenditure | Car, Charity and others |
| Philanthropy | The 7uice Foundation |
What is Jaylen Brown's Net Worth in 2022?
According to our insider information, his 10 million dollar net worth originated from his 4-year contract with the Boston Celtics. The diligent star bashed his way through all the hurdles and critics with precision, letting his natural talent help him dictate the strategies to jump up the wealth ladder. Considering the Celtics star is only 25 years old, who knows? Maybe one day, this talented prospect might reach Billionaire Dom if he continues his great form.
Jaylen Brown's Source of Wealth:
The 4-year contract with the Celtics is the main source of income for the emerging standout player, netting $26 million salary per year. Brown's Adidas shoe deal is worth more than $1 million per year, putting him among the top few players in his class in terms of footwear sponsorship.
Jaylen Brown's NBA Salary
In 2016, Jaylen signed a 4-year rookie scale contract with the Boston Celtics, and in 2020 he extended his contract for another 4 years till 2024. In 2020 alone, he earned $22 million in salary, and since then, his annual salary is expected to increase by $2 million per year. Therefore, he earned $26 million this year. The small forward still has a 1.5-year contract left, ending in 2024, which could very well reach up to $30 million in salary by the time his contract expires.
Jaylen Brown's Endorsement Deals
The Boston Celtic star, who scored the most points ever in under 20 minutes of playing time, signed an apparel and footwear deal with Adidas back in 2016. Inducting Jaylen into the pavilion of Adidas demonstrated an upward shift in their strategy to revamp the NBA merchandise market. Moreover, this deal was groundbreaking for Jaylen as he was only 20 years old when he received the offer back in 2016!
Jaylen Brown's Earnings Through Media Ventures
The 25-year-old guard along with the MLB legend Aaron Donald signed with Donda Sports owned by Kanye West. Jaylen is gearing up to face the Golden State Warriors in the NBA Finals in 2022 and becomes the first-ever NBA player to sign with the rappers' agency. He confirmed the news on his personal Instagram account posting a picture with the notorious West.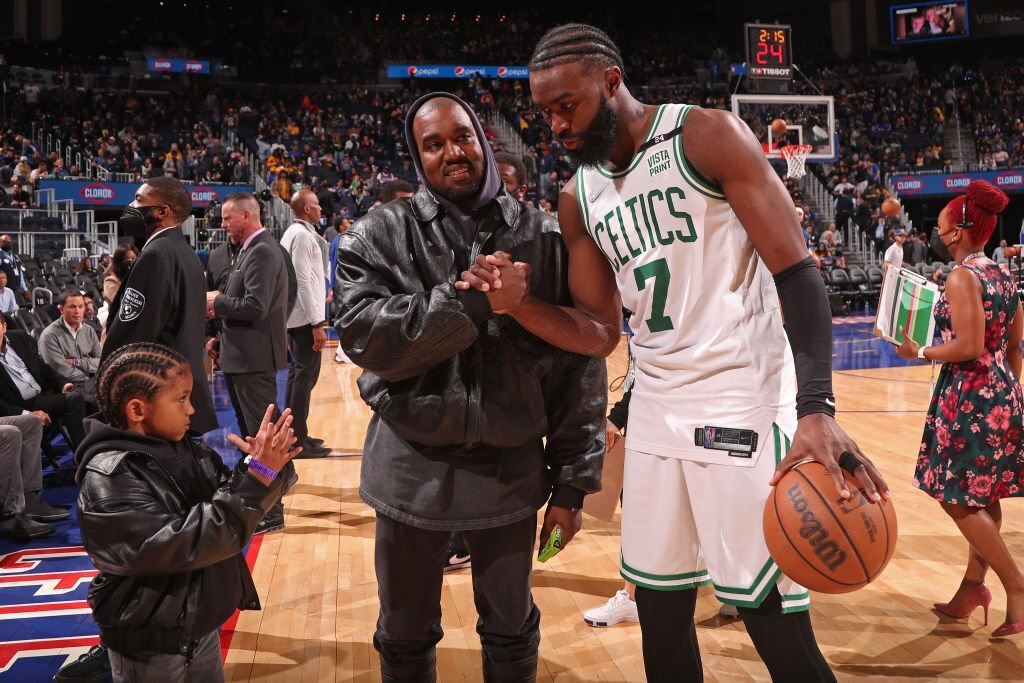 How Jaylen Brown Spends His Millions?
The Celtics SG, with a 720 3-pointers, is frugal when it comes to spending his fortune. However, that doesn't stop him from having a good time with friends, family, and girlfriend.
Boston's finest youngster is a huge fan of old-school music, owning a record player and several legendary classical records of historical musicians. He is really into books as well and calls himself a bookworm. Jaylen loves to spend his money on improving himself, for instance, buying and reading books.
Jaylen Brown's Lavish Mansion
Jaylen recently acquired a $100,000 property in Wellesley. He spent approximately $8 million on a McMansion. There are nine bedrooms, nine bathrooms, and 11-foot ceilings throughout the house.
When Jaylen Brown was first drafted by the Celtics back in 2016, he didn't have a car. Fast-forwarding to 2022, he now owns a Mazda CX9. Things have not been the same since he joined the Celtics. He has been a crucial factor in turning the Celtics into a winning team. The franchise rewarded the youngster for his diligent service, which allowed him to purchase his dream car.
Got the 🍿out! 😏

Shout out to @MazdaBoston for my #MazdaCX9. pic.twitter.com/VhBjJajYhE

— Jaylen Brown (@FCHWPO) March 24, 2017
Jaylen Brown's Lavish Lifestyle: Reading Books, and Soccer
In an interview with GQ Sports, Brown unfolded that he loves reading books and the sensation of turning pages is his favorite. Besides, he prefers reading books over watching TV or using social media. No wonder why he is considered to be "Too smart for the NBA".
Never forget the pre-draft red flags on Jaylen Brown were he enjoyed chess, took grad level classes at Cal & was "too smart for his own good".

— Chris Spatola (@Chris_Spatola) August 30, 2020
He is a crazy soccer fan and even played soccer for a year in his college years. Brown told celtics.com that attending the Chelsea vs. Arsenal match, the North West London derby, was a dream come true for him because he is a huge Chelsea fan! After watching the match, Brown reminisced, "I remember I had a dream when I was like seven years old and I played in the Premier League for, I don't know – it was like, I don't remember what team I was on."
Jaylen Brown's Non-profitable Investments: The Charity Work
Jaylen has a foundation that is dedicated to impoverished children and young adults. The young sensation has also taken active positions in combating societal inequity, including systemic racism in schooling. Jaylen's 7uice Foundation is an extension of his advocacy, dedicated to improving the lives of children at risk and young people via educational, athletic, and social activities. The 7uice Foundation is a one-of-a-kind, ethnically diverse organization that fosters education, personal growth, and community involvement. He has received the NBA community assist award as well for his outstanding community support.
Congratulations @FCHWPO 👏

Your work in the community and commitment to addressing racial injustice and social inequities has not gone unnoticed. #NBACares pic.twitter.com/EXGgExDboL

— Boston Celtics (@celtics) October 5, 2020
Lastly, Brown has also donated $10,000 to Bay Area community group United Playaz. UP provides support to prevent violence and currently operating in seven high schools.