Neymar Jr Tattoos: meaning, number, location & dedication
Brazilian superstar Neymar Jr is famous for his pace, agility, and exotic dribbling skills, and he surpassed the legend Pele on becoming the 'All Time Leading Goalscorer' for Brazil in 2022.
Born and brought up in the poorest areas of the city of Sao Paolo since 1992, Neymar Jr. was a skillful youngster who earned himself a place in the youth team of Sao Paolo FC and eventually became a superstar who has a different taste of appearances on and off the field.
How many tattoos does Neymar Jr have?
The most significant part of Neymar's attire lies in his tattoos, which are mostly inked throughout his career to mark important personal and professional events such as birthdates, inner feelings, relatives' names, and many others.
Neymar Junior has forty six permanent tattoos around his muscular body and each of those symbolizes finest arts with intrinsic meanings.
Where are Neymar's tattoos?
Since moving from FC Barcelona to PSG, Neymar Jr. still remained the most expensive soccer player in the world in terms of transfer fee, and therefore, his passion for body art grew even higher with the implementation of distinctive tattoos all over the body.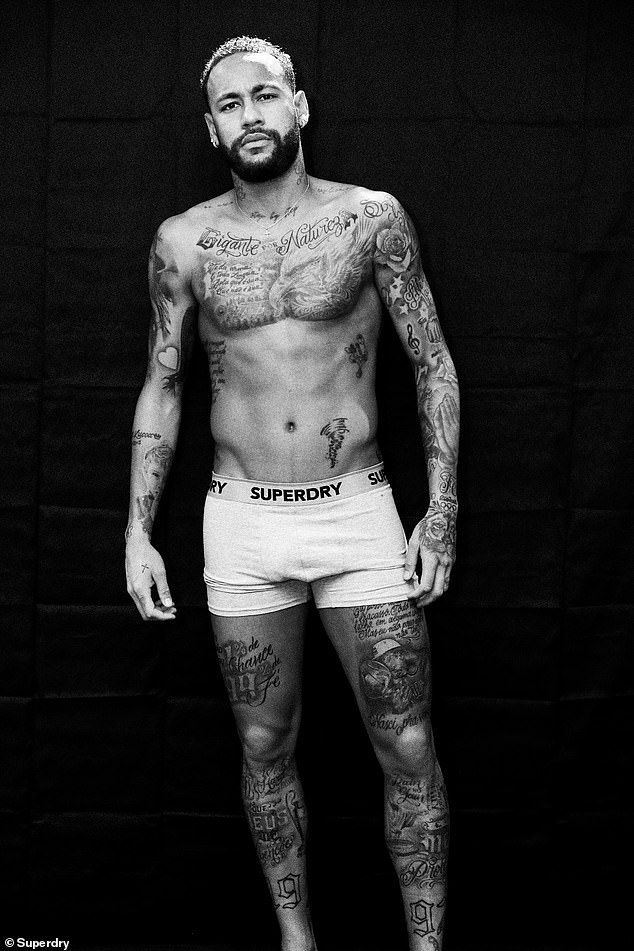 As of today, the Brazil skipper applied over eighty different tattoos over his body but only 46 of those remained as permanent ones.
What do all of Neymar's tattoos mean?
The PSG forward's passion for tattoos is consistently evolving throughout his career and he loves to try optimistic designs rather than simple numeric drawings. Let's have a look at some of his iconic tattoos-
Love Tattoo: Neymar's palm of left hand contains the word 'Love' in cursive fonts which can be seen whenever he plays on the field or at the time of taking meals.
Left-hand Tattoo: A lion face and queen crown can be seen in the left hand of Neymar and he described the crown by saying, "It's a Queen's crown. It's for when I get married!"
Right Bicep Tattoo: There is a tattoo of a special woman located on the right bicep of Neymar Jr. who seems to be one of the closet person of the superstar.
Poem Tattoo: On Neymar's side chest, there are few poem lines written on Portuguese language and depicted as a tattoo for which the playmaker once said, "It's a phrase we always say before every match. I decided to get it on my chest."
Blessed Tattoo: The PSG star has a tattoo on below of his neck where the word 'Blessed' is written.
Portrait Tattoo: The Selecao skipper has a tattoo portrait of a female inked on his right hand's shoulder.
'Birds & Words' Tattoo: The word 'Tudo Passa' along with three birds can be seen as a tattoo on Neymar's side neck and he described it as, "Good moments pass, bad moments pass. I have to enjoy these moments as much as I can. When you need to be happy, do thing well and give your all. This phrase says a lot about me."
'Never Ending Love' Tattoo: This tattoo is inked on the upper side of his thigh and Neymar Jr suspiciously hiding it by saying, "I can't tell you about this one, it's a secret."
Cross Tattoo: Neymar's neck contains another tattoo on the upper side of 'Blessed Tattoo' which is called the 'Cross Tattoo'.
'IV' Tattoo: There is a Roman Numeric letter inscribed on the left side of Neymar's neck that symbolizes 'IV' with a personal meaning for the superstar.
Name with Birthdate Tattoo: In 2011 Neymar was blessed with his first child and to mark that incident, he inked the name of the child on his right arm.
Whom is he dedicated to?
PSG megastar Neymar Jr. applied all of his body art to indicate different life events and personal feelings, and therefore all of those remained permanent on his body from time to time.
Neymar's 'Left Hand Tattoo' indicates his love for his future wife and also symbolizes their wedding ring.
The Brazil star dedicated his 'Right Bicep Tattoo' to his mother with a portrait of her face, and another right hand's 'Portrait Tattoo' was dedicated to his only sister, Rafaella Santos.
Neymar Jr.'s tattoos may seem self-centric, but the 'Cross Tattoo' demonstrates his devotion to Christianism and sacred religious beliefs.
The 'Poem Tattoo' written on the front chest was actually a tribute to Neymar's father, whom he lost at an early age.
Neymar Jr.'s tattoos include the 'IV Tattoo' that indicates the four members of his family that include him, along with his sister and parents.
PSG superstar Neymar's right hand forearm has a special tattoo that is solely dedicated to the name of his only son, Davi Lucca, with his birthdate.
Famous Brazilian actress Bruna Marquezine used to date Neymar, and so it was speculated that the Brazilian soccer star dedicated the 'Never Ending Love Tattoo' to the celebrity.
Who is tattooed on Neymar Jr?
A bizarre incident happened when Neymar Jr went to the tattoo studio for his first body art as he booked the schedule not by himself but with the name of his security guard, Ismael.
Famous tattoo artist Adão Rosa recalled that memory by saying, "When I was leaving, I met Neymar and a security guard. Neymar called me by my name, reached his hand and greeted me. I got cold. He said: 'I came to make a drawing in my arm (a tattoo drawing)'.
In 2010, that incident between Neymar Jr and Rosa happened, and the Brazilian superstar put on the names of his sister and mother as his first tattoo, which Rosa described by quoting, "He wrote Rafaella and Nadine. Those were his very first tattoos."