Many WWE fans hold conflicting opinions on Roman Reigns. He has held the WWE Universal Championship since winning it at WrestleMania 38 on April 3, 2022. Despite his achievements, the Tribal Chief has faced criticism for not defending his championship frequently enough, sparking discussions about him working part-time.
Since 2020, the Head of The Table has been the uncontested champion of the world, having already ruled for more than 1160 days. Even though he claims to be the finest WWE Champion ever, his admirers point out that his restricted schedule has prevented him from really establishing that claim.
How many times did Roman Reigns defend his WWE title in 2023?
Roman Reigns, who sits atop the heap, has successfully defended his championship 29 times against a wide range of opponents. The five-time champion will be defending his title at WrestleMania 40, despite not having given a specific comeback date. On June 2, 2023, he was presented with a new championship belt after successfully defending the title four times in high-profile live events.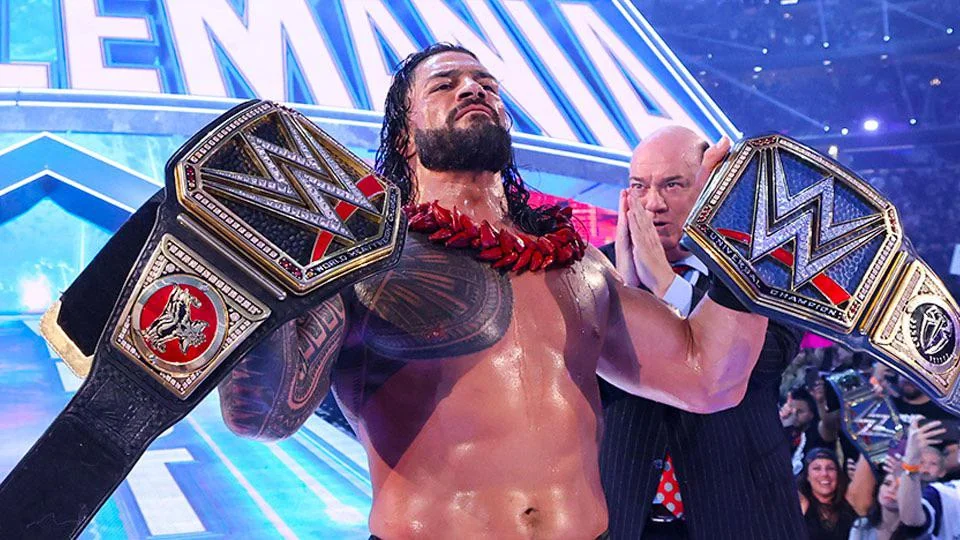 Reigns successfully defended his WWE Universal Championship for the fifth time in 2023 at Crown Jewel 2023 against LA Knight. On Twitter, Wrestling World CC announced that Reigns will make five broadcast championship defenses in 2023.
Even though he is the Undisputed Universal Champion and the top draw at arenas, Roman Reigns has been criticized for only appearing in matches occasionally. With just 11 fights planned for 2023, a decrease of 79% from the previous year, fans are disappointed The popular reign of Seth Rollins as WWE World Heavyweight Champion shows that fans like a champion who often defends the championship.
Wrestling fans not happy with Roman Reigns' less WWE Participation
The Tribal Chief's future in this role was obvious even during his time in The Shield. Even though Dean Ambrose was assumed to be in charge at first, Roman was always expected to eventually lead WWE. Having switched from a babyface character to a heel persona, Roman now occupies that position in 2023. Fans have rejected Reigns' efforts to be a decent man, and they excitedly boo him in anticipation of his next opponent.
The momentum of The Bloodline plot has slowed, and fans are frustrated with Reign's lackluster championship defenses in 2023. WWE has not announced who will end the reign, despite rumors that The Rock would do so. Social media users have reacted to Reigns' workload by making parallels to previous WWE champions, calling it humiliating, and making sarcastic comments about it. Roman's supporters are upset with his limited availability, and some have drawn parallels to Brock Lesnar on Twitter.
This time it seems that everyone has acknowledged his lack of presence in the arena regardless of the many negatives. However, do you think Roman will break his silence to make a statement about his limited schedule this year? Share your opinion in the comments.