Charles Oliveira has received the verdict from UFC veteran Daniel Cormier, who likened him to the current champion, Islam Makhachev, in a show of combat analysis that could be compared to a brilliant symphony.
Oliveira's performance inside the octagon at UFC 289, which included a convincing first-round knockout victory over Beneil Dariush, did indeed manage to hit some very high notes. Evidently, applause could be heard from the crowd at Rogers Arena in Vancouver, British Columbia, Canada.
Daniel Cormier's take on Charles Oliveira?
Cormier, though, felt that Oliveira's melody lacked a little something in comparison to Makhachev's expansive piece. Despite Oliveira's prior submission loss to Makhachev at UFC 280, where he got caught in a web of dominance, Cormier believes Oliveira has a chance to rebound. The octagon virtuoso believes that Oliveira will improve his performance to a completely new level for their rematch.
Oliveira needed his most recent match to reach a crescendo if he wanted another shot at Makhachev's lightweight title. Thankfully, he emerged unhurt from his performance, free of any dissonance or battle wounds. The stage is set for a potential symphonic showdown by this harmonious result. Cormier unified his ideas in his YouTube symposium,
Daniel Cormier: Charles Oliveira proved he's slightly below Islam Makhachev 'as the second level' https://t.co/jJnxxI7CFa

— MMA Junkie (@MMAJunkie) June 13, 2023
"He needed something big tonight in order to merit or earn another shot at Islam Makhachev's championship," Tonight he got out clean, he's not hurt, he's not banged up, he's not bruised." "So, I envision we're gonna see Makhachev vs. Oliveira 2 in Abu Dhabi. I anticipate this will be a better fight than we saw the first time because now Charles Oliveira has been in there with Islam. But, this kid's a star, this kid is one of the best fighters in the world."
Makhachev, displaying his wit and verbal jabs, chimed in with a sly comment, "Congrats Charles. But still there's levels in this game 😎." The conductor of the metaphorical symphony, Cormier. He enthusiastically concurs and joins the chorus. "Charles Oliveira proved tonight that if he is not the champion, he is just slightly below Islam as the second level. He's 1A to Islam Makhachev's champion." Acknowledging Oliveira's conquests over elite lightweights such as Dariush, Poirier, Gaethje, and Chandler, Cormier resounds with the notion of hierarchical layers within the sport.
Is Charles Oliveira vs Islam Makhachev confirmed?
After the thrilling UFC 289 event, UFC president Dana White appeared in front of the media, giddy with excitement for what is to come. The fight card promised that Beneil Dariush would get a chance at the prized title owned by Islam Makhachev if he defeated Charles Oliveira. However, the Brazilian's awe-inspiring TKO triumph has sent shockwaves through the division, turning expectations on their head.
Given that 'do Bronx' had previously fallen to Makhachev at UFC 280 last year, it seemed logical for the UFC to explore other contenders for the title shot. Yet, it is challenging to rule out a rematch with Makhachev in light of Oliveira's compelling performance at UFC 289.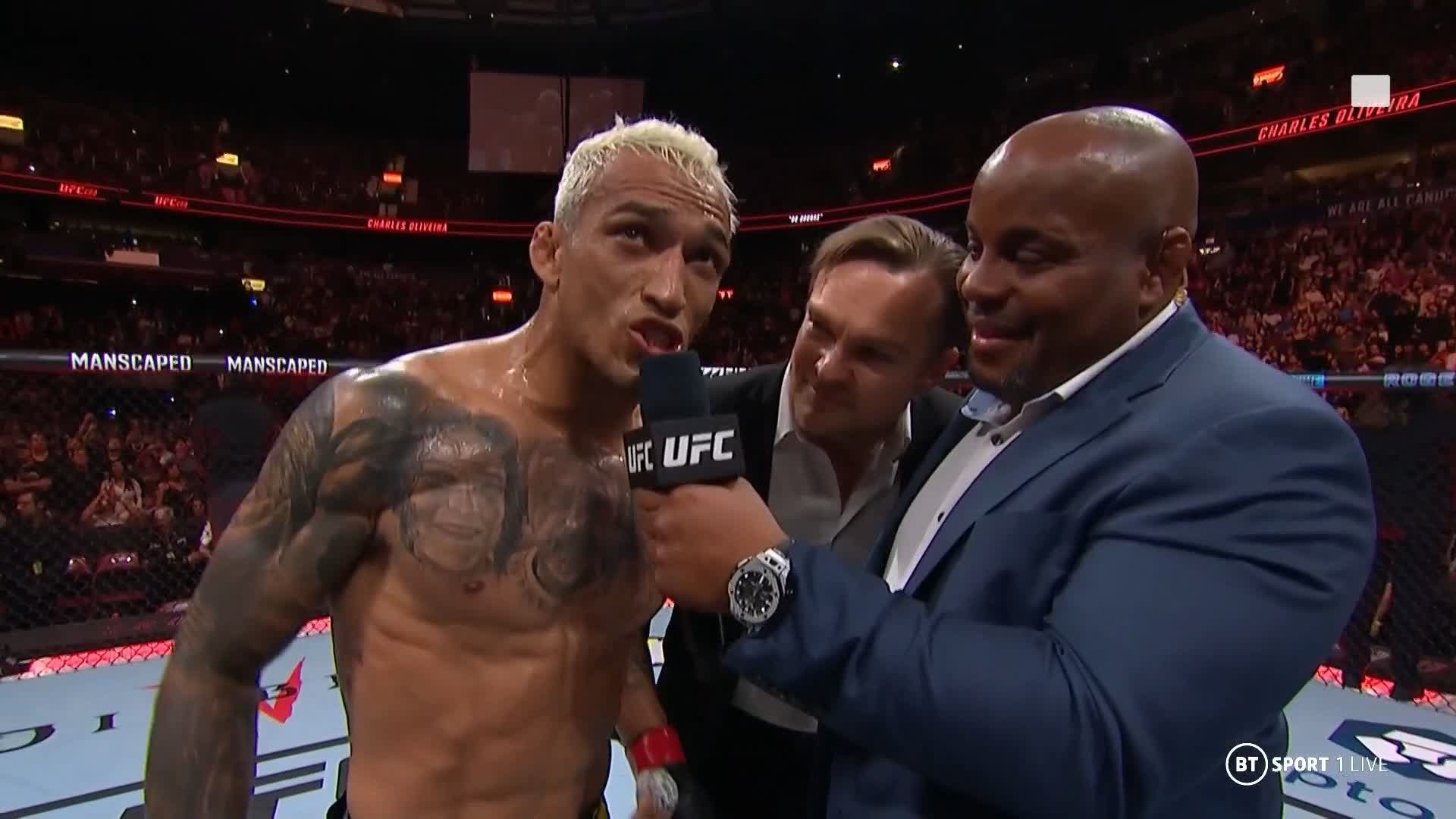 Dana White expressed his excitement for the upcoming fight while talking about the possibility of setting up a second match between the two formidable warriors. "[Oliveira] looked like a world-beater tonight and I'm excited for him and Islam to fight again… I'm just saying it's the [fight] that makes sense. Let's not play games here, that's the fight that makes sense. That is the fight that should happen and I'm excited to see it again."
Fight fans cannot wait to watch this stunning reprise of skill, dedication, and uncompromising spirit as the stage is set for what is sure to be a thrilling clash between Makhachev and Oliveira.