After the injuries to Stephen Curry and Andrew Wiggins, the Golden State Warriors are riding on another guard duo, Klay Thompson and Jordan Poole. These two are currently carrying the Warriors to the playoff round in the Western Conference.
The chemistry between these two—a veteran and a youngster—is paying off in this crucial moment of the season. Klay already scored averaged 19.1 points which came 40% from field goal, 38% from beyond the arc, and 88.5% from free throw in 29 games this season. On the other hand, Jordan slightly led with an average of 20.3 points, which came 43.4% from the field, 31.5% from three-pointers, and 86.7% from free throws.
How did the name '311' come about?
By following the consistency in their performance, the Warriors' duo contributed 72 points, 9 rebounds, and 8 assists in the victory over the Portland Trail Blazers in the last game. After the thrilling triumph, Thompson revealed the reason behind their nickname in a press conference.
"It's been great," Thompson said. "We call each other '311,' like the band." The '311' denotes the jersey numbers of Poole (3) and Thompson (11). It also indicates a popular 90s rock band that delivered songs like 'Beautiful Disaster,' 'All Mixed Up,' 'Purpose,' and many more.
"We call each other 311, like the band." 😂

– Klay on his chemistry with JP pic.twitter.com/Ev0Blw7FML

— Warriors on NBCS (@NBCSWarriors) December 31, 2022
What is the reason for this duo's amazing performance?
In response to a question about their chemistry, the 32-year-old said, "I think we kind of built that chemistry last year, so it's paying dividends this year. JP is such an amazing shot-maker as well as a playmaker. It's easy to play off him when he puts so much pressure on the defense. I think we have a good synergy between us."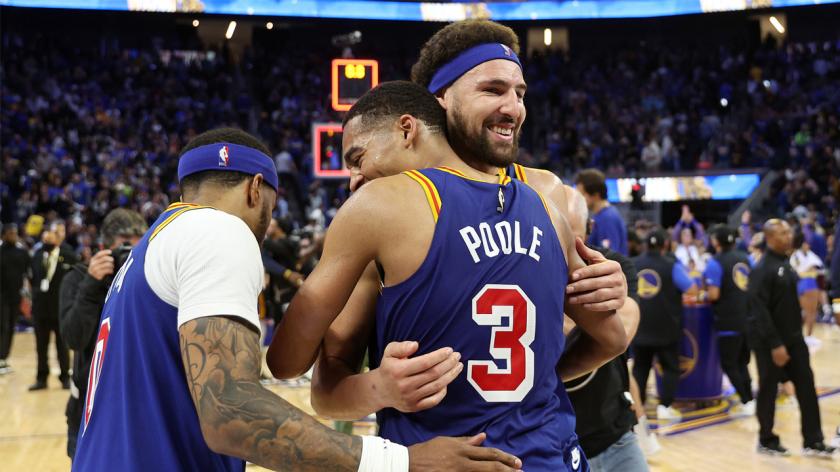 "I hope we can keep this going even when we get to full strength. We'll be in that second unit a lot together," Klay Thompson carried on.
The Warriors are really hoping for the best from this duo as they pull the team into the playoffs. It would be more significant if they can deliver a top-notch performance on the '311 annual day,' March 11, against the Milwaukee Bucks.