Brittney Griner, the famous female basketball professional, and her wife, Cherelle Griner, attended the 2023 NAACP Image Awards on Saturday evening.
Britney got into the limelight after being apprehended by a Russian law enforcement agency at the airport for carrying illegal hashish oil into the country. After that, she was sent to a maximum-security prison for several months and finally released by the authorities with a swap deal.
Since then, the Mercury Phoenix star has become the center of attention for all people in the USA and has started influencing the release of other captives in foreign prisons.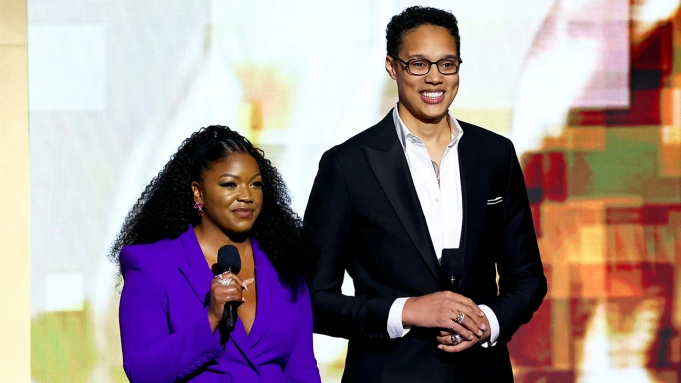 What did Brittney Griner say?
On Saturday evening, the 32-year-old took another stance for the release of other US citizens in the overseas prison. Even so, she and her wife initiated a social awareness campaign to free innocent people from their imprisonment.
"It feels so good to be here, especially with my beautiful, amazing wife and with all of y'all here today. I want to thank everyone and let's keep fighting to bring home every American still detained overseas," Griner stated in an emotional tone.
#brittneygriner #NAACPAwards #NAACPImageAwards #NAACPImageAward pic.twitter.com/Ek8VJ1tkmk

— SincerelyB Blogging – #ThisMyNitch (@SincerelyBlogg) February 26, 2023
On December 8, the Russian authorities released the Phoenix Icon in exchange for notorious arms dealer Victor Bout, who had been in US prison for over 10 years.
Following her release, the 2014 WNBA champion began to rebuild her life while continuing his professional career with the Phoenix.
Previously, she expressed her gratitude for the fans' support and, especially, for US President Joe Biden's effort to bring her back from Russia.
However, there was outrage over another former US Marine who had been captured in Russia but had made no attempt to return home. Since then, the campaign has received huge support, and after Griner's firm stand, they urge the US authority to work with the counterpart to bring their citizens home.