Since wrestling's early days to now, the world of WWE has been predominantly male. Women first infiltrated the scene as sexualized arm-candies/valet of the champions. The modern era of women's revolution, ushered in by Charlotte, Becky Lynch, Sasha Banks (among many), was only a dream. So, why is Becky Lynch called the man?
Although there was a women's championship, the women were just a part of the man's world. In the Attitude Era, women slowly started to gain momentum. The term 'WWE Diva' got introduced for the women as well as a new WWE Diva's Championship. In 2006, for the first time, Lita and Trish Stratus, two of the top female wrestlers main evented Monday Night Raw to fight for the Women's title. This incident made history and showed the world; women have the potential to headline an event.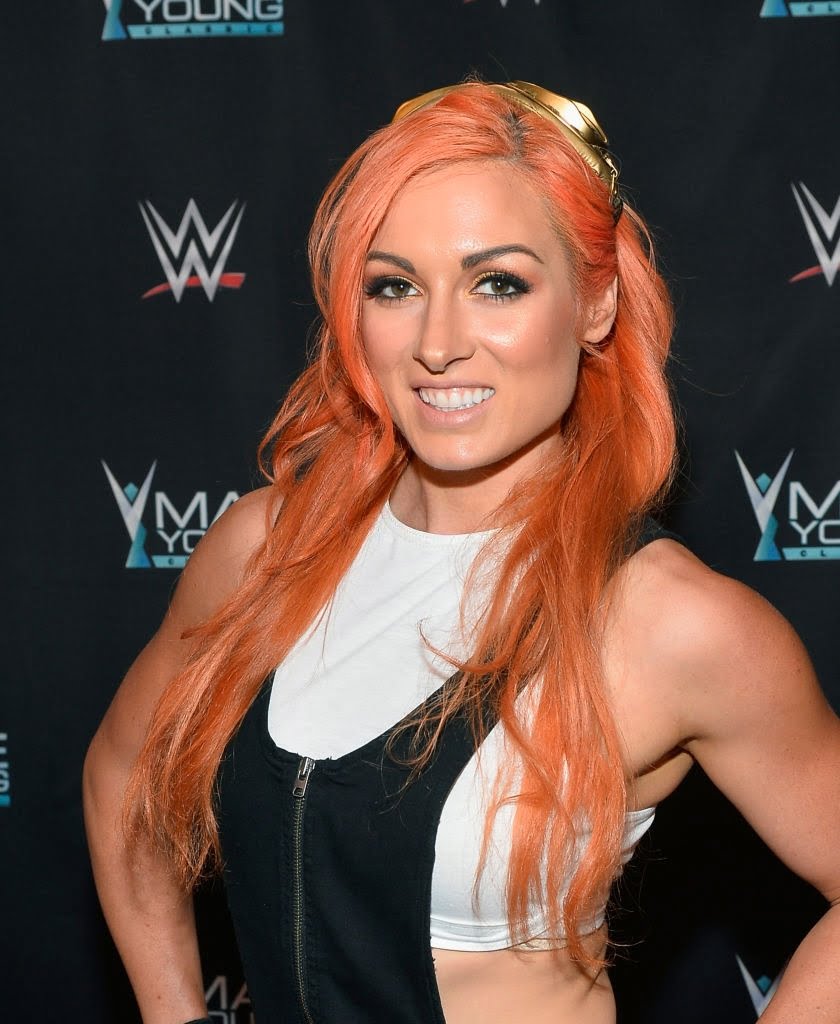 Unfortunately, things went downhill from the 2010s. The men's section was thriving with superstars like CM Punk, John Cena, Kane, Daniel Bryen, The Shield, etc., but the women's division was in shambles. With poor writing and mismanagement, WWE's women hit rock bottom. There were some great athletes like AJ Lee, Kaitlyn, Natalya, Tamina, but it was going nowhere. WWE Universe petitioned for a 'women's revolution' with the hashtag, #givedivasachance. Then came the moment when Becky Lynch 'The Man' rose up to the occasion.
Who Is Becky Lynch?
Becky Lynch was born and brought up in Ireland as Revecca Quin. She is a lifelong wrestling fan. She first got into it in 2002 under the ring name of Rebecca Knox. Slowly she made her way up through various wrestling promotions. She signed a developmental deal with WWE's NXT Divison and took the name 'Becky Lynch.' Hopefully, that answers the question – why is Becky Lynch nicknamed the man.
Why Is Becky Lynch Called The Man?
Lynch was full of potential and a fan favorite, but it seemed WWE was not putting all that into good use. Instead, they were not sure how to do that. Fans became vocal about WWE's ill-treatment of Becky with the lack of opportunities and near-misses.
While going into 2018 Summerslam, Becky harnessed the crowd support and went into a match for WWE Smackdown Women's Championship with Carmella and old-friend Charlotte.
As she pinned down Carmella, Charlotte swooped in and slammed Becky Lynch's face on the mat, pinned the champion, and won. Yet, another near-miss! However, this time it was different.
A teary-eyed Becky slammed the title across Flair's face in sheer frustration,' garnering an immense cheer from the audience. Turning heel for the first time, She led out five years of frustration as she thrashed the new champion across the ring and into the commentary table. The Barclays Centre erupted with 'Becky' chants. This very moment was undoubtedly the most significant point of her career – this is the moment when The Man was born.
Everyone writing love letters to each other on social media about #SurvivorSeries tonight. Well here's my statement: I cannot wait to get out of doctor jail and rip all your faces off. Signed, The Man. pic.twitter.com/orSFn41CN1

— The Man (@BeckyLynchWWE) November 18, 2018
The next day, Becky further let out her frustration on live television. She claimed how disappointed in the audience, Flair, and the company for robbing her off of her opportunity. She claimed why is she, Becky Lynch, called The Man, aka the top wrestler in the company.
You can call yourself a queen, or a boss, or even a goddess – but if you want to see narrow minds explode, call yourself The Man. pic.twitter.com/YEtqDBZuqL

— The Man (@BeckyLynchWWE) December 2, 2018
Lynch and Flair began a feud, considered one of the best in the business. Lynch won the title from Flair in September. The two women battled out the company's first-ever all women's Pay-Per-View event called 'Evolution.'
The New Dawn Of WWE Women
One may ask, when did Becky Lynch become the man. To answer this we need to take a history lesson. In the mid-2010s, The hungriest power-couple, Stephanie Mcmohan and Triple H, reminiscent of their days in the company, stepped up the game and signed a bunch of promising women. Soon these women would go on to make history. Among these women, an Irish superstar would make history by winning on the 'biggest stage of them all.'
She'd become 'The Man' of the division, albeit the company. The NXT rookie Becky Lynch rose and is now one of the faces of WWE. Rome wasn't built in one day, and WWE Raw Women's Champion didn't come to exist in a whim. It took years of planning, hard work, and struggles.
Let's see why is Becky Lynch called The Man of WWE. We just love it when she says, "I am Becky Lynch. I am the Man"
WWE Women's Revolution and Debut
On 13th July 2015, Becky Lynch, along with Charlotte Flair and Sasha Banks, made their debut on the main roster. One may ask, why is Becky Lynch so popular? These women were physically stronger, technically more efficient, and used a plethora of complicated maneuvers.
Not only were the matches a pleasure to watch, but also the storylines were plausible and exciting. To see the revolution which stood as Becky Lynch evolution was a glorious moment.
After aligning herself with Charlotte (WWE Legend Ric Flair's Daughter) and Paige (youngest WWE Diva's Champion), many fans noticed the 'Irish Lass Kicker.' Yet, it seemed, she was missing something. WWE Hall of Famer Ric Flair even called her "the least relevant of the group."
Smackdown Women's Champion
After Becky was drafted to Smackdown! Live, she started feuding with various women superstars (the term Diva was scrapped). Lynch won the Smackdown Women's Title on WWE BACKLASH 2016 only to lose it to Alexa Bliss after 84 days. The Irish WWE wrestler flew too close to the sun.
By this time, Lynch was gaining popularity of her own. She had feuded against the likes of Natalya, Naomi, Mickie James, Riott Squad. The women's division was going through a change as well. Women got matches like 'Tables, Ladders and Chairs,' 'Hell in a Cell,' 'Money in the Bank Ladder Match,' 'Battle Royal,' etc. From being utterly insignificant to having historical matches, women's division became a force to be reckoned.
Wrestlemania Moment
"I think Evolution, the Last Woman Standing match — probably my favorite match of my career — it's probably the most fun I've ever had in the ring," Lynch said in an interview. "I've never been more present, more aware, and in every second of it."
We all remember the 'Irish war paint' clad Becky after she survived a punch from Nia Jax. The blood on her busted face symbolized the years of struggles she has put herself into.
She then won the first-ever women's battle royal at Royal Rumble to get a shot at a title match in Wrestlemania.
"It is the biggest night of my life, and what this means going forward is not wasted on me for a single second," Lynch said in the aftermath.
The match soon turned into a "Winner Takes All" triple threat match with Charlotte in the mix. For the first time, women headlined Wrestlemania, and 'The Man' proved her worth as she defeated both the champions and emerged victorious. Winning both the titles, she earned the nickname of 'Becky Two Belts.'
Who is "the man", Becky Lynch's Boyfriend?
The "man" in The Man's life is also a popular face in WWE. She and Colby Lopez are in a relationship since mid 2019. The wrestling universe knows him as Seth Rollins. This multi-time champion and Becky are truly a power couple. Their involvement in some storylines where they both defended their titles together.
The couple is not afraid of to show off their relationship in public as well. Their chemistry was evident in live TV, multiple times.
As of now, Lynch and Rollins are engaged and expecting their first child together. This pregnancy is the Reason Becky had to relinquish her WWE Raw women's championship in this year's Wrestlemania.
Words of Praise
WWE Icon and the company's COO Triple H has been in favor of Lynch since day 1. He said, "She was able to create that aura and ride the wave, and then the company comes in and just gets behind that and goes with it."
He added more, "And that's when it's the most magic. It's been awesome to watch her evolve as a performer, and a character, a human being. Then to see her, every now and then, come back through that curtain and to still see the same girl that looks at you laughing and goes, 'Is this life real?" Her iconic theme song, is perfectly in tune with her Becky Lynch the man shirt.
Former WWE Universal Champion and fellow Irish, Finn Balor, overwhelmed when he thinks about how far they arrived.
"We're just two kids from Ireland along for the ride, and having a good time while we do it. Sometimes we'll cross in the corridor at Raw, or backstage at a pay per view, and we'll just [have] a little wink and a nod and kind of like a giggle as to how did we get here? Sometimes I think both of us feel like one of the security guards left the back door open and [we] snuck into the show.", Balor said.
Seventeen years after Becky Lynch first stepped through the doors of the wrestling school in Ireland, she has made all of her wildest dreams come true.
Silver Lining
(Getty Images)
Becky Lynch is now one of the most recognized faces in WWE and mainstream media. The transition from 'Irish Lass Kicker' to 'The Man' didn't happen overnight. Just like Rocky Maivia became 'The Rock' to usher in Attitude Era, Becky too, ushered in the women's revolution.
"It is the most incredible, humbling feeling in the entire world," Lynch said. "Because on one end, what happens after you achieve all your life goals? Have to come up with some new ones."
From a young athlete who failed her P.E. classes, struggling with addiction to becoming one of the first women to main event Wrestlemania and now an expecting mother, she has proven that she is the not only the best in the business but why is Becky Lynch called The Man. She'll harness whatever life throws at her.
Read More: