The F1 world is full of dramatic moments, and unpredictability, with the qualifying session of the Canadian GP flexing the dynamic nature of the sport. As the driver pushed their car to the limit in the wet conditions, Haas driver Nico Hulkenberg took the grid by surprise using the wet conditions to his advantage to finish an astonishing P2.
The 35-year-old German driver has been the 2009 GP2 champion and the 2008 F3 Euro Series champion. However, in his 188 race starts in the sport, the driver has not once stood on the podium. Nico holds the odd record of the most F1 career starts without a podium finish in the sport.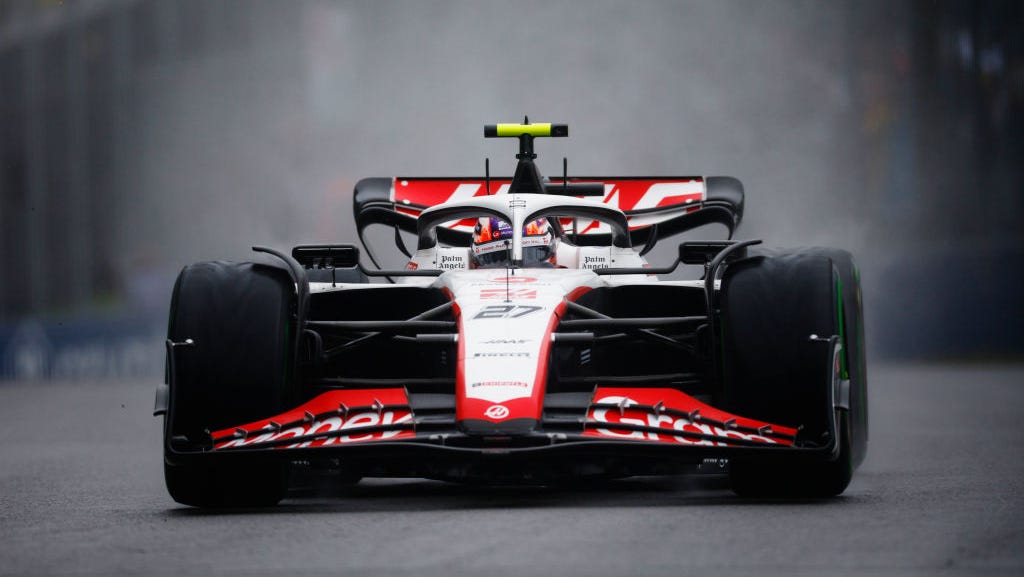 Why Nico Hulkenberg faced penalty?
His chances to finally score a podium this Sunday were washed away when the driver failed to reduce his delta time when McLaren Driver, Oscar Piastri spun off the track resulting in a red flag. The Haas driver was slapped with a 3-place grid drop and penalty point by the stewards after investigating the incident at the end of the session.
"The driver had just finished his fastest lap and had started another push lap, he was at T1 when the red flag was displayed, however at that point he was already 1.5 seconds over his delta time," read the stewards' report.
Hulkenberg claimed the circumstances made it extremely difficult for him to come below the required delta time, further admitting that he had confused the beep signal in his headset and believed he was going too slow.
The report further read "Comparison of telemetry with that of Car 31 [Esteban Ocon] showed that in general for the rest of the lap, he was approximately the same speed as Car 31 which complied with the delta times in each mini-sector. We regard this as a mitigating circumstance."
The normal penalty for failing to slow down under red flags is a 10-place grid penalty however, considering the mitigating circumstances the stewards decided a lower penalty is appropriate.
Canadian GP qualifying results
The qualifying session of the 2023 Canadian GP brought an exciting atmosphere to the sport, bringing back the old competitive and unpredictable nature of the grid-deciding event.
Alex Albon stunned the crowd by putting up the fastest time in Q2, and home favorite Lance Stroll saw himself out of the session with a disappointing P13. His fellow Aston Martin driver, Fernando Alonso will share the front row with reigning world champion Max Verstappen following Hulkenberg's' grid penalty, followed by both Mercedes drivers in P3 and P4.
After viewing the results of the Canadian GP's qualifying session, there is no doubt that turn 1 of Circuit Gilles Villeneuve will be a spectacle to watch.