Gilbert Burns, after his victory at UFC 287, stated that he was generally satisfied with his performance in the co-main event. However, he expressed regret for some of the comments he made after the fight. Specifically, he had accused his opponent, Jorge Masvidal, of using grease during their bout.
Which made it challenging for Burns to maintain control after securing several takedowns. During the post-fight press conference, Gilbert claimed that Masvidal used an old-school method of putting lotion on his body.
Taking this moment to apologize to @GamebredFighter and his team @mikebrownmma @AmericanTopTeam pic.twitter.com/jNZva97ugO

— GILBERT BURNS DURINHO (@GilbertDurinho) April 11, 2023
Letting it absorb, showering, and then repeating the process several times so that his body would feel more slippery when he would sweat. However, Burns has since sent a heartfelt message to Jorge and his coaches to apologize for his accusations.
"To be honest, I was in the moment right after the fight," Burns explained when speaking to MMA Fighting. "I think I made a mistake accusing the guy of doing that.
"Right now, Jorge is done, he's not fighting anymore. I don't want be the guy pointing fingers and making excuses for the fight. I just want to make that statement and I want to apologize to Jorge. The things that I said, accusing him of using. I still think he was more slippery than usual but I cannot say that he did that, pointing fingers. So my apology to Jorge and his team."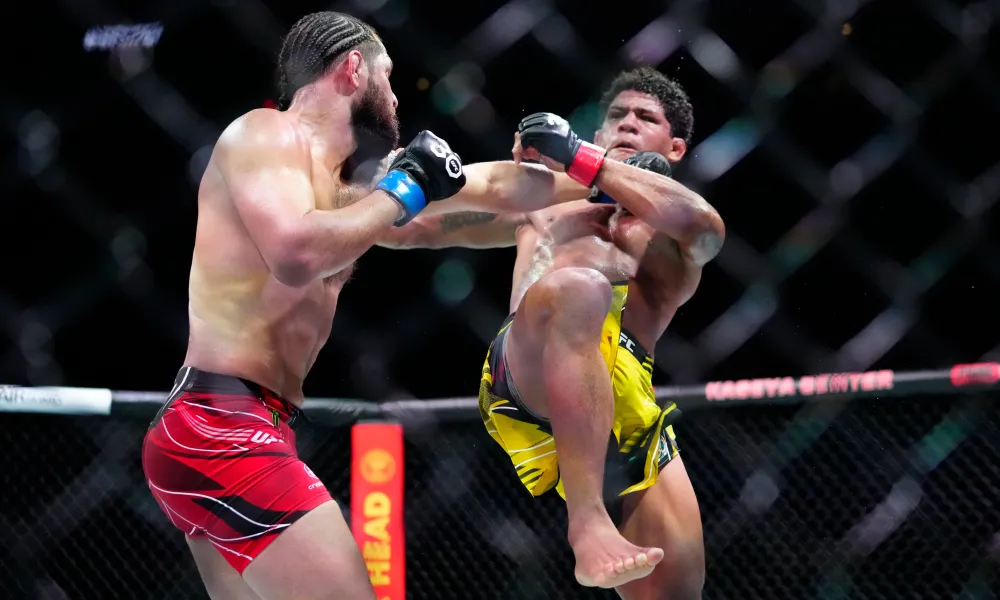 Gilbert Burns hails Jorge Masvidal as a legend
Burns expressed that he was primarily disappointed with his inability to finish the fight. Which is why he made the accusations against Masvidal. He hoped that by making a more significant statement, he could increase his chances of getting a title shot.
"I'm not a guy that complains and makes excuses," Burns said. "If he did something, it's all good but I'm not 100 percent sure that he did and I apologize saying that I know he did for a fact, 100 percent. No, I apologize to Jorge and his team.
After the fight on Saturday, Masvidal declared his retirement from MMA. Burns had high regards for the veteran American MMA professional's toughness during his last fight. Gilbert acknowledges that he wanted to finish the "Gamebred". But the 38 years old refused to give up, and he deserves appreciation for his resilience until the end of the fight.
Burns had hoped for a knockout or submission, but he also understood that Masvidal was a tough opponent to put away. Despite not getting the finish he desired, Burns isn't upset about winning by unanimous decision, especially considering the caliber of his opponent.
Let us know your thoughts in the comment section below.