WWE is a demanding business that has superstars needing to become and sever being friends all the time. To maintain the storyline of kayfabe, staying true to one's character is of utmost importance in WWE.
The harsh nature of the job, the constant traveling throughout the year, strenuous physical activities stress the superstars out. It is amidst all these hardships that people make friendships with those they are closer to.
Often, some of these friendships are severed due to interpersonal conflicts and situational differences. Of course, despite the aura that WWE superstars put out, they are humans too. 
Even then, some of these bonds have stood the test of time and stayed intact. Thus, we are looking at some of the WWE superstars who are friends in real life, despite all odds.
#10. Bailey and Sasha Banks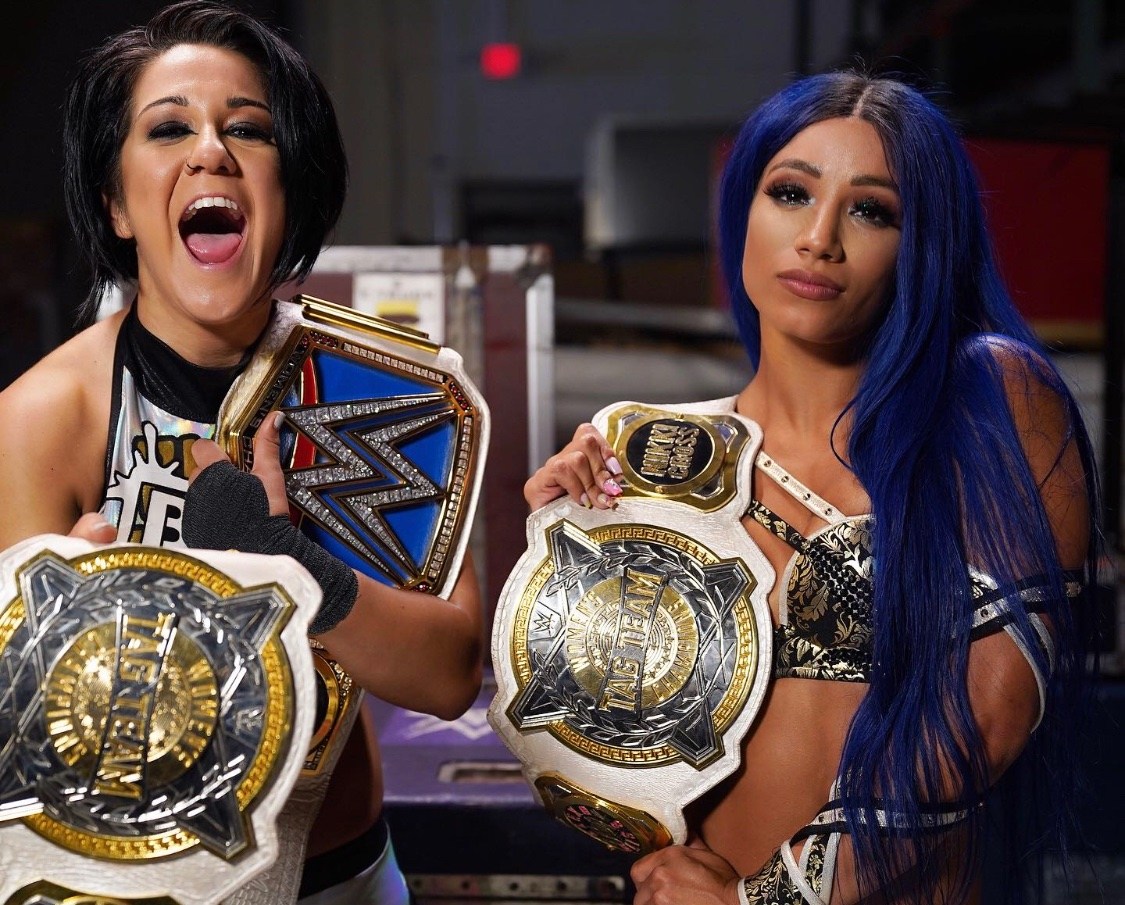 The Boss of women's division and The Hugger get along perfectly fine and are real-life best friends. Sasha Banks and Bailey became close ever since they used to work together in the NXT division of the company.
These two women were half of the 4-woman team that also included "The Queen" Charlotte and "The Lass Kicker" Becky. Known as the Four Horsewomen of NXT, these women had immense success in the stable.
Having amazing chemistry and gelling perfectly with each other The Boss and The Hugger teamed up as part of a classic of NXT.
The fact that their match went down as one of the best of the stable of 2015 explains how smooth they are with each other. The inaugural tag tea champions of the women's division are among the rare WWE superstars who are real-life friends.
Awesome athletes, both in a tag team and on an individual basis, these ladies have a stellar career ahead of them. Only time will tell how stronger will this unique friendship get.
#9. Titus O'Neil and Batista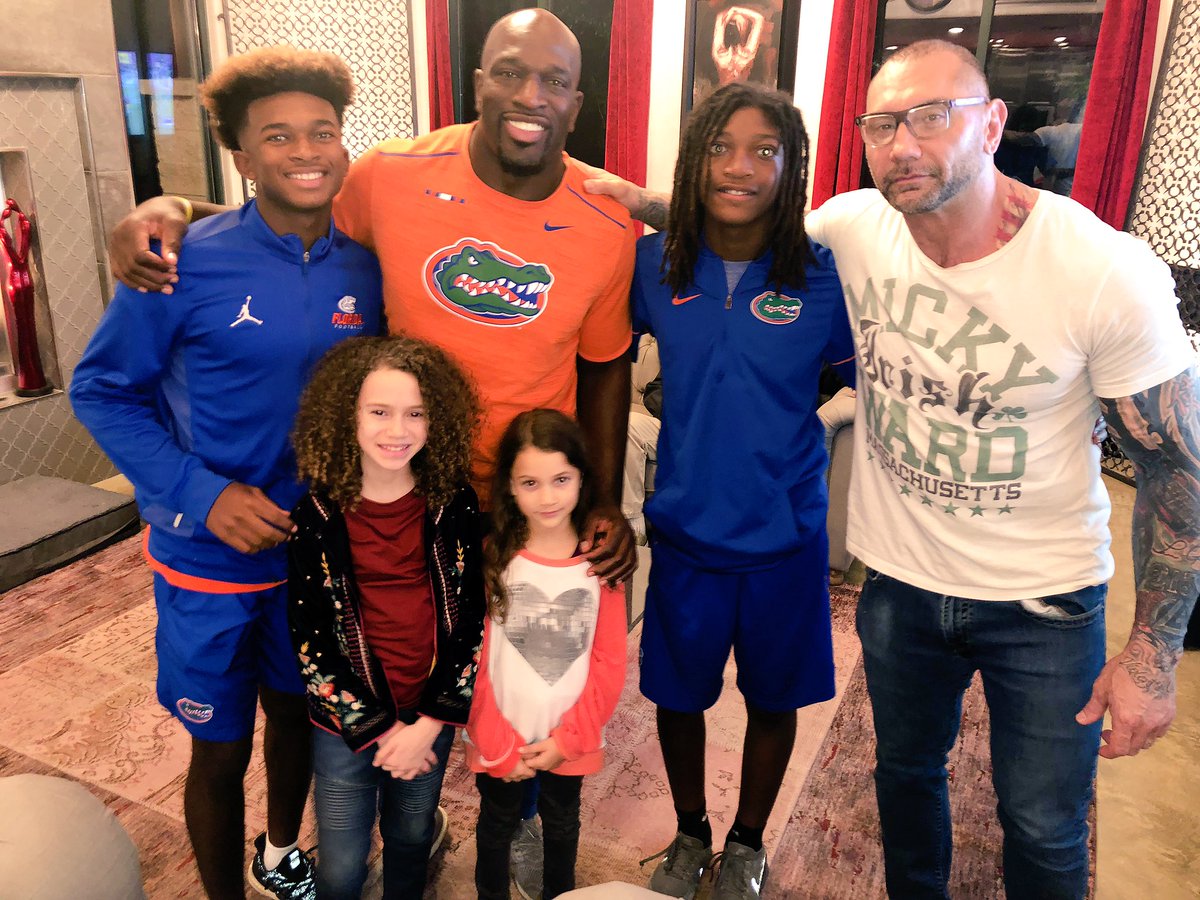 When The Animal came to WWE, he had a steep arc of success laid ahead of him, even becoming WWE champion. Therefore, it is a little strange that he is best friends with former one half of Prime-Time Players, Titus O'Neil. 
The fact that O'Neil is criminally underused in the business irks the current actor of MCU, thinks it's rather unfair. According to Batista, Titus is capable of achieving a lot more, if given an opportunity.
Back in 2016, when the leader of Titus Worldwide was suspended for shoving Mr. McMahon, Batista was enraged. Never afraid of speaking his mind, the wrester who earned big name in Hollywood like many other, mostly recognized as Drax the Destroyer, revealed his displeasure over the action. 
Since that incident, O'Neil and Batista found time to spend with each other and bond over food. They are the WWE superstars who are unexpected friends offstage.
#8. Ryback and Daniel Bryan
Another unlikely pair of the Shellshocker Ryback and the Vegan Daniel Bryan was literally worlds apart, from their wrestling styles to their food habits.
A heavy reliant on protein shakes, Ryback could not be more different than the organic user, D Bryan. Perhaps the only reason they became close buddies is since these two superstars enjoyed similar humor.
Bryan is known to play a lot of practical jokes on the bigger and buffier Ryback who enjoys them mostly. In a Table For 3 episode, Bryan, Ryback, and Dolph Ziggler were found sitting together and enjoying jokes.
Thus it is no secret that the "Feed Me More" and "YES, YES, YES" slogan creators get along fine. Although they stopped traveling together given the nature of Bryan's jokes, these two WWE superstars are friends to this day.
#7. CM Punk and Kofi Kingston
CM Punk and Kofi Kingston are huge stars in their respect. However, they are good friends outside the wrestling world.
Most of the recent fans may not remember this, but these two were World Tag champions. It's since then that these two have remained friends.
Times have changed a lot since they held the tag titles, but the friendship has only grown stronger. Punk has remained constant support in Kofi's arc upwards and was very happy when Kofi recently won the WWE championship.
The Jamaican sensation has supported Punk in his shortlived stint in UFC. Given the way the two have had each other's back through thick and thin, it's no surprise that Kingston referred to Punk as his "true friend".
#6. Chris Jericho and Big Show
Former stars at WCW, both Jericho and Big Show were huge names in the business. They have wrestled several matches since the mid-'90s and when the time came, shifted to WWE in '99.
At that time, rifts and dissension were created between the two and Jericho complained in an interview that Show was a jerk in the locker room. However, the two men's gimmick changed over time, they were the same individuals underneath.
The two athletes, however, ended up solving their differences by becoming the unified tag champs by the name 'JeriShow'. Jericho has also written about their friendship in his second book.
The GOAT mentioned that Show and he were like an old married couple, bickering but staying together. So there is no surprise that beyond the initial enmity, they had built stronger bonds.
Despite acting as opponents when on camera, these two WWE superstars have remained friends for a long time. With Jericho having joined AEW, there is little chance of seeing them together again, but we can only hope for a reunion.
#5. Big E and AJ Lee
When AJ Lee brought Big E (then Langston) into the main event one day along with Dolph Ziggler, he was fresh out of NXT. Used originally as the muscle of their nexus, Big E has since then moved on to bigger and better things.
 AJ, the wife of the leader of the Personality Cult, CM Punk, is no longer a part of WWE. Her husband, during his time in the business, had irked many people in power back in the day. 
However, one thing that has only grown by leaps and bounds, is the friendship AJ and E share. Now a full-time member of The New Day, Big E hardly has any free time with promotions.
Despite the packed schedule, he can make time for his friend AJ, and they have shared pictures on social media. It's very sweet that these two have retained their friendship outside the business.
I swung my arms wildly in my first TV bout
So excited to compete & later Tout it out
I swung and swung until I felt a thud
I turned in horror, fearing a pool of blood
But to my relief, there you stood with a smirk
And with this I wish you Happy Birthday, you jerk

— Ettore "Big E" Ewen (@WWEBigE) March 20, 2018
#4. Edge and Christian
Even before they decided they would choose professional wrestling as their career choice, Edge and Christian were best friends. Both men stood together to face every challenge that came before they were signed by WWE.
Adam Copeland and Christian were signed in under the team 'Brood' where they performed under the gimmick of being brothers. Despite not having actual blood ties, their chemistry exceeded that of real siblings.
Passionate about the business, the two could be both vicious and comic, within seconds. Going on to be successful in tag matches as well as individual ones, they achieved everything.
Both Edge and Christian have gone on to win the world titles and shall be added to the prestigious Hall of Fame soon. Currently retired, the two Canadian best friends host podcasts together and their bond is as strong today.
Having achieved so much in their professional career, the two men have not let go of their childhood bond. The two former WWE superstars remain best friends till today.
#3. Shelton Benjamin and Brock Lesnar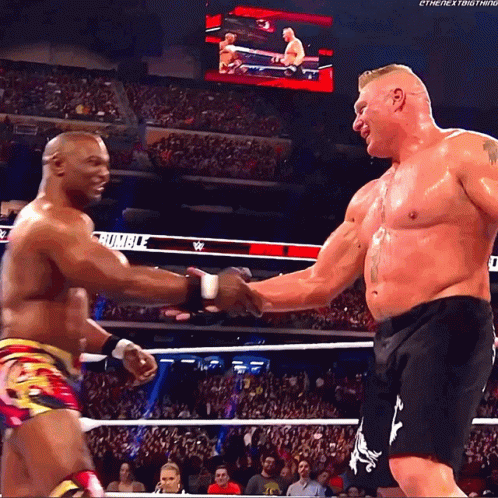 Brock Lesnar is a scary man, is an understatement. There are not too many WWE superstars who would pick the beast as their opponent as they fear for their safety.
The humongous size of Lesnar is enough to deter people and added to that is his almost natural attitude of acting like a jerk. The beast is a no-nonsense personality that does not respect his colleagues, neither does he care about friendships. 
This, however, is a part of kayfabe. Brock has social anxiety and does not mix with people on his own accord. 
Amongst the few exceptions is Shelton Benjamin, who he has been friends with since college. The two went to college together and joined wrestling almost at the same time.
Although Benjamin has not had half the success as his friend, Brock has tried to push his friend up several times. Their friendship runs deeper than business as is proven by the fact that Benjamin is the godfather of two of Brock's eldest children. 
Recently in a Royal Rumble when Brock was decimating everyone, Shelton had come out as a competitor. The two took time to hug and smile before Lesnar eliminated him.
Thus, it's a fact that these two WWE superstars are friends beyond their professional areas.
#2. Sheamus and Triple H
The King of Kings in the business is not like any usual superstar. The Cerebral Assassin hung up his wrestling boots a while back and now he is the brains behind the operations to make each show a success.
A friendship with someone like Triple H would go a long way. However, like his father in law, he is not an easy man to please.
Hunter demands the best from each of his employees and whoever delivers their fullest potential is chosen as a favorite. In this respect, it's obvious that the Irish was picked as Hunter's favorite.
To quote Hunter, he says Sheamus "just trains hard, and is a sponge for a business". There is no question that the future owner of the company has his faith in the Irish bulldozer, which is why he has had several opportunities.
Sheamus has delivered in every single of these chances. Despite this is not like the rest of the friendships in the list, mutual respect between the boss and employee is valid, too.
#1. John Cena and Randy Orton
A new fan of sports entertainment may buy into the kayfabe and think that the Viper and Leader of Cenation to be nemeses. However, the real story is the complete opposite as these two are amazing friends in real life.
Both Cena and Orton were students in Ohio Valley Wrestling which was their alma mater for sports entertainment. Despite big names like Lesnar, Benjamin, and Batista being students in there, these two became close, quite early.
The two young men went on to achieve magnanimous feats in the industry, each on their own terms. However, their careers have reflected each other's several times.
Becoming champions early on and winning several titles, later on, they have personalities to run in the locker room. Their enmity is rather discussed in-ring and outside, including an incident when Randy punted Cena's father.
However, that was all kayfabe, and the two are said to be the Steve Austin and The Rock of the PG Era. Recently, Cena and Randy hugged briefly in the backstage, on camera.
Miss you @JohnCena. 😘 ps: Can you talk to @TheRock and see what his #wrestlemania plans are for 2020? Asking for a friend. pic.twitter.com/Ly222EhUz4

— Randy Orton (@RandyOrton) October 5, 2019
Despite several main events they have battled in, these two WWE superstars who are easily among the greatest of their times are best friends. Cena has agreed on that since the first day.
This is also no secret, that friendship with the Leader of Cenation goes a long way.