The squared circle of WWE is the place where everything from storylines to career-ending injuries of superstars is very real. This company has made a fortune out of scripted plotlines to give character to the employees, but there were times when some went too far.
To give the aura of realism, some of the moves performed inside the ring, or outside, were the reasons why some careers had to end. There is no doubt that injuries are a regular part of a job as demanding as professional wrestling.
However, some of these injuries went into the extremities like broken vertebrae or a torn pectoral muscle. Many a promising career came to a premature halt because caution was ignored for split seconds.
Today WWE has a very strict rule of wellness-policy which the employees need to abide by, at all costs. That being said, we take a look at some of the promising WWE superstars whose careers ended due to injuries.
#10. Darren "Droz" Drozdov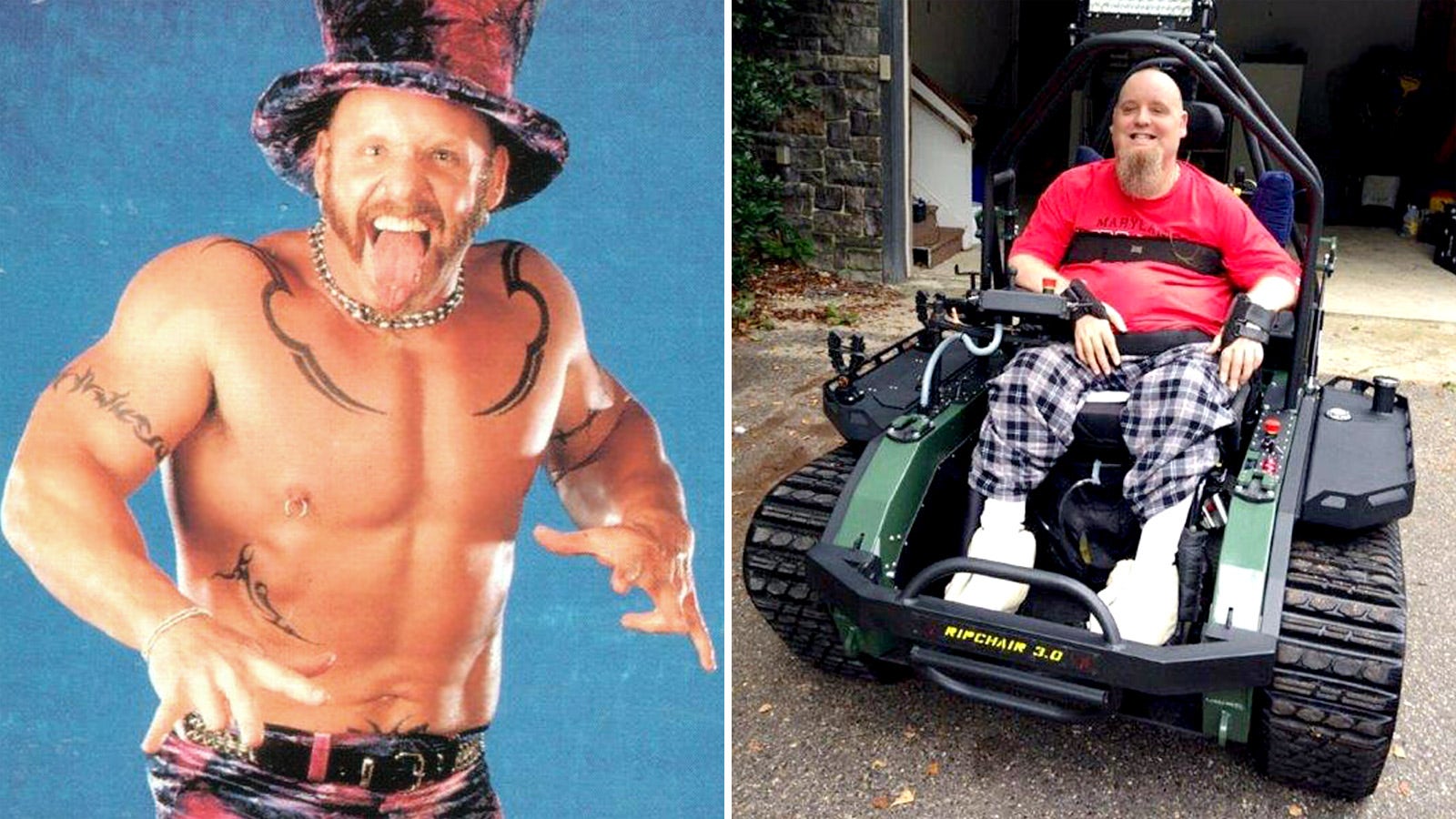 After his career as a football player ended, Droz joined WWF in 1999 as part of the Legion of Doom stable. Maintaining a band of 'freaks', he had a shot at achieving something great.
However, luck was not in his side on one fated Smackdown night, when he received an injury that devastated his life. D'Lo Brown attempted a running powerbomb of slamming his opponent into the mat that was botched.
Droz landed on his head and fractures a couple of discs in the neck. He was doomed to be paralyzed into a wheelchair for the rest of his life, living as a quadriplegic.
He has since then found back a little movement in the upper body and has been a motivational figure for many quadriplegics. He once said, "No matter what puts you down, in my eyes and in my mind, there is always another day. Just because I'm paralyzed and stuck in a wheelchair, doesn't mean my life is over. I've learned to live again and my life is far from over." To date, his catastrophic injury is one of the worst to happen to the WWE superstars.
#9. Brian Pillman
The "Loose Cannon" of WWF lived his life in his terms. A seemingly wild personality, whose real and scripted life was almost similar.
Real-life friends with The Texas Rattlesnake, Pillman would do all sorts of high-risk maneuvers throwing caution to the wind. Unfortunately, his career ended very prematurely as he passed away at 35.
He suffered a devastating ankle injury that stopped his flying moves. He passed away just a few months after he injured his ankle and had to give up.
A man of many talents, he would have quickly risen to star-status if the catastrophe had not struck him hard. Pillman's premature career is a testament to every young talent about the need to be cautious.
#8. Paige
WWE was Paige's house before she had to leave the ring upon receiving horrible injuries. Neck issues made Paige suffer terribly for a long time, which resulted in her having to take several months off.
Hoping that her neck had healed completely, Paige returned to WWE to claim her previous status of staying at the top. Instead of her plans, her fate had other plans for her.
In a match with The Boss, the former Divas champion from the UK was on the receiving end of a kick to the face. This move unintentionally injured the already prone neck of Paige yet again.
This time, given the seriousness of the injuries and the risks embodying it, Saraya-Jade had to retire from in-ring action. Only at 25, she had to quit from a business she loved.
 This is one of the saddest stories of WWE superstars whose careers had to be halted due to injuries. Although she later became RAW GM for a while, she was meant for much greater things like her mother Sweet Saraya, a great female WWE professional wrestler.
https://twitter.com/TwitterMoments/status/983558547274215425?s=20
#7. Sid "Psycho" Vicious
Sidney Raymond was a full-timer in WCW who used to follow all the directions he was given. The newly acquired brand WCW wanted most out of its employees to keep up the reputation.
It was just these taxing requirements that resulted in a horrible accident for Psycho Sid. He had no interest in doing a top-rope high-risk maneuver, given his size and weight.
Psycho Sid climbed up the rope as told, but the accident occurred on his way down. Sid came down in a rather wobbly way, fracturing his tibia and fibula of the left leg. 
An injury so 'vicious', Sid had to quit for good. His leg had been broken beyond repair for immediate purposes like wrestling. That was the last time, WWE universe saw Psycho Sid before his appearance on RAW 1000.
Despite being a squash match against Heath Slater, Sid moved around gingerly. It was obvious that even after all these years his leg had not fully healed.
#6.Stone Cold Steve Austin
The Rattlesnake from Texas was the strongest opposition to the tyrannical authority of the McMahon family. Despite all of it being a part of a storyline, Steve Austin was an amazing performer of the mic and in-ring.
The Bionic Redneck had to suffer a disastrous neck injury that cut short his stellar career. Stone Cold was just on his way to winning more championships until he met with an accident.
The SummerSlam of '97 was a difficult crossroads for him as a slight error happened in carrying out a sit-out Piledriver by the Hitman. Bret Hart maneuvered the piledriver but it injured Austin's neck horribly.
He somehow tried shaking the effects of the botched finisher over the years but it started taking its toll. Austin had to quit wrestling completely as he was warned that any more injury to the neck could cause paralysis or even death.
#5. Edge
All these days, it was very real to Adam Copeland that he would stay in the business and retire on his terms. Edge was the Rated-R superstar who had never backed down from taking intricate risks.
His spear to Jeff Hardy from the top of the ladder was one of the most renditions of the move the WWE universe has ever seen. However, years of hitting opponents with the shoulder had its side effects. 
Edge was diagnosed with cervical spinal stenosis that needed immediate surgery. He did not have any other option left but retire at the edge of 38 from the business he had joined out of passion.
Although Edge did make a return in 2020 in a match against the Viper, he is way past his prime. Edge had to give up on a perfect career becoming one of the WWE superstars whose career ended due to injuries.
#4. Eddie Guerrero
https://www.youtube.com/watch?v=iazIEja4-EI
The Latino Heat was one of the rare heels whose entire persona was loved hugely by the WWE universe. The crowd would go crazy for the Mexican who would "lie, cheat and steal" to secure a win.
Eddie's innovative underhand means were received with nothing but love by the audience. However, underneath the energetic personality, the man suffered from addiction issues.
He had had a turbulent life but he was trying his best to get his life back on the tracks. His problems did not leave him be, and he suffered a heart attack in a hotel room and died in his nephew, Chavo's arms.
A lifetime of dealing with alcohol and painkiller addiction had taken its toll and Eddie finally succumbed to his injuries at the age of 38. The painkillers were needed due to the several blows he used to receive at the back of his head with a chair.
The death of Eddie devastated one person more than the rest of his coworkers. He finds mention later in our list.
#3. Bret Hart
The Hitman from Hart Dungeon was thoroughly skilled in technical wrestling. The Sharpshooter submission hold was a brilliant and beautiful maneuver that had defeated several of his opponents. 
Hart's career would take a downhill turn when he faced the Icon, Goldberg in a match back in 1999. He received an unintentional kick to the head that would prove malicious to his career.
Following episodes of memory loss, Bret was diagnosed with syndromes of post-concussion. He did not have any other choice left and had to retire from the world of professional wrestling.
The result of two horrible concussions and muscle tear in the neck were the reasons that the Hitman had to quit rather early. His dynasty has had a bit of bad luck resulting in a few more WWE superstars having to quit due to injuries.
#2. Chris Benoit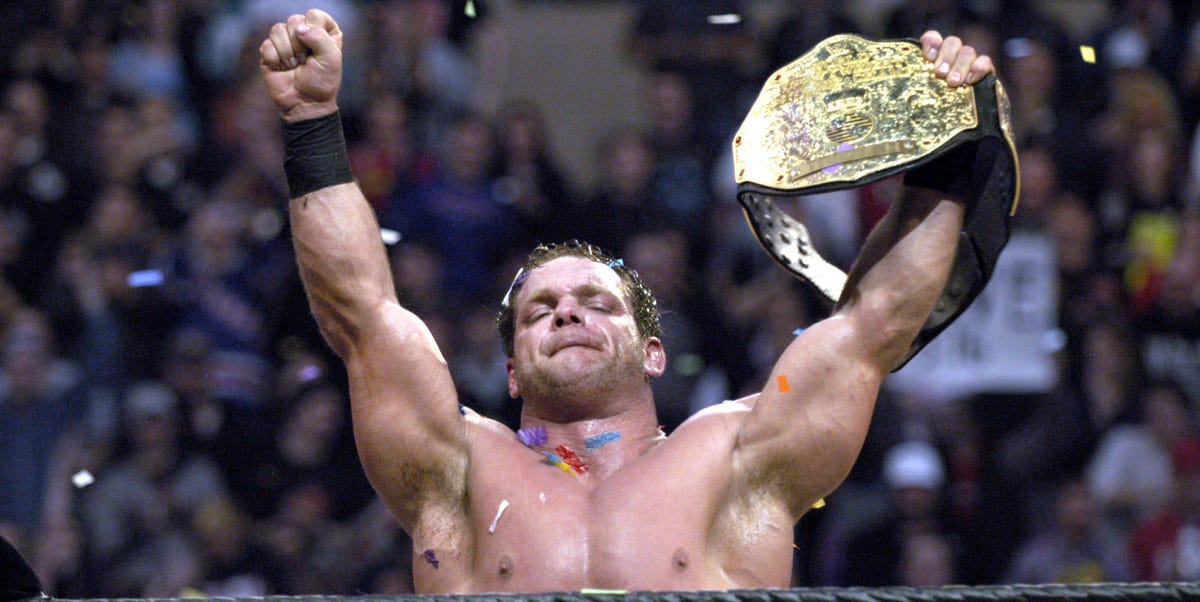 WWE does not talk about this Canadian who was one of the best talents the company had, because of his horrible actions. It is this man mentioned earlier, who was broken by the death of Eddie Guerrero, his best friend.
Benoit used to suffer from Chronic Traumatic Encephalopathy that was caused by the immense shots he had suffered at the back of his head.
He had been a regular user of painkiller medicines and he used to live in severe depression ever since his best friend died.
The pain of losing the person who had been his savior for the longest time became too much and he was forced to take his own life. This was not before he committed the double murder of his wife and son, by strangling them. 
Years of trauma and pain received endlessly had made the brain of this loving father and husband go haywire. This is one of the most tragic stories in the wrestling business that is seldom talked about.
#1. Owen Hart
The other Hart who suffered misfortune in his career as a wrestler was the brother of the Hitman, Owen Hart. Possibly the most talented athlete to never hold the grandest title as his life ended much too early and tragically.
He was perfectly healthy and did not suffer from any long term injuries. However, the reason he takes the number 1 spot in this list is that the nature of his death was shocking.
Hart had taken up the role of the buffoon, Blue Blazer and as he was lowering himself to the ring by a rope, a catastrophe befell. He unknowingly released himself too early and fell 78 feet onto the top rope. 
Owen Hart was declared dead shortly after, despite the attempts to revive him by the frantic ERs. The policy of WWE came under fire and they had to pay a huge settlement to Hart's family following his death.
This demise of one of the brightest WWE superstars despite no previous injuries horrified the wrestling world. The company has become much wary these days and it can be only hoped that such accidents never happen again.