We've heard a lot of stories about popular players who never liked to spend much time in training. To some of these players, working on their bodies in the gym is totally out of the game. Meanwhile, a few others exist who made the gym their second home, putting up tireless efforts to build-up their structures.
Hard work pays off. A lot of superstars have developed their bodies in such an impressive way that it catches the eye. As footballers, it is easy to know that the legs take priority when it comes to work-outs. This fact is well taken by these players who never tire whenever it comes to taking to the gym to build-up some muscle in their legs.
In line with that, we present to you the top 10 superstars who never missed leg days and have built impressive thighs and calves from their efforts. The list contains well-known attackers, midfielders, and defenders of the beautiful game; some active and some retired. They are as follows:
​
10. Romelu Lukaku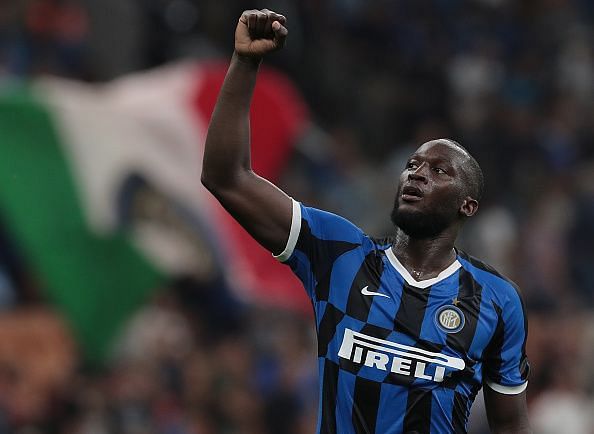 This is a player that no one would doubt his inclusion on the list. As a matter of fact, most of the fans who watched him tearing the Premier League apart first with Everton and later with Manchester United will surely expect to find him here.
The former Red Devils striker, who currently represents Serie A giants, Inter Milan, has very impressive thighs. In fact, if you look at the imposing forward, that is one of the few things you will first notice from his body structure.
Lukaku spent a lot of time in the gym working on that section of his body. The cherry on the cake is that he knows how to use it very well to beat opposition defenders. As a matter of fact, he has used his physical advantage over opposing defenses to score most of his career goals.
9. Xherdan Shaqiri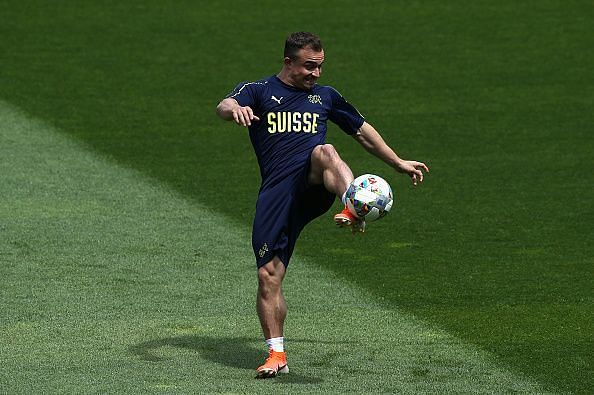 Many players can put up a claim for having the biggest thighs in the game but when we switch to the King of the Calves there can only be one and his name is Xherdan Shaqiri. Premier League fans need no introduction to the man who has destroyed opposition defenses in the division for the last couple of years.
Despite standing at 5'7, the Swiss attacker is built like a scary machine and just looking at the size of his legs is quite enough to push us to fear him and also to be impressed in equal measure. Shaqiri is surely missing out on the list of the tallest footballers in Europe but Liverpool winger remains the king of calves by a long distance.
His calves are not just strong, they are also dangerous and effective. There's immense power in them; no wonder he's scored a lot of long-range screamers in the Premier League in the past few years. He surely deserves a place on this list.
8. Wilfred Bonny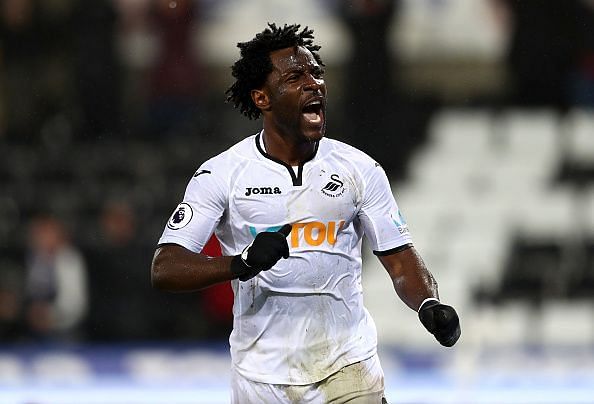 Do you know this African bulldozer that many opponents are scared of facing? If you watched Manchester City three years before now, this question would definitely sound ridiculous to you as the player came to limelight with the Citizens in England.
Bony is one of the most powerful players the Premier League witnessed in the past decade. The cherry on the cake is that he knows how to use his strength quite well. Since the past few years, Bony has invested a lot of time working on his body in the gym.
He was one of the deadliest strikers in the English top-flight during his time at Swansea City but an unsuccessful spell at Man City led to him joining Stoke City; followed by a return to Swansea City, before eventually switching to Qatari club, Al-Arabi.
7. Diego Maradona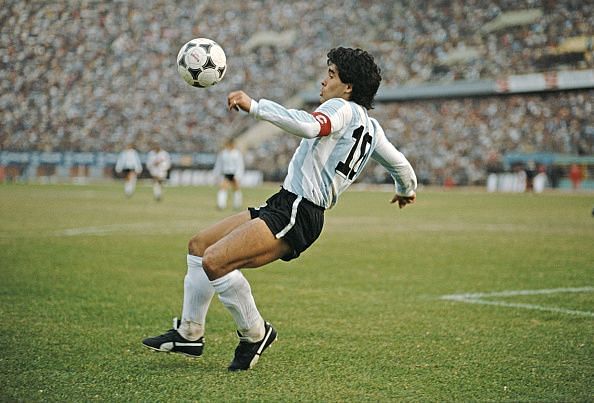 A well-known name; one that will be remembered for a very long time, Argentine legend, Diego Maradona is also one of the few players with the most impressive leg builds the football world has ever seen. That didn't fetch him the fame though, his explosive and eye-catching performances on the pitch both at the club and international levels did.
The attacking midfielder was about more than incredible skill. Probably the most naturally talented player in soccer history, at times it was impossible to take the ball away from him as he slalomed his way past opposition defenders.
He was a very short player yet he was extremely tough and also had that unbelievable strength in his legs that allowed him to ride the wildest of tackles. Maradona is well-known for giving his all to win matches. His popular 'Hand of God' goal against England will be discussed in World Cup history forever. His give-your-all attitude in the gym earned him those amazingly strong legs.
6. Gareth Bale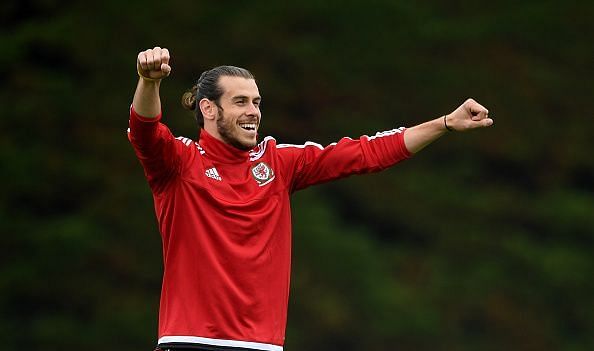 The Welshman has lived a fantastic life in the past few years from playing for Southampton to Tottenham and eventually Real Madrid. His pace and offensive abilities on the pitch have been a delight to watch and he has taken a lot of effort to get over his strength issues.
During their time together at Madrid, the winger supposedly didn't always meet face-to-face with Cristiano Ronaldo in Madrid. This could've boiled down to a competition between the two megastars in the gym. Whatever, it has brought positive transformation for the Wales International.
Bale experienced numerous injury issues as a young player and noticeably packed on muscle during his later seasons with Tottenham Hotspur at White Hart Lane but he has taken his bodybuilding to a whole new level since he arrived in Spain. He has been injured less often these days and has packed on a pretty amount of muscle especially in the legs which is evident in the shot power he generates on the pitch.​
5. Hulk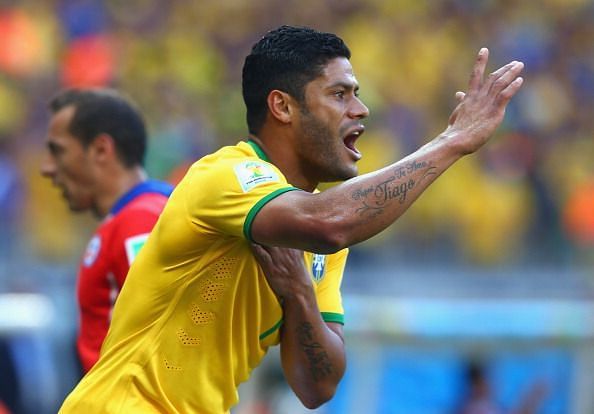 Brazilian players are well-known for their skills on the ball with little emphasis placed on their body structure. But here is another one player following the footsteps of the legendary Roberto Carlos to prove us wrong with regards to his big thighs.
The name does speak for itself. The attacker might not be in demand as much as he was a few years ago but he surely still has that incredible fitness and power in his body still going strong. The Brazilian is like a tank and has tremendous thighs which helped him to become insanely powerful with his shots.
Such is the body structure that he was nicknamed 'Hulk'. The Brazilian became very famous simply because he can hit the ball incredibly. You will surely no doubt that if you have a look at the size of his quads.
While his reputation dipped a bit after a poor World Cup outing in 2014, Hulk still tore apart the Russian Premier League during his time Zenit Saint Petersburg and he is currently doing the same with Shanghai SIPG in the Chinese Super League.
The former German international was known for having a rocket of a left-foot and it's easy to see why. Judging by his thighs, it would appear that the former Bayern Munich and Arsenal forward spent a lot of time in the gym.​
4. Lucas Podolski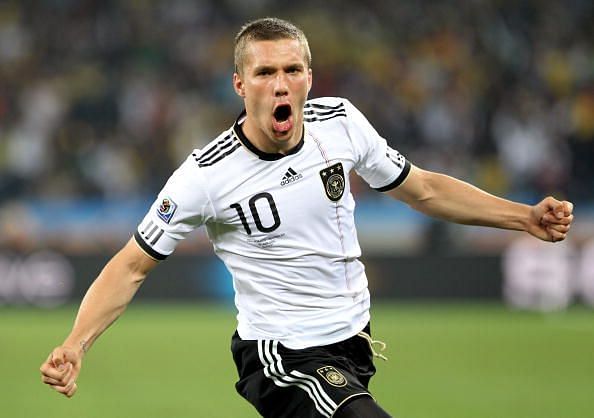 So far in this article, we've highlighted several players who possess enviable leg builds courtesy of the hard work in the gym. But, it does not end there as there are still others who also deserve to be mentioned. Lucas Podolski comes next on this list.
A well-recognized player in the English Premier and the German Bundesliga, Lucas Podolski's names cannot be ignored when we talk about the top footballers who never skipped leg day and it is a well-deserved one.
The former German international was identified for having a rocket of a left-foot and it's quite easy to see why. Considering his thighs, it appears that the former Bayern Munich and Arsenal attacker spent a lot of time in the gym working on them.​
3. Cristiano Ronaldo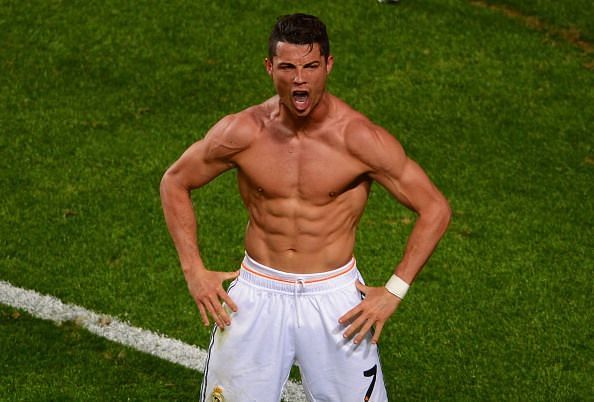 Juventus attacker Cristiano Ronaldo is the man now carrying the flag for gym-loving footballers following the retirements of Carlos and Seedorf. Ronaldo is seen almost every day uploading a picture of himself on Instagram going through normal his routines in the gym.
The 5-time Ballon d'Or winner has come a long way ahead in his football career. Since stepping up as a prospect in the Portuguese league some years back, the attacker has done enough to establish himself as one of the greatest in the history of the sport.
Looking at him currently, one significant change from his days at Sporting is his incredible body transformation. The once-skinny Portuguese has now transformed himself into a very powerful superstar with a lot of efforts invested into his thighs and legs. A constant figure at the gym, it is no surprise CR7 generates unbelievable power in his shots.​
2. Clarence Seedorf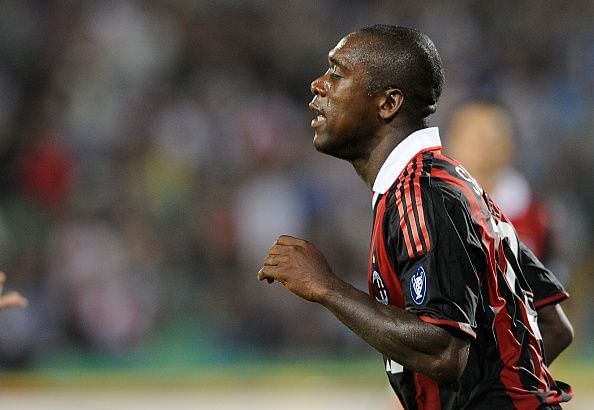 The AC Milan legend will go down as one of the greatest footballers to ever step on the playing pitch, after enjoying several years at the top of the game, winning almost everything there is to win as an elite footballer before calling time on his football career just recently.
It is quite impossible not to harbor some love for Clarence Seedorf. Not only did he possess one of the finest names in football history, but he was also a legendary player during his peak days, as projected in the fact that he has an incredible four Champions League winners medals lying somewhere in his cabinet.
The Dutchman was arguably one of the greatest midfielders of his era. He was a legendary superstar and one of those rare players to taste European success with multiple. The cherry on the cake? As cool as his name sounds, the Netherlands International had some ridiculously large thighs.
1. Roberto Carlos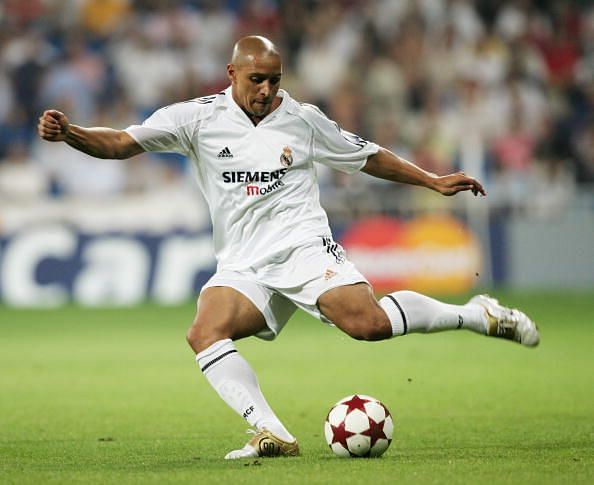 Brazilian legend, Roberto Carlos wasn't the biggest footballer around, yet, he has a claim to having larger thighs than some of the biggest superstars we've witnessed in the long and illustrious history of the game, including the aforementioned Clarence Seedorf.
The two superstars briefly shared the dressing room during their spells with Real Madrid in the late 1990s – a situation that paved the way for their mutual love of doing leg curls. Carlos was a beast. Given how big his thighs were, one wouldn't be surprised to learn that he could hit the ball harder than anybody else on the planet.
The Brazilian was a phenomenon of a left-back. The thunderous 'C' free-kick he scored for Real Madrid will remain in the hearts of many for a long time. Carlos wasn't one of the tallest footballers out there but he had some strong thighs to generate the tremendous power he used to cause havoc during set-pieces.