Cristiano Ronaldo is in the spotlight again, after he reportedly makes an ugly gesture following Al-Nassr's shocking defeat against Al-Hilal.
The five times Ballon d'Or winner had yet another disappointing night at the King Fahd International Stadium yesterday, where his team couldn't emerge victorious and climb to the top spot of the Saudi League. After conceding penalties on each half, both of which found the back of the net thanks to Odin Ighalo, Ronaldo and his side could not find an answer.
The Portuguese superstar found himself in the books of the referee Michael Oliver after a silly headlock challenge on Gustavo Cuellar. The home supporters then went on to taunt CR7 by chanting Lionel Messi's name. Ronaldo lost his cool and made a gesture that caused a huge stir in the social media.
Cristiano Ronaldo only got a yellow for this challenge 😳 pic.twitter.com/05eH8qZqvw

— ESPN FC (@ESPNFC) April 19, 2023
What gesture did Cristiano Ronaldo make?
Responding to the "Messi" chants from the home crowds, Cristiano Ronaldo grabbed his crotch in the fans' direction.
Not only was this gesture considered too obscene — especially since the Saudi country is observing the holy month of Ramadan — but also because apparently the fans felt abused by the 5 times Ballon d'Or winner. This has led to a social media trend, indicating him as a 'fan abuser'.
Cristiano Ronaldo makes obscene gesture to Al-Hilal fans after leaving the field defeated and under the cries of "Messi, Messi, Messi" 😮

📽️ @wtrx5 https://t.co/xnsyCsfPOQ

— VAR Tático (@vartatico) April 18, 2023
Al-Nassr have stepped up to defend their star player, saying that this was due to a sensitive injury in that region. Journalist Muhammed Al-Enezi received clarification from the club's board over the event, who stated the following on Wednesday:
"Ronaldo suffers from an injury. His challenge with Gustavo Cuellar, the Al-Hilal player, started with a blow in a very sensitive area. This is confirmed information. As for the fans' explanations, they are free to think whatever they want."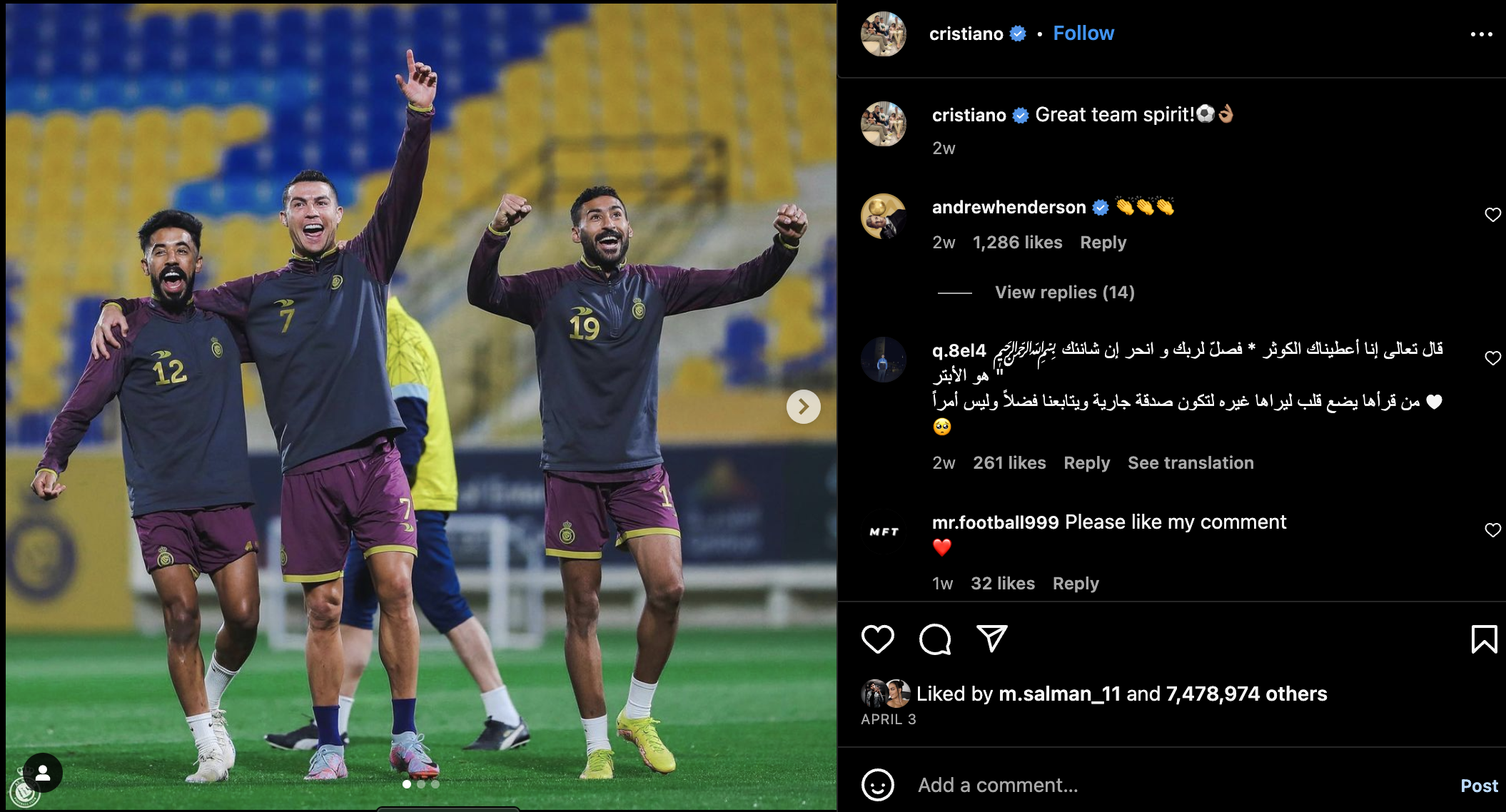 With this loss, Al-Nassr is still at the 2nd position in the Saudi League table. They now have 53 points from 24 games. Table-toppers Al-Ittihad have 56 points with 1 less game played.
CR7 has not been having the best season inside the field for a good while now! The fans chanting his rival 'Messi's name could be offensive to him, but does it warrant such a response?
What is your take on this situation? Who is to blame? Share your thoughts in the comments below!