The Ultimate Fighting Championship (UFC) is not only a multi-billion dollar company but also one of the most powerful and rapidly expanding sports organizations in the world. It all happened because of one man named Dana White, who took control of the company and helped the UFC go from being in bankruptcy to becoming an empire worth one billion dollars.
In the year 2001, one of the co-owners of the company, Robert Meyrowitz, was considering the possibility of selling UFC. When Dana, who at the time was working as a manager for Tito Ortiz and Chuck Liddell, got to know that the UFC was not doing well financially, he saw an opportunity to buy the organization.
"There is no more money, I don't even know if I have enough money to put on one more event" Meyrowitz said back then.
Dana contacted his longtime friend Lorenzo Fertitta and asked him about the possibility of purchasing the company. After a week of negotiations, White and the Fertitta brothers gathered a total of two million dollars and made an offer to Meyrowitz to purchase a nearly closed-down business.
White became president of a company that literally had nothing when he took over, including no sponsors, no media rights, no venue, and not even a website, because the company's previous owners had sold it all to avoid going bankrupt. Despite this, Dana was pursuing his dream of making UFC the greatest fighting event.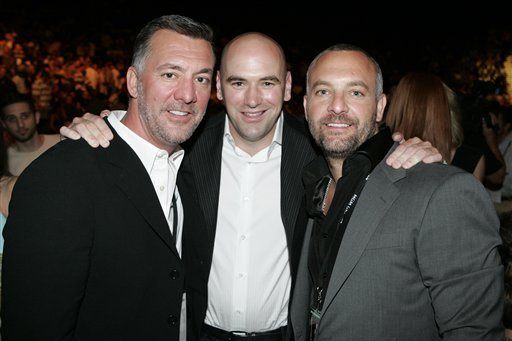 The next two decades were all about Dana White becoming the most influential figure in mixed martial art and the UFC expanding, slowly but surely gaining more and more influence. In spite of the fact that Dana owns 9% of the company, he continues to serve as president of the promotion.
The Ultimate Fighting Championship (UFC) currently holds a dominant position in the world of mixed martial arts and is currently worth approximately $9 billion to $10 billion. According to various reports Dana White's net worth is estimated to be $500 million as of January 2023.
While Dana White still has big plans for UFC and is on the right track, Lorenzo Fertitta and his brother Frank sold their stake to WME-IMG in August 2017 for a $5 billion valuation.