Devin Booker Girlfriend: Kendall Jenner & Their Bizarre Dating History – All You Want to Know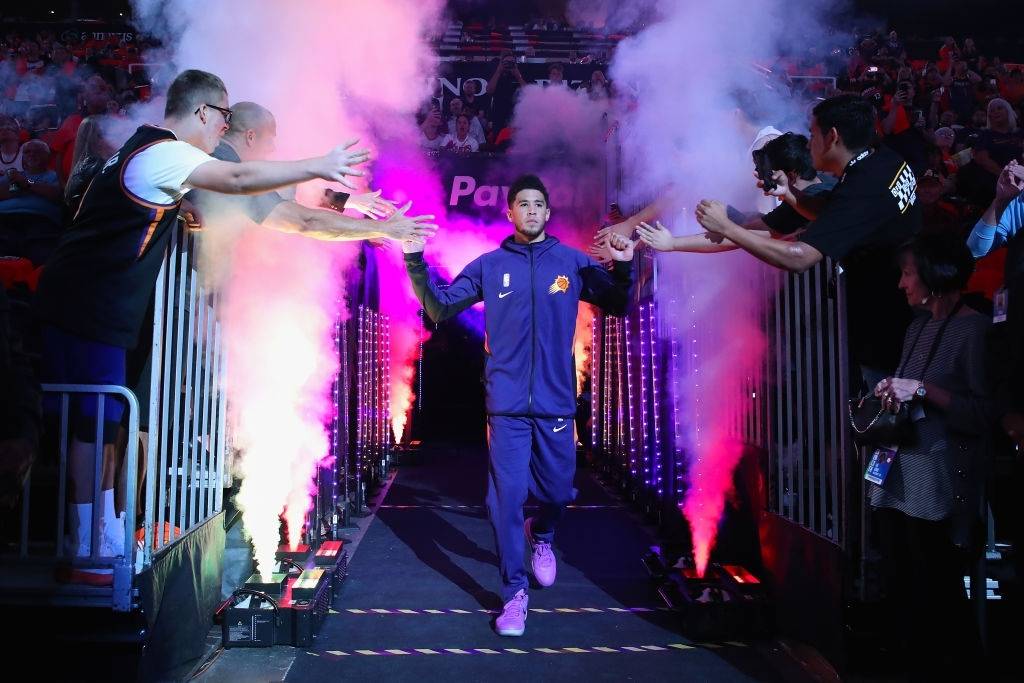 NBA fanatics like us know Devin Booker as one of the most prolific shooting guards in the league. However, Booker has a separate fanbase which was formed because of his complicated and somewhat awkward history of dating some of the most high-profile ladies. That is why "Devin Booker Girlfriend" is one of the most searched phrases when it comes to the 24-year-old's personal life.
The Suns' guard's ravishing looks and body have made him insanely popular amongst girls. Moreover, his personality is something that resonates with everyone around him. That is another factor that works in his favor regarding him being liked by the ladies. Through friends and family, it is known that Devin Booker generally does not like sharing details about his personal life. However, there have been two relationships of Booker that have come to light. While one has ended under questionable circumstances, the other is still going strong.
Let's delve into the world of Devin Booker and find out about his previous and current love interests.
Who is Devin Booker's girlfriend Kendall Jenner?
Kendall Nicole Jenner is an insanely popular person in her own right. Part of the iconic Kardashian family, Kendall Jenner has found herself in the spotlight ever since her childhood. She is the youngest among the four sisters and rose to fame owing to her beauty and opulence. In fact, she started modeling at the age of 14 and has not looked back since. An important member of  "Keeping Up with the Kardashians", Kendall has made herself into one of the starlets of the American fashion industry.
Kendall Jenner has been the face of almost every high-profile fashion brand in her short but admirable career and is showing no signs of stopping anytime soon. At the moment, she is one of the highest-paid supermodels in the world. In fact, she was even declared the world's highest-paid Supermodel by Forbes in 2017.
Jenner dating Devin Booker only adds to her popularity and opens up her brand to a whole new audience.
Kendal Jenner's facts at a glance:
Full name: Kendall Nicole Jenner
Nickname: Kenya
Birth Date: 3rd November 1995
Age: 25 years
Height: 1.79m
Weight: 59Kg (Approx)
Horoscope sign: Scorpio
Father's name: Caitlyn Jenner
Ethnicity: White
Ex-Boyfriend: Blake Griffin, Ben Simmons
Children: None
Profession: Supermodel
Tattoos: Three
Devin Booker girlfriend Kendall Jenner's career and lifestyle
While being one of the most sought-after fashion models in this current day and age, Kendall Jenner has also garnered a reputation for herself as a down-to-earth and easygoing person. All throughout her modeling career, she has endorsed some of the biggest brands in the world.
A successful modeling career at such a young age has resulted in her being one of the richest models in the world. She has an estimated net worth of around $45 million. Her main sources of earnings are brand endorsements and the royalty she receives from appearing on Keeping Up With the Kardashians. The show is one of the most popular family dramas and features eminent personalities like Kim Kardashian and Kylie Jenner too.
Kendall Jenner's lifestyle is the perfect example of opulence. She spends most of her time in her extravagant Beverly Hills house in LA. However, she isn't all show and no substance. It is reported that Kendall has a love for reading and always wants to expand her knowledge about the world. That is what gave birth to her love for traveling.
How did Kendall and Devin Booker meet each other?
It is known that whenever he is not with the Suns, Booker spends most of his time in Los Angeles with his friends and family. Furthermore, that is also where Kendall and the entire Kardashian Family are based. Coincidence? We think not.
Devin Booker has always been related to the Kardashians in some way or the other. He has also featured prominently in several episodes of "Keeping Up With The Kardashians". Because of this link, Kendall and Devin might have met quite a number of times before anyone had an inkling of what was brewing between the two.
Booker and Ben Simmons are great friends on and off the court. While Simmons is currently dating Maya Jama. He was rumored to be Kendall Jenner's boyfriend for a long time In 2018. It was at that time when Devin Booker, Jordyn Woods, Kendall Jenner, and Ben Simmons reportedly went on lunch together. That is supposedly where the two met for the first time.
Kendall and Devin: the perfect blend of two empathetic people
Rumors were circulating around the fact that Devin Booker and Kendall Jenner are dating for over a year now. However, the supermodel made it Instagram official on Valentine's day this year by posting a photo with her new beau.
View this post on Instagram
Ever since early 2020, Booker and Jenner have been spotted together quite a lot. The first time they were seen together was when they took a road trip from Los Angeles to Arizona in April last year. At that time, sources said that their relationship was "entirely platonic" and there was nothing going on between the two. However, as time progressed, their bond started to grow stronger with each outing they had.
Since then, they have been seen on many rumored dates at high-profile restaurants and have been constantly flirting on social media. In one of Kendall's posts, Booker was evidently flirting when he said, "I like strawberries", in direct relation to her caption. Kendall even hit back by commenting four strawberry emojis. This was all the more confirmation that netizens needed about the new couple.
Both Kendall Jenner and Devin Booker are very popular in their own fields. They often have to spend all day in the public eye and that leaves a small amount of time for personal recreation. However, both of them are proof that people can make it work if they are understanding of their significant other's situation.
A source told Entertainment Tonight, "There aren't any huge expectations or crazy commitments on either side. They have gotten a lot closer, but Kendall's schedule is particularly super busy and Devin is very understanding of that."
Kendall and Devin's love for traveling
Kendall Jenner and Devin Booker have many things in common. However, one of the things they connected upon is their mutual love for traveling. Both of them frequently share images from their trips all around the country and like each other's pictures. Some rumors suggest that the two have even taken trips together that were not covered by the paparazzi.
View this post on Instagram
Booker also took a trip to Colorado in July last year. All the photos he shared from that trip were liked by Kendall. Even she is known to flout mask rules for multiple visits to Nobu with her friend Fai Khadra.
Wanderlust is a powerful factor when it comes to connecting people. With the same interests and hobbies, Kendall and Devin are in a good place right now regarding their union.
A wave of backlash crashes upon the couple
Ever since the relationship has been made public, social media has erupted with comments on how Kendall Jenner toys with NBA players and dates a different one after every few months. Even Devin Booker wasn't safe from hateful comments.
A particular comment called out Kendall Jenner in which she was compared to a ball being passed around among NBA players. Generally, she does not let hate comments affect her in any manner. However, this one irked her and she hit back with sheer ferocity. Saying, "They act like I'm not in full control of where I throw this cooch."
they act like i'm not in full control of where i throw this cooch https://t.co/DOCPKMdW6K

— Kendall (@KendallJenner) April 29, 2020
Choice words were hurled in Booker's direction after he started dating Jenner. This was because he had previously dated Jordyn Woods, who is closely related to the Kardashian sisters. While Woods' relationship with the Kardashian turned sour because of different reasons, Booker went on to develop a strong bond with the family.
So we not going to act like devin booker & jordyn woods did not go on a double date with Kendall Jenner & Ben Simmons in 2018.And now there are rumors that Kendall Jenner and devin booker are dating now.That's so shady if you ask me 🤣

— speakingfacts. (@DrizzyTeenage_) August 17, 2020
The incident involving Jordyn Woods and Tristan Thompson resulted in one of the ugliest breakups. NBA star Tristan Thompson reportedly kissed Woods at a party while she was dating Booker. This led to a fight ensuing between the two which ultimately resulted in the couple going their separate ways. The fact that all of this was made public almost instantly also played a part in the intensity of the fallout.
Later, Jordyn Woods tweeted about the incident where she said that Tristan Thompson "initiated the kiss" and she did not want in any manner whatsoever. Whatever be the case, that was apparently the last straw in Booker's mind.
Kendall Jenner's past relationship with Ben Simmons
Kendall Jenner and Ben Simmons were seen quite a lot of times together in early 2018. Just after rumors started circulating that she was in fact dating Anwar Hadid, she was seen shopping with Simmons. Every day the speculations started getting stronger that Kendall was dating Ben.
Us Weekly reported that the couple was exclusive, however, they did not want to make it official just yet. Ultimately, it was Khloe Kardashian who made it official by tweeting about the fact that Kendall was at the game watching her man (Ben Simmons) play.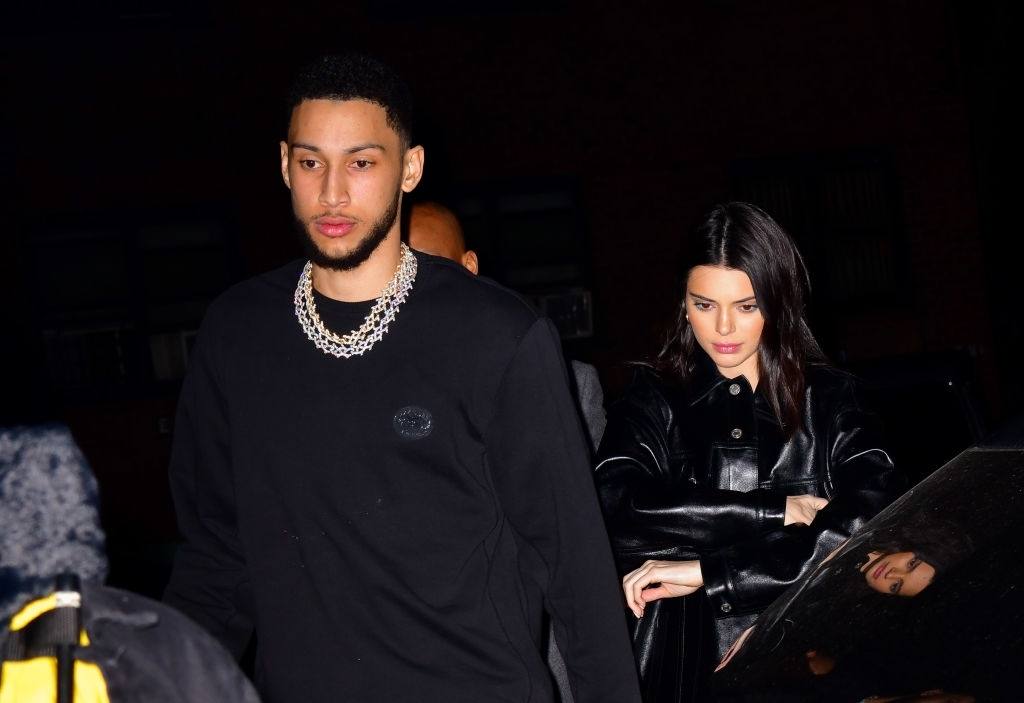 After dating for about a year, the relationship seemed to fizzle out as both Simmons and Jenner got busy in their lives. They just could not make time for one another as time passed by. In the end, this was classified as one of those relationships that were destroyed by distance and lifestyle differences.
Trouble in Paradise?
In a recent video shared on Kendall Jenner's IG, Devin Booker can be seen playing arcade basketball with her sister Kylie Jenner. It is evident from the video that the two are having a lot of fun and Kendall can be heard cheering in the background.
However, this video was evidence enough for some netizens who took this as a clear indication that Devin Booker was indeed dating Kylie Jenner. The fact that Kylie is currently single also played a part in the rumors. Repeated confirmations from many sources and family members suggest that Devin Booker and Kendall Jenner are exclusive and all the rumors about him dating Kylie are false.
Devin Booker gets a 🚨HIGH SCORE🚨 against Kylie Jenner 😂

(via Kendall Jenner/IG) pic.twitter.com/wdrh3uREbJ

— ClutchPoints (@ClutchPointsApp) April 10, 2021
Devin Booker and Kendall Jenner are currently in the midst of a happy and fulfilling relationship. They both are very understanding about their careers and have no problem dealing with the constant pressure of being in the public eye.
Other than that, Devin Booker has repeatedly mentioned that he is an old soul, a feeling that resonates with Kendall. Booker said, "People always say I have an old soul. That's just the way I was raised, taking after my father and my brother. I'm always listening to older music, '90s R&B. I'm a little vintage mixed with a little modern and fast-paced."
Such qualities of Booker are what draws him to Kendall. They both are tremendously career-oriented, yet they have found time for love. Here's hoping that their union continues to flourish without any hiccups.