Devin Booker Net Worth 2021: Salary, Endorsements, Mansions, Cars, Charity and More
Amongst the new generation of basketball stars, Devin Booker is surely turning heads. Devin Armani Booker is a professional basketball player in the NBA league. The young 24-year-old athlete entered the league in 2015 with the Phoenix Suns.
Booker in just five seasons has already proved why he deserves to be in the NBA.  A few nights back, he alongside Chris Paul and the Suns eliminated the defending champion, the LA Lakers from the playoffs. Booker scored the most points and quadrupled his worth overnight. Let's take a deeper look at why this youngster is paid such a huge salary and everything that there is to his net worth.
A Glance At Devin Booker's Asset Accumulation
| | |
| --- | --- |
| Name | Devin Armani Booker |
| Age | 24 years old (Born October 30, 1996) |
| Residence | Mansion in Paradise Valley |
| Net Worth 2021 | $50 million |
| Salary | $24.9 million |
| Endorsement Earnings | $6 million |
| Source of wealth | Salary, Endorsements |
| Endorsements | Nike, Foot Locker, Finish Line |
| Expenditure | Mansions, Cars, Watch, Charity |
| Philanthropy | Devin Booker Starting Five Initiative, Arizona Autism United, Central Arizona Shelter Services, the YMCA of Southern Arizona, GAP Ministries and Elevate Phoenix |
What Is Devin Booker's Net Worth In 2021?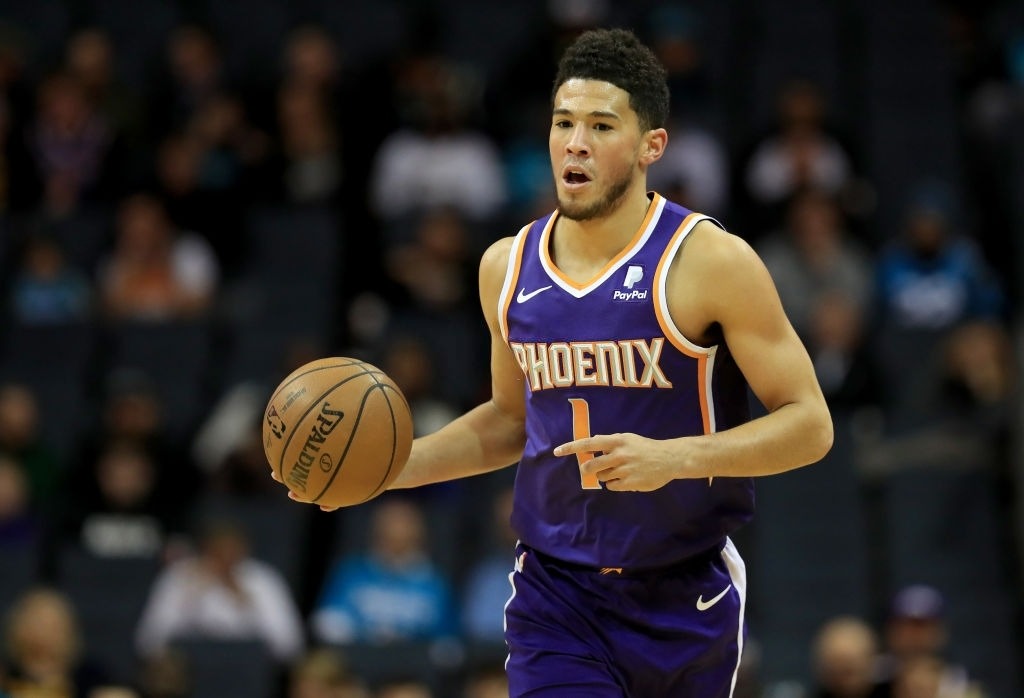 Quickly rising to be one of the league's best players, Booker has already started to amass a huge bank balance to his name. Players Bio estimated that his net worth as of 2021 is $50 million. Considering his progress, soon he will be worth many times more, than his current net worth.
Devin Booker's Source Of Wealth:
The young All-star's primary source of wealth his salary from the Phoenix Suns. Booker is also backed by a big-name global brand in addition to other smaller brands. Here's how the Sun's young star earns his money.
Devin Booker's NBA Salary
Entering the NBA as the 13th overall pick in 2015, Devin signed a four-year rookie contract worth over $9 million with the Phoenix Suns. The young athlete then signed a five-year contract extension in 2018 worth a staggering $158 million.
Currently, Devin earns a high salary of $29.4 million as of 2021. During the last five years that he has devoted to the league and his team, he has earned over $65 million in salary alone.
Devin Booker's Endorsement Deals
Devin's major endorsement is with the Global brand, Nike. From the start of his career, he has always been a Nike athlete. In 2019, after Booker became a coveted sneaker free agent, Nike offered him a deal and the two were officially on business terms. While the young NBA player does not have his signature shoe yet, he has been seen wearing Kobe Bryant signature sneakers when on the court.
Devin's other endorsement deals are with Foot locker and Finish Line. In 2017, he ever appeared in one of Foot Locker's commercials alongside other NBA players. The NBA youngster earns $6 million annually from his endorsement deals.
How Devin Booker Spends His Millions?
The promising young athlete is already a multi-millionaire by the age of 24. Earning a huge salary alongside his endorsement earnings has allowed him to buy expensive stuff. Here's how Devin Booker spends his millions.
Devin Booker's Lavish Mansions
In early 2017, Devin made a purchase of $3.25 million for a mansion in Paradise Valley. The 5600 square feet home rocks a modern architectural style featuring four bedrooms, four bathrooms, a chef kitchen with a wine cellar, and a four-car garage. However, he put this market up for sale in early 2020 and sold it for a profit at $3.45 million.
Rumors suggest that the young athlete supposedly moved into a $10 million estate in Arizona he bought earlier this year.
Devin Booker's Car Collection
View this post on Instagram
The young basketball sensation has a love for classic cars. He owns several classics like the 1972 Chevrolet C10 truck worth over $50,000. The low rider is powered by a v8 engine and has 380 horsepower. The all-blue truck is also upgraded with leather interiors.
View this post on Instagram
Devin also owns a Chevrolet Impala Convertible. The classic Chevy is worth over $40,000 and the NBA athlete loves posting pictures of this on his Instagram.
While his love for a classic set of wheels is unmatched, Booker also loves modern designed fast vehicles. Currently, the only modern car in his collection is a matte black Ferrari 488 Spyder. A 670 PS 3.9-litre twin-turbocharged V8 engine raises the top speed to 325 km/h. The car is worth a whopping $280,000.
Devin Booker's $100,000 Watch
In an interview with GQ Sports, Devin mentioned his daily essentials. Amongst them was a rose gold Patek 5711 watch. The young basketball player grew up watching his father's watch collection and decided quite early on what watch he wants to own. The current value of a mint condition Patek 5711 watch is priced at a lucrative $110,000.
Devin Booker's Non-Profitable Investments: The Charity Work
"A few years ago, I pledged $2.5 million over five years to Arizona nonprofits serving families and children in need through my Devin Booker Starting Five Initiative. Since the last year has been so tough for so many, I'm proud to announce the second year of this initiative." pic.twitter.com/JzTIasTfQT

— Phoenix Suns (@Suns) May 12, 2021
The young shooting guard also seems to be active in the philanthropic scenes. The youngster pledged $2.5 million to local Arizona charities, over the course of five years through the Devin Booker Starting Five Initiative.
Due to last year's global pandemic, Devin announced the second year of said campaign. The five organizations that Devin's initiate supports helps underprivileged kids and family reach their goals. In May 2021, the Sun's guard donated $100,000 to each of them. The organizations that he supports are Arizona Autism United, Central Arizona Shelter Services, the YMCA of Southern Arizona, GAP Ministries and Elevate Phoenix.
Devin Booker's Girlfriend, Kendall Jenner's Net Worth
Kendall Jenner is an American supermodel and reportedly, one of the highest-paid in the modeling industry. According to Page Six, Kendall's net worth as of 2021 is an estimated $45 million.