Saquon Barkley Net Worth 2021: Salary, Endorsements, Mansion, Charity Work And More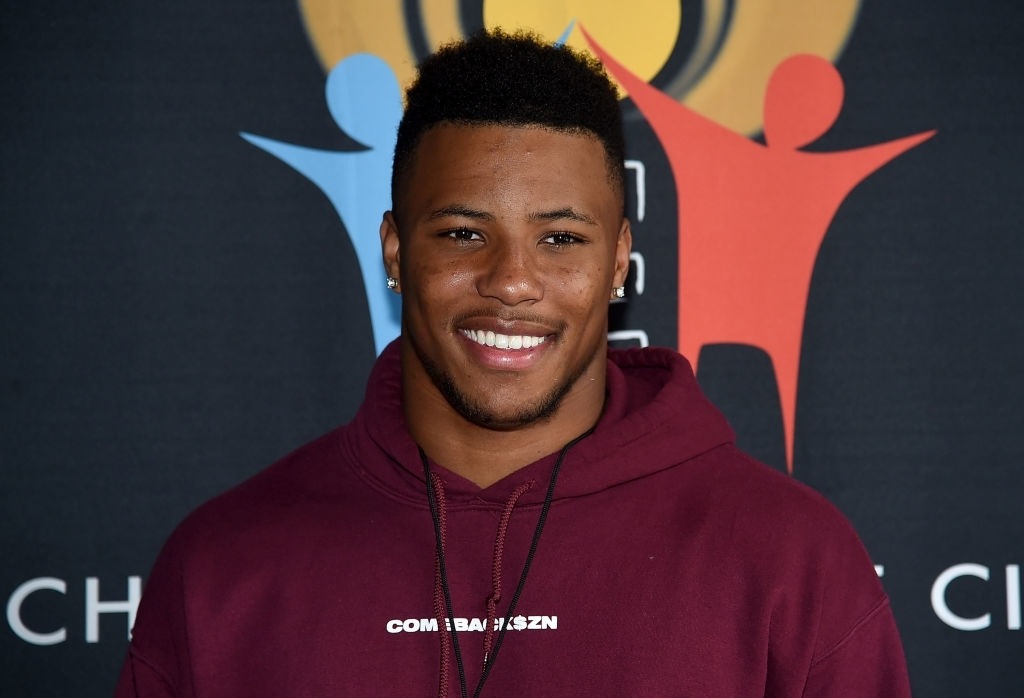 Saquon Barkley has earned himself a household recognition in this early phase of his National Football League (NFL) career. The running back position holder of the New York Giants has proved himself to be one of the most significant players.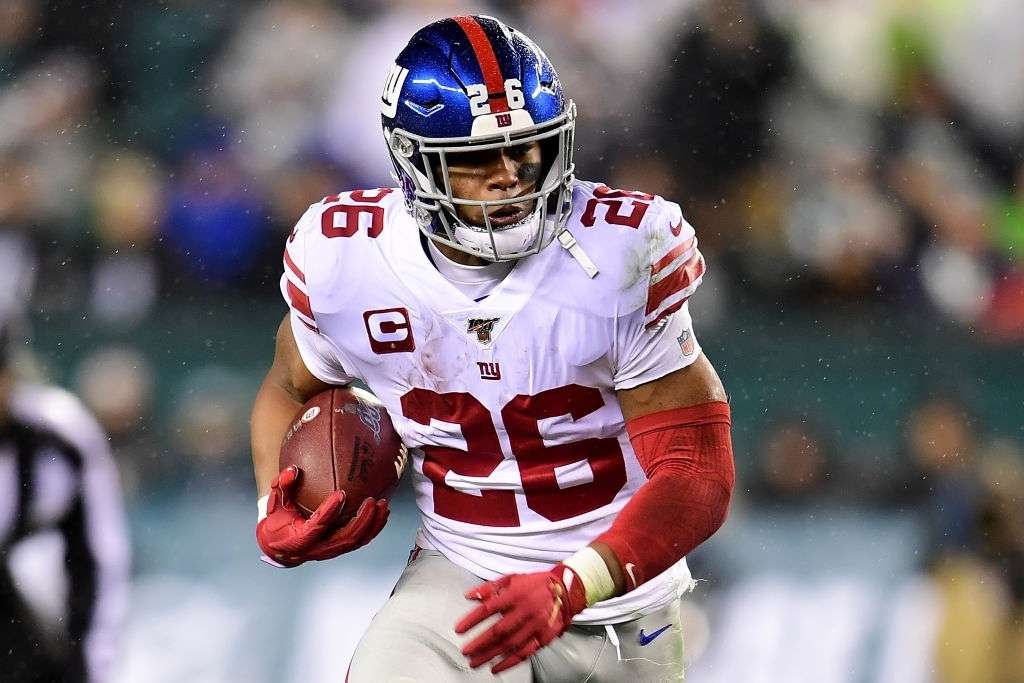 At the tender age of 23, Saquon has been enlisted amongst the top hundred highest paid athletes by Forbes magazine. He managed to stay under the spotlight from the very inception of his career.  We are going to find out about his net worth and the sources and expenditure of the same.
A Glance at Saquon Barkley's Asset Accumulation:
| | |
| --- | --- |
| Name | Saquon Rasul Quevis Barkley |
| Net worth | $40 million |
| Age | 24 (born on February 9, 1997) |
| Relationship status | In a relationship with Anna Congdon |
| Source of wealth | Professional Football, Brand Endorsements |
| Salary | estimated $850,000 |
| Endorsements | Dunkin' Donuts, Pepsi, Nike, Bose, Toyota, etc |
| estimated $4.5 million | estimated $4.5 million |
| Philanthropy |  Covenant House New Jersey, No Kid Hungry |
What is Saquon Barkley's Net Worth in 2021?
The New York Giants' running back, draws a massive salary from his NFL career. His earnings are not only limited to that. Reportedly, Saquon has signed deals with some of the major brands in the market. The Forbes magazine calls him as the 'marketing darling' for his massive endorsement deals. His football career earnings as well as his endorsements are all major sources of the wealth that he owns.
As of 2021, Saquon Barkley's net worth stands up to an estimated $40 million.
Saquon Barkley's sources of wealth:
Let us now take a look at the sources from which the NFL star accumulates his wealth.
Saquon Barkley's NFL Salary
As of 2021, Saquon's contract with the New York Giants, comprises of  signing fee of $20,767,092 alongside a guaranteed minimum salary of $31,194,751. The contract includes an amount of $7,798,688 as yearly basic salary.
Apart from his NFL career contract, Barkley's endorsement signings fetch him a fine sum of an estimated $4.5 million.
Saquon Barkley's endorsement deals
Thank you so much for allowing me to pursue my dream of becoming a Nike Athlete! @usnikefootball @Nike @CoachTomShaw pic.twitter.com/UbWKrMD0AA

— Saquon Barkley (@saquon) February 9, 2018
In February, 2018 Barkley signed his endorsement contract with Nike.
.@DunkinDonuts Strikes Up Partnership With New York Giant @Saquon Barkley ☕️🍩🏈 | AList https://t.co/tVyHgndxQs

— HB Duran 🎮✍ (@thathbduran) November 29, 2018
New York Giants' official coffee sponsor, Dunkin' Donuts, signed an endorsement partnership with Saquon in November, 2018. As part of an year's promotional campaign, Barkley got featured in a series of advertisements by them.
ICYMI: Top NFL draft prospect Saquon Barkley has signed an exclusive licensing deal with Panini America https://t.co/27w1xTBiI2 #NFL #NFLDraft pic.twitter.com/rgtriPkxCy

— SportsPro (@SportsPro) March 20, 2018
The announcement of an exclusive deal was made between Barkley and Panini America in 2018. The terms of the deal were subjected to production of autographed trading cards and memorabilia of Saquon.
ICYMI: On draft day, Saquon Barkley announced he is an official @Bose brand ambassador | #WeAre | #BoseAmbassador pic.twitter.com/bj27aqrU0p

— Saquon Barkley (@saquonb21) April 30, 2018
In the same year, Saquon was also inducted as an official brand ambassador of Bose.
Alongside the aforementioned brands, Barkley is quiet well associated with Toyota and Pepsi. The Winner of Pepsi NFL Rookie of The Year award is indeed the 'darling of marketing' as he is known as.
Saquon Barkley earnings through investments
The twenty four year old Saquon has some notable protocols about making investments. In various interviews he has stated that he is going to keep his entire career earnings saved up. Furthermore he adds that during this initial moment of his career he wishes to learn things and then make investments.
Barkley wishes to invest his career remunerations in the right hands. His vision is to help make things better in the right ways through the right people. Saquon frequently states that he relies upon living off his endorsement earnings because football is a game that is or may not stay permanent for him.
Thereby, it is Barkley's ideology to save up his NFL earnings as much and as long as possible in order to make wise and better use of it.
How Saquon Barkley Spends His Millions?
Now that we know where all the wealth comes to Saquon Barkley from, let us glance through how he spends it.
Saquon Barkley's Luxurious Mansion
As he states, Saquon has seen his parents go through a lot of financial ups and downs. He witnessed the daily pressure his family had to go through in order for his parents to bring him and his siblings up. It was Barkley's promise to his mother that he would purchase a house for his family once he could afford to do so.
During 2018, Saquon was successful in bringing his dream to reality. He purchased a brand new mansion in Pennsylvania for his family. The mansion boasts a 3355 square feet and is equipped with four bedrooms and three bathrooms. Moreover this new mansion is in the same area where Barkley spent his childhood.
This is also reported to be Saquon's only expenditure out of his NFL salary only in order to keep up with his longtime promise.
Saquon Barkley's Non-profitable Investments: The Charity Work
Reportedly, it has been three plus years that Saquon Barkley has been donating to the Covenant House New Jersey. This organization aims to cater to the needs of the poor people. Covenant house provides long-term housing and crisis support for the ones who are homeless and needy.
"With the help of the @NFL and the platform that I'm in right now, I want to raise awareness." @Giants RB @saquon reveals he's selling football cleats to raise awareness of a rare genetic disease called 22q. #GMADay #MyCauseMyCleats https://t.co/URNN9BQObB pic.twitter.com/rvi0Zxq0rb

— Good Morning America (@GMA) November 27, 2018
In a television show named 'Good Morning America' Saquon made the announcement of raising funds to support a rare genetic disease called 22q. He promised to do it through the NFL initiative, 'My Cause, My Cleats'.
Saquon Barkley teams up with Pepsi's 'Give Meals Give Hope' program #nyg #giants #NFL https://t.co/zWsYnjJ6ua

— TheGiantsWire (@TheGiantsWire) April 30, 2020
During the Covid-19 pandemic, Barkley has been rigorously trying to make sure of sending help and aids in any way possible. Using the platform of Pepsi Corporation's campaign 'Give Meals, Give Hope', Saquon helps to deliver meals. This is delivered to children who rely on their  school lunches.
Let's team up to fight child hunger–go to  https://t.co/9W0aae41Go to help ensure kids across America get the meals they desperately need. @PepsiCo @nokidhungry #givemealsgivehope pic.twitter.com/yaun2F7hgN

— Saquon Barkley (@saquon) April 11, 2020
In addition, Barkley has also teamed up with Pepsi through No Kid Hungry in order to fight against child hunger.
Saquon's girlfriend, Anna Congdon's net worth: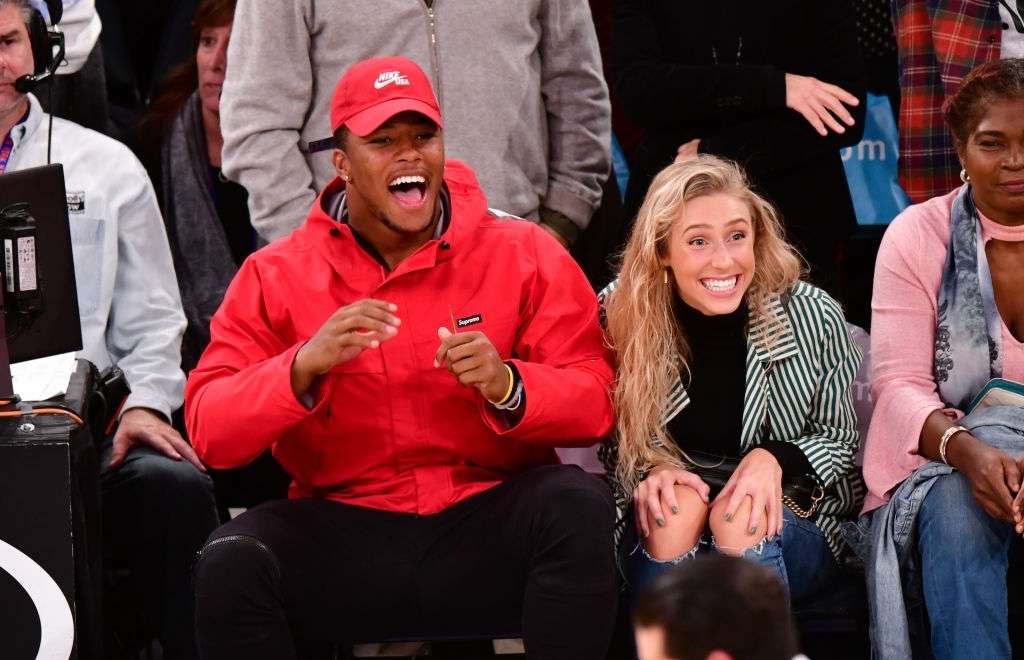 Saquon's girlfriend Anna Congdon is a completely self-made Instagram model as well as personality. As per estimations suggest, Anna's net worth happens to be somewhere around $30 million as per estimation by playersbio.