Kyle Larson's reinstatement date will effect from January 01, 2021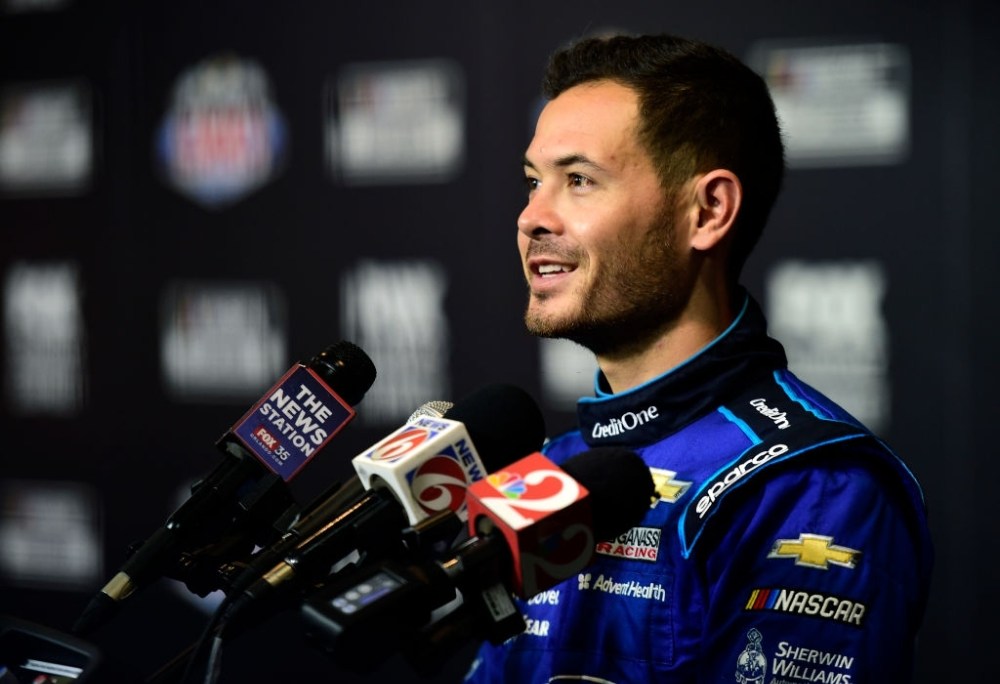 After six months, NASCAR has cleared the suspension of Chip Ganassi's former driver Kyle Larson after. However, he will not be seen on the track before January 01, 2021. NACAR indeed unbanned Larson, but he will out of the track for two more months.
But, why? Let's find, what's the latest news on Kyle Larson?
Before we go for the latest news on Kyle Larson, let's recall why he was suspended? 
Why was Kyle Larson suspended?
NASCAR suspended Kyle Larson on April 13 following his use of an N-word or racial slur on a live streaming event called iRacing on Twitch.
Later NASCAR authority suspended Kyle under the sections of 12.1 and 12.8 of the NASCAR rule book. These sections describe the 'General Procedure' and 'NASCAR Member Conduct Guidelines.' Although Larson posted a video on social media stating his apology, he couldn't avoid the punishment.
The next thing he knew, he was suspended for an indefinite time. Unfortunately, this was really bad news for the fans. His opportunity for the next NASCAR season was on the dark side.
Is Kyle Larson splashed from the next NASCAR cup series?
Until last Friday, the possibilities were light or zero. However, NASCAR told the media that Larson applied for consideration and reinstatement last week.
Although the authority granted his application, he will have to go through sensitivity training according to NASCAR's direction. Only after the successful completion of the training Larson will be able to join NASCAR again. But, he cannot join right away. He still has to wait for the rest of the year.
So, Larson's next destination is Daytona in the 2021 NASCAR Cup Series. It is firm; he will not be seen in the Phoenix Raceway this year.
Although Larson was suspended from NASCAR, he continued in sprint-car competition, and Larson was a regular winner.
What's the latest news on Kyle Larson?
Kyle Larson will join NASCAR at the beginning of 2021. During the suspension time, he kept racing for sprint car competition. Besides, he also kept working on fulfilling NASCAR's conditions to reinstatement.
That suspension had a significant impact on his career as well as in his personal life. As per his career, he dropped out from 2020 NASCAR; he was fired from Chip Ganassi Racing and lost his sponsors.
About the personal life, Larson stated on his website that the suspension reflected him a lot that he really knew little things about African American experiences as well as the term racism in general. So, in the past six months, Larson educated himself about the ignorance of the racism term.
The outcome from Larson's suspension 
After granting Kyle Larson's apology NASCAR said he agreed to participate in different speaking programs through 2023 and share his experience. Besides, Larson will work with Urban Youth Racing School (UYRS) and Rev Racing as a mentor. He will also take training and engagement classes voluntarily.  
What will be Kyle Larson's future car?
Since Larson's previous team fired him and is free to join the track in NASCAR 2021, what will his new team be?
There have been few rumors about Larson's future team. A rumor suggested that there is a strong possibility for Larson to join Hendrick Motorsports. But what car at Hendrick? According to the rumor, Larson may drive No.5, which will replace car no. 88.
On the other hand, Jimmie Johnson is retiring this year. So, another rumor says Kyle Larson will sit on No. 48 Chevrolet.
However, there will be plenty of empty seats for NASCAR 2021. So, a lot of teams will try to put rope for Larson. Eventually, Larson may get confused about joining a team as he is going to get multiple offers.
So, waiting a few more weeks won't hurt us. We might not get any news until the NASCAR Cup Series Championship at Phoenix.
Larson joined the 223 NASCAR Cup series starts where he won 6 races. However, he started a full-time race with Ganassi's operation in 2014. He also won Xfinity Series 12 times, along with the Gander Trucks competition title for two times.
Let's hope for the best! Kyle will have to work hard to recover from the recent loss.