Ousmane Dembele: Manchester United insist they will not make offer for Barcelona forward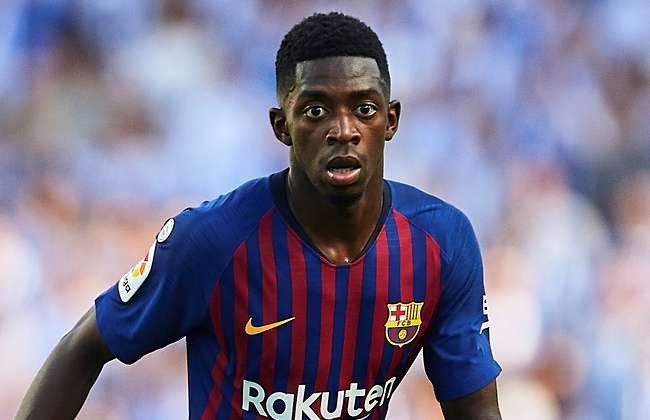 Manchester United have insisted that they have not and will not make an offer to sign Ousmane Dembele from Barcelona, according to Spanish journalist Guillem Balague.
Manchester United insist they have not and will not make an offer to buy Dembélé. #FCB not interested in a loan deal if it doesn't involve a buy option#FCB believe the reports of #MUFC wanting him on loan work to add pressure to Jadon Sancho and Borussia, their ultimate target

— Guillem Balague (@GuillemBalague) October 1, 2020
The Catalans are eager to get rid of the former Borussia Dortmund man but are only interested in a loan move if it involves a permanent buy.
It is believed that reports of Manchester United being interested in the French international is just a ploy to put pressure on Dortmund, giving the idea that they have alternatives to their primary target Jadon Sancho.
Ousmane Dembele has been with Barcelona since signing for a then club-record fee in 2017 but he has been plagued by niggling injuries which have limited his impact in Spain.
The former Rennes man showcased his abilities with Dortmund and while we have seen glimpses of his talents at Camp Nou, injuries have ultimately ensured that he has not been able to perform consistently.
Last season, the 23-year-old made just 5 appearances in LaLiga and the Blaugrana are said to have lost patience and are ready to cut their losses on Ousmane Dembele.
However, it looks likely that he might remain at the club for one more season, as buyers are not forthcoming, while the speculations linking him to the Red Devils seems to be unfounded.
Why are Manchester United struggling to get their transfer targets?
The ongoing transfer window has been one to forget for fans of Manchester United, as despite being linked with several big name arrivals, none have been completed.
The likes of Gareth Bale, Thiago Alcantara, Sergio Reguilon, Jadon Sancho, Alex Telles among other have been linked with the Red Devils but rather disappointingly, these players have either gone elsewhere or remained put where they are.
So far, only Netherlands international Donny Van de Beek has arrived, completing a £35m transfer from Ajax on a five-year deal.
This is hardly the kind of summer fans of the club anticipated and considering that progress was made last season, it was paramount to strengthen the team or risk undoing the gains from last year.
Although the coronavirus pandemic has affected finances globally, this does not excuse the shambolic way that Manchester United have gone about their transfer dealings and most of their antics in the market so far has bordered on ludicrous.
The Premier League side identified Jadon Sancho as their primary transfer target of the summer but despite giving several deadlines to complete his purchase, the England international still remains in Germany with less than five days to go before the close of the transfer window.
Their case is hardly helped by the fact that most of their rivals have been augmenting their various squads with key signings.
Liverpool completed the purchases of Thiago Alcantara from Bayern Munich and Diogo Jota from Wolves, Manchester City have strengthened their defense with the addition of Ruben Dias from Benfica, while Chelsea are still struggling despite spending large sums in the transfer market.
Manchester United have been in talks to sign Alex Telles from Porto but given how most of their transfer activity this summer has ended, fans could be forgiven for thinking that nothing concrete will come out of their discussions with the Portuguese side.
It is not enough to suggest that it is a matter of money and the underlying feeling is that club CEO Ed Woodward is not pulling his weight in the market, increasing calls for his resignation.
It is believed that he has too much clout in the club and is involved in too many football-related decisions, despite not having a background in the game and there has been mounting calls for the appointment of a Director of Football at the club.
The latest development of the Ousmane Dembele saga will only lead to more questions about what Manchester United's transfer plans are for the rest of the window and if they fail to add another marquee name, this could end up being a gloomy campaign for the club.